Free agency begins on February 27th.
It's still a ways away, but it's never too early to think about the offseason. 49ers.com takes a look at the team's upcoming free agents.
Unrestricted Free Agents

**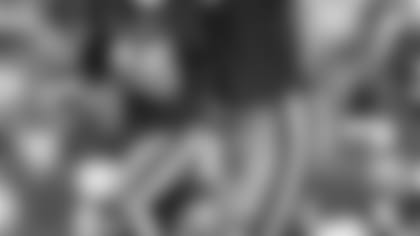 Billy Bajema joined the team as a seventh-round draft pick in 2005.
Mostly used in a blocking capacity, Bajema caught the first two passes of his NFL career this season, including a 29-yarder in the season finale that set the 49ers up for their first score of the afternoon.
He's also been a contributor throughout his four-year career on special teams.
T Damane Duckett

Damane Duckett is a former defensive lineman who was converted to the offensive line prior to the 2007. He spent the '07 season on the practice squad, and was placed on injured reserve after suffering a knee injury during the preseason.
DL Ronald Fields
Ronald Fields is the only 49ers player besides Bajema who will be entering the free agency pool out of the 2005 San Francisco draft class.
Fields was a fifth-round pick taken out of Mississippi State.
He started nine games in 2006, but has primarily worked as a backup in the defensive line rotation.
He finished the 2008 season with 19 tackles.
RB DeShaun Foster
DeShaun Foster signed a one-year deal with the 49ers after his release by the Carolina Panthers. He saw limited action backing up Frank Gore until week fifteen when he started at Miami.
He closed out the year with 76 carries for 234 yards, and recorded one rushing score on a 1-yard run in the season finale against the Redskins. He also had 16 catches for 133 yards and another touchdown catch in the Dallas game.
LB Roderick Green

Roderick Green has been affiliated with the 49ers since 2006, but his first entire year with the team didn't occur until this past season.
Green played in thirteen games this year, seeing time most often in third-down packages as the 49ers looked for his pass-rushing ability.
Green finished with 3.5 sacks, twelve tackles and one pass defensed.
WR Bryant Johnson

Bryant Johnson skipped a long term contract offer from the Buffalo Bills in order to reunite with his former receivers coach Jerry Sullivan. The former first-rounder wanted the opportunity for more playing time after spending the first part of his career playing behind Anquan Boldin and Larry Fitzgerald in Arizona. He took a one year deal with the 49ers in hopes of reaching greater production to then test the free agent market in 2009. 
After fighting thru a hamstring and groin injury early on, Johnson came on strong in the final half of the season, finishing second on the team in catches and receiving yards with 45 grabs for 546 yards and three touchdowns in 12 starts.
His clutch 21-yard grab set up Joe Nedney for the game winning kick in the 49ers season finale against the Redskins.
QB Jamie Martin
Martin was signed by the 49ers in the second week of the season when Alex Smith was placed on injured reserve with a shoulder injury. He served as the third-string quarterback from weeks two thru seventeen.
**An NFL journeyman, O'Sullivan followed his offensive coordinator Mike Martz from Detroit to San Francisco, where he beat out Alex Smith and Shaun Hill for the starting role. He started the first eight games of the year before he was replaced by Shaun Hill.
O'Sullivan completed 128 of 220 passes for 1,678 yards, eight touchdowns and eleven interceptions. His overall QB Rating was 73.6.
RS Allen Rossum

An ankle injury sidelined Allen Rossum for three games this season, but the veteran returner showed he still had the speed to be a homerun threat when he returned the opening kickoff of the 49ers Monday Night game against Arizona 104 yards for a TD.
He finished the year with 15 punt returns for 223 yards, for a 14.9 average and a long of 45 yards. He had 47 kickoff returns for 1,259 yards, good for a 26.8-yard average.
He also scored a 1-yard touchdown on an end around on offense.
TE Sean Ryan

Ryan was signed after the bye week to help fill a blocking need at fullback, a position that was vacated once Zak Keasey went on injured reserve.
He started for the 49ers during their road contest against the Bills, and played in five other contests.
Ryan was used primarily as a blocker, but he did have one catch for eight yards.
LB Takeo Spikes

It took a few months, but the 49ers eventually lured Spikes to San Francisco. The 11-year veteran signed on with the club about ten days into training camp.
Spikes moved into the starting lineup in week four and ended up starting 13 games on the year. He had 96 tackles, one sack, two forced fumbles and three interceptions.
CB Donald Strickland

Donald Strickland was a free agent last year, but the sixth-year veteran opted to take a one-year deal and stay in his native Bay Area.
He started three games in 2008, and finished the year with 38 tackles and five passes defensed.
Strickland also played a key role on special teams, including returning a blocked field goal for a touchdown in the Eagles game.
FB Zak Keasey **As an exclusive free agent, Keasey can be held onto by the 49ers by tendering him his minimum salary.
Keasey played in six games this year with three starts before suffering a season-ending biceps injury.
He had three catches for 25 yards on offense, while also playing a key role on special teams.
**All practice squad players became free agents at the end of the week.
Four were signed to future contracts, including WR Mark Bradford, T Joe Toledo, LB Justin Roland and TE J.J. Finley.