During the San Francisco 49ers away trip to New Orleans this past weekend, team owner John York and board members of the 49ers Foundation including Stephen Ronan, Kimberlee Swig, and Robert Fischback, and 49ers Foundation supporters Rich Buckley, Mark Wan, Clint Reilly, and Randy Lynch donated $40,000 towards creating a medical clinic for Warren Easton High School in New Orleans.
Those able to actually make the trip to New Orleans for the game also spent time on Saturday painting lockers previously destroyed by Hurricane Katrina at the high school.
The donation and community service efforts were in conjunction with Warren Easton High School's 95th anniversary. In celebration of their anniversary and in honor of the 49ers visit, the high school held an early afternoon rally.
Warren Easton award-winning marching band kicked off the rally, and was followed by speeches from John York, Warren Easton High School Principal Alexina Medley, President of Warren Easton Foundation Board Members, Billy Hatchett, School Health Connection representative Marsha Broussard, and President of New Orleans City Counsel Jackie Clarkson.
Even though New Orleans is across the country, the 49ers recognized a community in need and wanted to make every effort to give the children there a safe environment to be successful in life.
"The 49ers Foundation is committed to supporting organizations and programs that help to keep youth safe, on track, and in school," explained York during his speech. "The students at Warren Easton High School deserve to have proper medical care. We are honored to have the opportunity to help these youth stay on the right track to continue to flourish in the classroom and in life."
The Warren Easton Health Clinic is scheduled to open in 2009 and will help those students who are disenfranchised from the opportunities of adequate medical care, such as routine checkups and vaccinations.
"We are honored the 49ers ownership and 49ers Foundation have chosen our school to help build a new health care center," said Principal Medley. "The $40,000 will help give our students who do not currently receive proper health care, the opportunity to through our new health clinic."
Also at the event was Eddie Dienes, a representative of PSS World Medical, a company that is donating over $1,000 of products for the clinic. PSS World Medical's donation was made possible through Dr. Ronan, who also donated to the school.  PSS World Medical has generously worked with the current school nurse at Warren Easton High School, Cassandra Ferrand, to put together a list of products the students need even before the clinic opens. Basic items have been missing since hurricane Katrina and with the donation from PSS World Medical the school now has adequate daily supplies including band-aids, cotton balls, gauze, and medical tape.
The rally ended with another performance from the band, coming just in time to motivate the over 20 San Francisco volunteers for their next assignment – painting lockers on the 2nd floor of the high school with a few coats of purple paint to match the school's proud colors of purple and gold.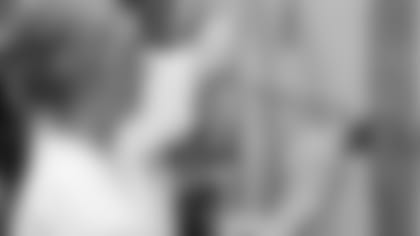 In addition to the traveling 49ers foundation board members, volunteers included Vice President of Strategic Planning and Owner Jed York, Head Coach Mike Nolan's wife, Kathy, Chief Operating Officer Andy Dolich, Vice President of Communications Lisa Lang and 49ers staff.
Warren Easton High School, New Orleans' oldest public high school, was founded in 1845 and moved three times before settling in its "new building" at 3019 Canal Street in 1913. The Louisiana landmark took on eight feet of water in Hurricane Katrina and was closed for one school year. The school reopened in 2006 as a charter school overseen by a group of alumni. In May 2008, the school graduated 98% of its senior class.
The weekend's community participation marked the second time in three years that the 49ers have contributed both funds and manpower to making a difference in New Orleans.
In 2006, the San Francisco 49ers painted a cafeteria at Bunche Accelerated Academy in the New Orleans suburb of Jefferson Parish, LA. In addition to painting the school, the 49ers Foundation, along with Foundation Board of Directors Kimberlee Swig and Dr. Steve Ronan and supporters Jack Richardson and Greg St. Claire, made a $15,000 donation to the school.