In what could be the final game in the illustrious career of Isaac Bruce, the future Hall of Fame wide receiver was sent out in proper fashion against the team where he spent 14 of his 16 NFL seasons.
Bruce was active on Sunday against the St. Louis Rams for the first time since Week 11 and only saw action on the opening play, a two-yard run by running back Frank Gore. But the 49ers veteran wide receiver gave the same effort blocking that he's consistently put forth throughout his remarkable career.
He then retreated to the sideline in favor of second-year wideout Josh Morgan, but not before jumping and colliding with his fellow wide receivers mid-air on the 49ers sideline as if he had scored a touchdown.
It was a touching moment from the 49ers receiving corps, who urged head coach Mike Singletary earlier in the week to suit up Bruce for what could be a possible curtain call.
"It meant a lot," Bruce said of his inclusion in the starting lineup. "I was more into it for my fellow wide receivers. I like making them happy, so I went in and did it."
It also might have been the only moment the 49ers would like to remember from the first half of their 28-6 win over the Rams. The visitors shook off a slow start and outscored the Rams 28-3 in the second half to put a positive finish on their season.
"I'm thankful we won the game. This is not the style of game we wanted to have, but I'm thankful we came out in the second half put some drives together and made some plays," Singletary said.
In their second drive of the third quarter, the 49ers gained more yards on two plays (56) than they did for the entire first half (52).
Gore rushed up the middle for a 34-yard gain, then after a false start penalty, he caught a swing pass for another 22 yards. The two big plays by Gore set up his close friend, fullback Moran Norris, to score his first-career rushing touchdown. It was Norris' fourth career score, as he had previously caught three receiving touchdowns in his nine-year career.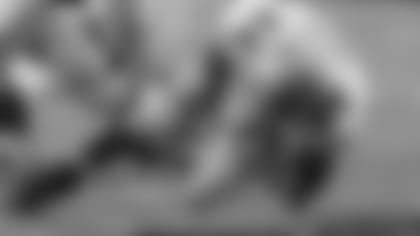 From there, the 49ers went on to score three more touchdowns in the fourth quarter, including two rushing scores from Gore and a milestone touchdown by Pro Bowl tight end Vernon Davis.
Although it was a lackluster performance when considering the total body of work, the 49ers played well enough to put away the Rams, who clinched the No. 1 pick in the 2010 Draft in defeat with their 1-15 record.
The 49ers clinched something as well, their first non-losing record in six seasons.
"We're headed in the right direction, but we have to get better. I feel like we're better than an 8-8 team, I'm not going to lie," quarterback Alex Smith said.
The former No. 1 overall pick, finished 17-of-28 for 222 yards with one touchdown and no interceptions against St. Louis. Smith struggled in the opening 30 minutes, but rebounded with 212 passing yards and his longest pass of the season, a 73-yard touchdown to Davis in the fourth quarter.
Smith finished the season 5-5 as the 49ers starter, throwing for 2,350 yards, with 18 touchdowns and 12 interceptions.
A footnote to the game was the 49ers use of a third kicker in as many weeks. But recently signed rookie Shane Andrus didn't see much action, not at least until the second half, when he converted four extra point attempts.
Instead, it was the punters who saw more field time than the kickers. Both punters combined for 20 punts, with 49ers Pro Bowl punter Andy Lee averaging 46.7 yards on his nine punts and Rams punter Donnie Jones averaging 50.1 yards on his 11 punts. St. Louis kicker Josh Brown supplied all the Rams points, with two field goals.
After Brown's 29-yard field goal cut the 49ers lead to 7-6 with 9:11 left in the fourth quarter, the 49ers offense picked up their biggest third down conversion of the game. Facing a third-and-one from their own 27, Smith launched a deep ball down the right sideline for Davis, who got behind Rams safety James Butler.
From there it was a foot race and with Davis sporting a more aerodynamic look sans dread locks these days, it was a predictable result.
Davis 73-yard catch showed off all the qualities that made him the NFC's starting tight end in the Pro Bowl.
It also tied him with San Diego Chargers tight end Antonio Gates for the most single season touchdowns by a tight end in NFL history. Davis finished the season with 13 to tie Gates' effort in 2004.
Davis gave the football to his position coach, Pete Hoener to thank him.
"I figured it would mean a lot to give him the ball, knowing it's the record ball. I thought he'd really appreciate it."
Davis finished the day with six catches for 89 yards and a touchdown, to give him personal bests across the board for a single-season, with 78 catches for 965 yards and 13 touchdowns.
Dissimilar to how the offense played, the 49ers defense turned in another solid performance against St. Louis for all 60 minutes, sacking St. Louis quarterbacks eight times.
It was also the fifth game that the 49ers held an opponent without touchdown, and the seventh time the defense held an opponent to 10 points or less.
"We did the best we could do knowing the situation we were in the last two games," linebacker Takeo Spikes said. "We accomplished a lot, but at the end of the day, I'm most proud of where we're going. I feel like this defense has the ability to be talked about for a long time. I really look forward to what we have and what's to come."
The 49ers were led by the effort of defensive tackle Justin Smith, who finished with a career-high 3.5 sacks and a team-high eight tackles. Smith had his way with rookie left guard Robert Allen in the first half, beating him for 1.5 sacks. Allen was benched, but Smith continued to find his way in the backfield.
In the second half with Rams starting quarterback Keith Null on the bench and backup Kyle Boller in, Smith continued his dominance, sacking Boller twice more. Smith had 2.5 sacks coming into Sunday's game, and finished the game with 6.0 for the season. Outside linebacker Manny Lawson was among the six different 49ers defensive players to have a sack, giving him the team lead for the season with 6.5 sacks.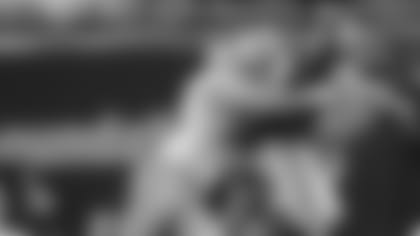 The pressure gave both Rams signal callers fits.
Null started the first half and went 7-of-17 for 57 yards with a quarterback rating of 50.4. Boller came in for relief and completed 4-of-11 passes for 23 yards, with a quarterback rating of 44.9.
With Boller having similar protection problems, the 49ers moved the ball on their possessions and added two more touchdowns by Gore. The first score was set up by a 38-yard pass from Smith to rookie wide receiver Michael Crabtree. Gore scored from three and six yards out to give him 13 total touchdowns this season, the most of his career.
Gore carried 23 times for 107 yards, giving him his 20th 100-yard rushing game, tying him for the most in franchise history with Hall of Fame running back Joe Perry.
Gore's achievement was just another milestone on a memorable day in St. Louis for the 49ers and for Bruce, who was later honored by the home team when they showed him by himself on the big screen. At that point of the game, Bruce was out of his pads, but it was a nice gesture for a possible last standing ovation.
It might have been the last chance for NFL fans to yell, "BRUUUCE!"
"I was truly touched for them to honor me in that manner," said Bruce, who wouldn't commit to retirement after the game. "I'll probably walk on another field, but who knows. You'll find out soon."
Bruce's teammates were touched by the sideline scene when his image was there for all to see.
"It was emotional, not only for him but for myself to," Spikes said. "My hat goes off to him. He played 15-years strong, was a contributor to a team and was a difference-maker. That's a great career, that's a Hall of Fame career."
For those who will be around for the 2010 season, the opportunities missed in 2009 will hurt. But it won't stop them from ascending towards their goals.
"We've got a lot of work to do this offseason," Singletary said. "I'm very excited to evaluate and go from there. On both sides of the ball we're not far away. Our guys are hungry are guys are young. We will get better in the offseason and hopefully put something together very special."