A late rally led by backup quarterback Alex Smith almost was enough to make up for the 21-0 halftime lead of the Houston Texans.
Smith's three second-half touchdown passes to tight end Vernon Davis got the 49ers right back into the ballgame, but Texans safety Eugene Wilson's interception in the game's final minute allowed Houston to hold on to a 24-21 victory at Reliant Stadium.
Looking to at least set up a game-tying field goal with 1:38 on the clock and the ball on the 49ers own 6-yard line, Smith moved the team to the 43-yard line with two completions and a 5-yard scramble. Facing a fourth-and-five, the 49ers were flagged for a delay of game penalty, the team's 11th infraction of the afternoon. With five yards tacked on as a result, Smith was pressured in the pocket on fourth down and his pass intended for Isaac Bruce sailed high into Wilson's arms.
"It's obviously disturbing to get 21 points behind in the first half, there is no reason for that." head coach Mike Singletary said after his team's comeback effort came up short. "To find yourself in a situation where you have to dig yourself out of a hole on the road is unacceptable."
The 49ers (3-3) struggled to execute in the first half or keep their quarterback out of harm's way. Shaun Hill completed 6-of-11 passes for 45 yards while being under constant pressure.
The 49ers made changes to the line heading into the week, naming Tony Pashos the starter at right tackle and allowing Adam Snyder and Chilo Rachal to rotate at right guard. On Sunday, they made more adjustments as Pashos went down with an injury. Veteran tackle Barry Sims came in as the replacement and was playing alongside a different guard throughout the game as Snyder and Rachal rotated.
The play of the offensive line was a sticking point to Singletary after the game. Smith's rally aside, the play up front had him visibly displeased.
"I know we came back in the second half and we made some plays, but we just didn't play well. We have to have better offensive line play," Singletary said.
Besides numbers on the scoreboard, the first half statistics highlighted disparity in how the two teams performed offensively.
Houston (4-3) converted half of their third downs, while the 49ers only converted once on six attempts. The Texans racked up 11 first downs, eight more than the 49ers. And Houston picked up 185 total yards, 157 of which came in the air, while the 49ers totaled only 50 yards.
Even with starting running back Frank Gore returning and rookie wide receiver Michael Crabtree making his NFL debut, the offense went three-and-out on their first three possessions. Gore wasn't much of a factor in the game, rushing 13 times for 32 yards.
"That first half wasn't Shaun's fault at all," Smith said. "We didn't execute as an offense."
But as the team walked off the field at the end of the first half, Singletary discussed with offensive coordinator Jimmy Raye that it was time to make a switch. And so it was done. Singletary then told Smith of his decision in the locker room.
It wasn't the change the team expected to spark the offense heading into the game, but with Smith in the lineup, the team used more of a spread attack in the shotgun formation.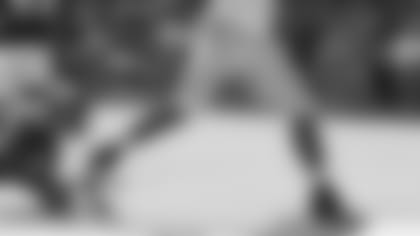 "I just tried to play my game and take what the defense gave me," Smith said of his 15-of-22, 206-yard, three-touchdown performance. "I didn't try to do too much, just make my reads and throw it where I was supposed to."
Smith certainly threw it where we was supposed to on his first two passes, a 17-yard hookup with Crabtree and then a 29-yard touchdown pass to Davis, who took a big hit from Texans cornerback Dunta Robinson. It was Smith's first touchdown pass since he threw a 7-yard touchdown to Davis on Oct. 28, 2007 against the New Orleans Saints.
The 49ers got a spark from their defense when Texans running back Steve Slaton was stripped by free safety Dashon Goldson, who also recovered the fumble at the 49ers own 34-yard line.
Smith continued to jump-start the offense from there by completing his next four passes. He showed tremendous poise, mobility and some impressive moxie by being ready when Singletary called his number. The 49ers finished the game with a season-high 17 first downs, 14 of which came in the second half under Smith's leadership.
Smith hooked up with Davis twice more in the fourth quarter for scores, giving the duo seven career touchdown hookups. The second score came on a 14-yard skinny post, the other on a 23-yard over-the-middle route past Texans linebacker DeMeco Ryans to make the score 24-21 with less than four minutes remaining.
The 49ers continued to take advantage of Davis against opposing linebackers. He finished the game with seven catches for 93 yards and a career-high three touchdown grabs. Davis became the first 49ers tight end to catch three touchdown passes in a single game and now leads the NFL with six touchdown catches this season.
"He's such a weapon down there and he won [on those plays]," Smith said. "He got to where he was supposed to and he made the plays."
Smith also showed some nice timing with Crabtree, who finished his first-career game with five catches for 56 yards.
"He did a great job of competing and making plays," Smith said. "That was impressive to see from a young guy who's been here for a couple of weeks."
Crabtree's 18-yard catch on a deep flag route in the second quarter provided the 49ers with their only third-down conversion in the first half. Two of his other catches also went for first downs.
"It felt good to be playing on Sundays and not on Saturdays," Crabtree said after the game. "I was calm. I practice on being calm and knowing what I'm supposed to be doing and executing my plays. And I think I have some more work to do."
Crabtree was expected to play a significant amount of snaps, and ended up playing on most of the offensive snaps. But he was "prepared for anything," heading into his first game. "I was ready to play football today," he said.
"I think he did a great job today, absolutely. He did a heck of a job," Singletary said of his rookie wideout. "The bottom line is when he had a chance to make plays – he made them and that's good. It seemed like he's been here awhile."
Crabtree's impact took place more in the second half as the rookie showed he can play on the NFL level, by making strong-handed catches, one time hauling in a pass by the backside of the football.
With Crabtree and the 49ers offense slow to start, the Texans put together the game's best drive on their third possession. Slaton capped it off with a 1-yard touchdown run.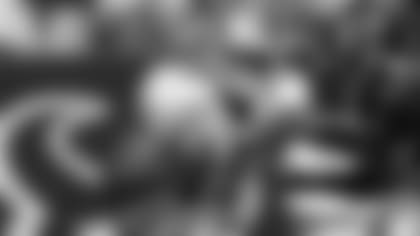 The 49ers almost picked up an interception on Houston's next possession when cornerback Shawntae Spencer broke up a deep sideline pass intended for Slaton. It appeared as though Spencer lost the ball in the sunlight beaming down from the open-roof at Reliant Stadium.
The light became a factor again when wide receiver Arnaz Battle muffed a Texans punt at the 49ers own 10-yard line. Battle seemed to be, well, battling the sunlight as he tried to make the fair catch.
Texans wide receiver Andre Davis recovered the fumble instantly. Two plays later, Slaton caught a short pass from Schaub and broke cornerback Nate Clements' tackle and beat defensive tackle Isaac Sopoaga to the right pylon for a 9-yard touchdown.
Watching their opponent struggle to pick up first downs, the Texans continued to move the ball on offense, scoring their third first touchdown of the first half. Schaub's play-action fake to Slaton on a stretch play sucked the 49ers defense in and allowed him to find tight end Owen Daniels wide-open down the field for a 42-yard touchdown catch.
It was Daniels' fifth catch of the game putting him exactly at the 100-yard mark. He finished the game with seven catches for 123 yards in a game that turned into a tight end battle. Houston's main playmaker in the passing game, wide receiver Andre Johnson was held to just two catches for 62 yards and had to leave late in the game with an injury.
"I think at times there was miscommunication," linebacker Takeo Spikes said of the 49ers defensive struggles in the first half. "Some of the other times I think they just made plays. I don't think there is a need to panic, but there's a sense of urgency.
"We have to help ourselves when there's an opportunity to get off the field."
Spikes suffered a shoulder strain in the first half, returned to the game, but ultimately gave way to rookie Scot McKillop. Spikes said he couldn't play up to his standards. But with McKillop and Joe Staley manning the linebacker positions, the 49ers defense held the Texans to just a 50-yard field goal by Houston kicker Kris Brown in the final 30 minutes.
"Alex provided us a spark and defensively we forced a turnover," Spikes said referring to Goldson's fumble recovery which aided the comeback charge.
Next week, the 49ers will travel to Indianapolis to take on the undefeated Colts led by Pro Bowl quarterback Peyton Manning. But Singletary would not name a starting quarterback.
"We're going to put the guys on the field that give us the best chance to win. We'll continue to do the things we need to do to find who that is."
Singletary added that he would need to watch film to "see the decisions that were made by both quarterbacks."