The Cowboys offensive line, which features three Pro Bowlers, stands on average at 6'6, with an average weight of 326.8 pounds.
That means that at 6'0, 255 pounds, outside linebacker Parys Haralson is about 71 pounds lighter, with on average, a six-inch height disadvantage.
"You just use what you have to your advantage," said Haralson when asked on ways to put pressure against the huge unit. "Use your speed, use your quickness and try to get around them and use your leverage. They've got some taller guys, so you have to try and use leverage and play as fast as possible."
The third-year backer currently leads the 49ers in sacks with four, and plans to show this Sunday that size isn't everything.
"I don't ever feel like I'm at a disadvantage," he said. "You just have to play with leverage and speed and play your game. Just be relentless."
Head coach Mike Singletary has repeatedly driven home his mantra of playing physical and controlling the line of scrimmage, but that task becomes exponentially tougher this week for the 49ers defense, considering the ample girth and power that players like Leonard Davis or Flozell Adams bring to the trenches.
"Their offensive line is pretty big," said defensive end Ray McDonald. "I think Leonard Davis and Flozell Adams are the biggest linemen they have. They just do a real good job in their blocking scheme. And they do a good job of doubling up. They like to use power blocking and they're good at hard nose football, running the ball and trying to power it down your throat."
The Cowboys jammed the ball down the throats of their longtime rivals last week in Washington as Pro Bowl running back Marion Barber churned out 66 yards in the final quarter.
"He's a big back, just like the offensive line," said nose tackle Aubrayo Franklin. "He's the type of guy, who you have to tackle low, before he gets started. He's a guy who can either run it up in the middle or take it to the edge. He can hurt you out the backfield. He's one of the top running backs in the league."
Although the 49ers defense was gashed early on for a few long runs by Rams backup running back Antonio Pittman, the unit quickly adjusted and held him to only 26 yards in the final two quarters of the game. Two weeks ago against Arizona, the run defense proved to be just plain stingy, limiting starter Tim Hightower for only 22 yards on 13 carries.
"It's tough. It's the challenge brought in front of us every week, to stop the run," said Franklin. "That's the key to success for our defense. If we stop the run, keep those guys in passing situations and get after the quarterback, we'll be pretty successful."
Fortunately for the Cowboys and unfortunately for the 49ers, Tony Romo is back as the starting quarterback for Dallas.
"You can tell, the offense had a little spark to it," said Haralson. "He's throwing the ball, making the calls at the line of scrimmage – he's running the offense."
Even though Romo admitted to not having his usual zip on the ball last week, he still performed well enough to give his team a much needed win.
"I just think Dallas has a lot more confidence going into games knowing that Romo's behind center," said starting cornerback Walt Harris. "We're going to come in and they're definitely going to be a more confident team with him back in."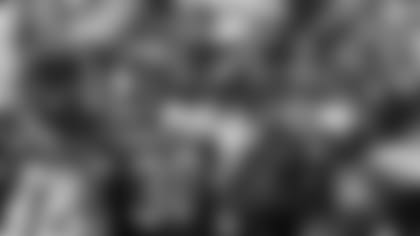 Romo never stops trying to make a play downfield, and at times his improvisation leads to huge dividends that can dishearten a defense.
"Obviously, if you're on third down and he makes a play like that and keeps the drive going, it definitely can get frustrating," said Harris. "Romo is a guy who makes plays. He makes those kinds of plays and we have to expect that. That's why we have to key in more going into this week and just prepare and be that much better with fundamentals and technique."
But Romo's desire to make something happen also lends itself to big plays for the defensive front.
"When you're a defensive lineman, you want to go against a quarterback, who tries to make a lot happen," said McDonald. "It gives you more of a chance to get a sack. That's one of the things as defensive linemen where we keep working. If you go up against a quarterback like that and he' s back there scrambling around, you get more of an opportunity to get a sack."
The 49ers backend plans to help give their guys up front the time they need to get after Romo by providing tight coverage on Romo's top receivers in Terrell Owens and Roy Williams.
"We know T.O. is a big, physical receiver," said cornerback Nate Clements. "What I'm going to try and accomplish is just playing my game, and that's just to be disruptive and have tight coverage. We know they're at least going to make a number of attempts to find a way to get him the ball. So we just want to minimize the number of yards after the catch or whenever he touches the rock, just make sure we take him to the ground."
As for Williams, the 49ers already have some confidence in handling him after keeping him to only two catches for 18 yards in their week three matchup when Williams was still with Detroit.
Harris shadowed Williams for most of that game, but said the Cowboys offense is much more suited for Williams, making it a tougher challenge this go-around.
"It seems like he's a lot more comfortable with the offensive plays and offensive system that he's in," said Harris. "He's just going to continue to get better, as he plays in that system. He's a good wideout, definitely a big guy, great target for Romo. They have a lot of talent on that side of the football as a team and we feel we do as well. It's going to be a big game and a big opportunity for us all."
Pro Bowl tight end Jason Witten will also command serious attention from the 49ers defense, as he leads the team in catches and yards with 48 grabs for 583 yards.
"Witten, he's a Pro Bowler too," said Haralson. "He's a big part of their scheme, makes plays for them and catches the ball. He's a Tennessee guy also, so I knew about him in college. But when you watch him on film, it seems like he blocks well, runs routes well, catches the ball when it's thrown to him – he's an all-around tight end. We have to know where they're lining him up at all times."
Haralson, Harris and Clements all provided big plays last week against St. Louis with three straight turnovers. And just like controlling the line of scrimmage, the 49ers believe that continuing to create turnovers is another critical component to their success.
"Anytime you're playing a team like Dallas with a good offense, you want to give them the least opportunities possible to score points," said Haralson. "Being able to get the ball back and get the ball to our offense, making interceptions, causing fumbles, three-and-outs, you want to be able to do it that way and keep our offense on the field as much as possible."
Most of the players on the Cowboys roster believe they're much better than a 6-4 record. The 49ers concur, and understand that knocking off a talented team like Dallas would go a long way in showing exactly how they measure up in the NFC.
"It's an opportunity for us. I hope we all come in every day this week with the mindset of moving forward and moving up. It's definitely going to be a test to see where we're at," summed up Harris.
Thursday's Practice Notes:

Pro Bowl linebacker Joe Staley missed his second day of practice, but not because of the hip strain that kept him sidelined on Wednesday. Willis has a bit of a bug, but is still expected to be fine for Sunday.

The 49ers are still in the lurch about whether or not rookie Chilo Rachal will start this Sunday at right guard. It's still under evaluation, but offensive coordinator Mike Martz indicated that if the second-round pick does start that it's not because of a drop-off in play by current starter Tony Wragge.
"He's such a talented young man. There's a maturity aspect involved. I'm not sure he's ready. We'll just have to see how he handles today, too. He's a big, powerful guy that's kind of special physically and can do some things, but if he's not ready to play, we'll just see. We'll just kind of hold off and see how we do that. The reflection is nothing that we weren't good there, it's that this guy could end up being kind of special. Otherwise, you don't make that change. And that's the point people need to understand. There's no reflection on what was happening there at all. It's just we think he might be really, really good, so let's just take a look kind of deal."
Martz also indicated the wide receiver Josh Morgan's groin injury was pretty significant and that he isn't sure he'll get him back anytime in the near future.