Thanks to generous contributions from the 49ers Faithful, many charitable organizations benefited from the game day stadium drives during the 2007 season. Below is a snapshot the outstanding support and RESPECT that you have showed for your community this season.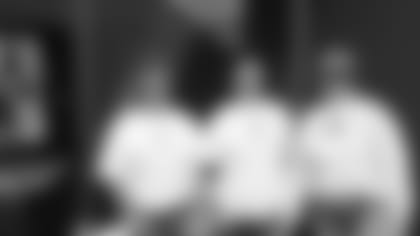 September 10, 2007 ** Classroom Supplies Drive
Benefiting Resource Area for Teaching (RAFT)
Eight barrels of classroom supplies were collected along with$3,191 in cash donations.
September 30, 2007
7th Annual Children's Book Drive
Benefiting Children's Book Project
More than 2,242 books and $2,400 in cash was collected.
October 7, 2007
7th Annual Cell Phone Drive
Benefiting the Boys & Girls Club of Silicon Valley
More than 846cell phones, plus accessories including batteries and chargers, were collected in conjunction with Sprint. In addition, nearly $1,250 in cash was collected. The donated phones were sold, refurbished or recycled in an environmentally sound way with all proceeds being used to support the Boys & Girls Club of Silicon Valley.
October 28, 2007
Blanket Drive
Benefiting InnVision of Santa Clara
Close to 500 blankets were collected at the 49ers first-ever blanket drive. The blankets were donated to InnVision of Santa Clara.
November 18, 2007
16th Annual Food Drive
Benefiting San Francisco Food Bank
49ers fans donated more than 3,100 pounds of food and $7,267 in cash to the SF Food Bank. This year, the Food Bank will distribute 29 million pounds of food, enough to provide more than 62,000 meals to hungry San Franciscans every day.
December 9, 2007
16th Annual Toy Drive
Benefiting Operation Dream
Over6,000 toys and $13,000 in cash were collected. The money will be used to buy toys for San Francisco children in need during this holiday season.
December 15, 2007
2nd Annual Food Drive
Benefiting Second Harvest Food Bank of Santa Clara & San Mateo
49ers fans donated 1,824 pounds of food and $400 in cash to Second Harvest. The Food Bank collects and distributes more than 27 million pounds of food each year to low-income children, adults and seniors.
December 23, 2007
Coat Drive
Benefiting CityTeam Ministries
More than 800coats and $1,600 in cash was collected to support the efforts of CityTeam Ministries.
Thank you for demonstrating RESPECT for your community!