In just a few short hours, 49ers players and their families touched the lives of almost 100 children in two Bay Area hospitals by bringing them toys and holiday spirit on Monday.
Linebackers Takeo Spikes, Joe Staley, Parys Haralson, Keaton Kristick and Thaddeus Gibson pooled their money together to purchase and personally deliver toys to children with illnesses ranging from cancer to pneumonia Monday morning at Good Samaritan. The players spent time in each room chatting with the patients and their families, signing hats and giving almost $1,000 in toys to the infants and youth who will spend their holidays in the hospital.
Spikes has led this effort for the past three years with the 49ers, and four years prior in his time with the Bills and Eagles. He is grateful for his ability to give back to the community, and he appreciates the support from his teammates.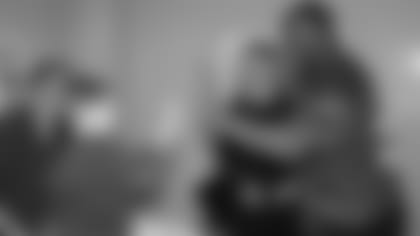 "When you're able to go to a children's hospital and you see the kids there, especially throughout the holidays, you really realize how fortunate we are to be able to be blessed to go out and do something," he said. "One thing I know in life that you can't get more of, what you can't buy more of, is time. With our schedule, especially through the holidays, time is of the essence. So for me to be able to get the time of my teammates and come here, and for them to want to be here, that's priceless. And I appreciate that from those guys."
Across town in Palo Alto, center Eric Heitmann, safety Chris Maragos, their wives, and offensive coordinator Mike Johnson's family also took time to deliver individually stuffed, dressed and named Build-A-Bear toys to more than 50 children at Lucile Packard Children's Hospital at Stanford.
Faces lit up as the players and wives went room-to-room delivering the bears, spending time with each family and passing along holiday wishes. Afterwards they joined the kids in the activity room, where they played video games and did arts and crafts with the youngsters.
"You know, it's great," Heitmann said. "Honestly, words can't really describe what it means for me to be able to give back to these kids, especially during the Christmas season."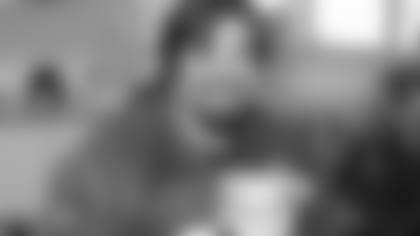 The Build-A-Bears were made a week earlier at the Valley Fair Mall Build-A-Bear location in San Jose by the players' and coaches' wives, who spent two hours carefully selecting each bear and it's outfits, as well as filling out birth certificates for the children to have with their stuffed toys. Lucile Packard Hospital was grateful for their efforts and expressed the impact that the visit and the toys provided for the children and their families.
"We love having the 49ers visit," said Courtney Moreland, child life specialist at Lucile Packard. "It's really nice for the kids as they approach Christmas, and are kind of saddened by the things that they're going to miss out in their normal traditions with their families, having special groups like the 49ers come and give them a bear and just let them know that they're being thought of.
"It kind of takes that thing that they would normally miss and turn it into something special."