In talking to key members of the 49ers offense, it's beyond clear that quarterback Alex Smith has shown greater command of Jimmy Raye's offense in year two.
After the conclusion of two days of organized team activities at 49ers headquarters, it was clear to all of Smith's teammates how much more comfortable their quarterback looks in the offense.
"He understands what it takes to win games, he's found his role and he's found himself. I'm excited about Alex this year as well as the rest of the team," Pro Bowl tight end Vernon Davis said.
"I think he's a little bit more confident in everything. I don't it even think it's just the physical side, it's the mental side. He's more comfortable talking more, being a leader more and understanding the offense," fourth-year wide receiver Jason Hill said.
"Alex did a great job out there these past two days and was real confident. Everyone is one the same page with what we're doing up front and I thought he did a good job," starting center and offensive co-captain Eric Heitmann said.
Smith's ownership of the offense was easily noticeable during the 49ers voluntary practices when he would go over practically everyone's assignment during offensive walkthroughs.
"There was one period where he came up front and basically broke down what the defense was doing and he was very good at conveying the message to our entire offense," Heitmann said. "I think the guys up front responded well to it."
Hill explained Smith's increased understanding best.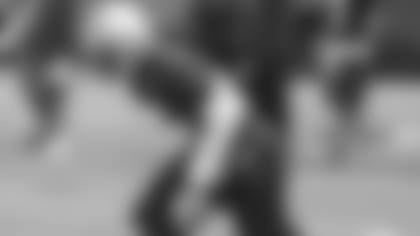 "It's like he already knows what you're going to ask him because he's pointing you to go this way or that way. It's working well so far."
But Hill doesn't just expect big improvement from the quarterback position; he envisions bigger and better performances from the 49ers wide receivers too.
Only two receivers (Josh Morgan and Michael Crabtree) caught at least 48 passes in 2009, but Hill and others want to see group-wide production this upcoming season. That production all starts with the work put in during the offseason.
"I think we're going to get it rolling fast," said Hill, who caught nine passes for 90 yards and two touchdowns last year. "We came out slow last year, but being in the same system with the same guys, the comfort level is there."
Agreeing with those opinions was Crabtree, who joined the team mid-season in 2009 and led all NFL rookies with 56.8 receiving yards per game. Now with a full offseason to train with teammates and fully learn the offensive playbook, Crabtree sees big things on the verge for all of the 49ers play-makers.
"I'm working hard to be an essential part of the offense, but we have a lot of weapons and I'm looking forward to seeing all of our weapons do something next year," the second-year wideout said. "I'm going to work hard this offseason and really get it in."
Crabtree plans on getting in to the team's facility early and often in the coming months to develop more timing with Smith and to work on combination routes with Morgan.
"I have a lot of stuff to accomplish," Crabtree said. "I plan on having a big offseason this year."
Notes and Quotes
-Practice on Tuesday opened with light showers that progressively picked up during the first 60 minutes of the 90-minute workout. The rain didn't spoil or distract the work being done on the field though. "I thought day two went great," Heitmann said. "It rained a little bit outside, but I thought we got a lot of good work in and made through practice and good a good lift. Overall, I thought we were pretty sharp for the second day of OTAs."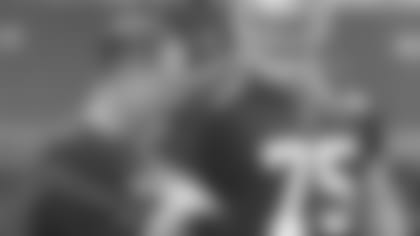 -Another player looking sharp this offseason is second-year tackle Alex Boone, who has trimmed his body fat down considerably by eliminating bad foods from his diet. "Hardest part is that I'm a fat guy and I love bad food," Boone said to a group of chuckling reporters. "I want to eat bad food and I can't. It's challenging at times, but I'm sticking to it and it's going really well." Boone's eating foods with lots of protein, mostly grilled chicken, vegetables and brown rice. He's also eating close to 6,000 calories a day with 500 grams of protein. Boone said his offseason diet changes are part of an attitude adjustment he received from working out with former NFL offensive lineman LeCharles Bentley back home in Ohio at Bentley's O-Line Academy. "It was probably the best thing that ever happened to me, he helped me focus my mind and get more disciplined," Boone said.
-While one player loses weight, another spent the offseason trying to gain it. Second-year outside linebacker Diyral Briggs said he put on 15 pounds this offseason and is up to 248 pounds. Briggs was listed in the 49ers media guide at 230 when the 49ers signed him as an undrafted free agent out of Bowling Green last offseason.
-Out of all the activities that the multi-layered Vernon Davis participated in this offseason, Davis said his highlight had to be his time spent on the NFL's USO Tour. "Going to Afghanistan was one of the highlights of my offseason," the tight end said. "It meant a lot to us to see our troops there and it was just an awesome experience getting an understanding of what their daily lives are like. It's not easy. It's tough. I definitely respect everything they're doing over there and hopefully they'll be coming home soon."