Last Friday, 49ers headquarters in Santa Clara was home to roughly 50 female high school student athletes for the second annual T.H.I.N.K Gold conference co-hosted by the 49ers, FC Gold Pride and the Bay Area Women's Sports Initiated (BAWSI). The title, T.H.I.N.K Gold, represents the event's objectives of imparting tips about "Training, Health, Inspiration, Nutrition, and Knowledge" for success in athletics and life.
The morning kicked off with breakfast and welcoming remarks from 49ers Director of Community Relations and 49ers Foundation Joanne Pasternack, FC Gold Pride General Manager Ilisa Kessler, and BAWSI's Co-Founder Marlene Bjornsrud.
When speaking of the goals of the day, Pasternack included the hopes of showing the women how sports can have a positive influence in all aspects of their lives and try to address the issues young women face at their age.
"When women participate in sports they are able to carry those skills into other areas of their lives and become leaders in school, business and communities and we're hoping to take all of that today and incorporate that into their everyday lives.
"As a young woman involved in athletics, there is always the issue of body image and really trying to step up and take that leadership role in sports and we want to address those stereotypes that young women have."
After the welcoming remarks, the student athletes moved onto the practice turf field at the 49ers headquarters for a ZUMBA warm up session with Susan Armenta, a ZUMBA instructor and nationally ranked speed walker.
After getting the athletes getting warmed up physically, Mara and Jenna York, daughters of team owners Denise and John York, hosted a team building session for the athletes to get to know their fellow conference attendees a little better. The York's ran the girls through team building exercises that consisted of making team names and presenting them to the entire group.
Once warmed up and acclimated with their groups, the athletes attended their first breakout session where 49ers Executive Vice President of Football Administration Lal Heneghan said a few welcoming words to the youth and then introduced Erika Carlson, a sports performance consultant to help the youth gain confidence in themselves, not only as athletes but in every portion of their lives.
Following the breakout session, the youth headed out to the football field where 49ers Head Strength & Conditioning Coach Duane Carlisle and Olympic soccer player and BAWSI Co-Founder Brandi Chastain ran the girls through workout exercises they can apply to each of their individual sports. Coach Carlisle and Chastain also gave the girls exercise tips on how to help stay healthy and injury free. 49ers tackle Joe Staley and wide receiver Josh Morgan attended the workout session to say hello to the young women and help run them through drills.
The youth came away with both tips on nutrition and ways to stay in shape for their individual sports.
"I learned a whole lot of new stretches and I'm a track runner and some of these stretches can help me out a lot and I never knew about them," said Michelet Jordan, a student at Will C. Wood High School in Vacaville, Ca.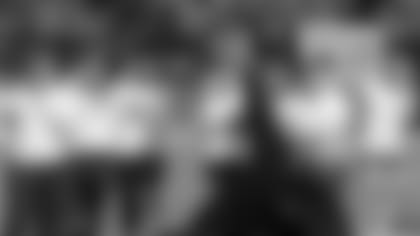 Not only did Chastain help the youth with their physical confidence, she hoped the young females would learn how to be mentally tough as well.
"We had a young girl fall down during the running exercise and everybody laughs and it's uncomfortable but then I asked the young women 'Who is perfect?' and no one raises their hand," said Chastain. "The idea of being able to let go of making mistakes is really important because it releases the ability to push the envelope even farther because there's no one I've played against, played with or watched in basketball, football, or soccer that is perfect so it gives the girls the freedom to just go out and try things."
After an hour long workout on the field, the athletes were treated to a luncheon in the 49ers new café with a variety of professional athletes including Staley, Morgan, FC Gold Pride players Carrie Dew and Kimberly Yokers, Linda Buchanan (tri-athlete), Sara Dukes (volleyball), Sharon Kelleher (tennis), Elizabeth Coughran (basketball) and June Solomon (roller soccer).
The last session of the day featured 49ers offensive lineman Tony Wragge, 49ers Vice President of Communications and Government Affairs Lisa Lang and two-time Olympic softball medalist and President of the Women's Sports Foundation Jessica Mendoza taking the stage to talk about finding balance in sports and in life.