Last week, the San Francisco 49ers visited Cabrillo Middle School in Santa Clara, CA, to celebrate the completion of the 49ers STEM Leadership Institute's first year and the start of the 2015 Summer STEM Session.  In addition to the program's young scholars and their teachers, John York, Co-Chairman/Owner of the 49ers, John Paul, Chief Executive Officer of VenueNext, and Ronak Bhatt, Vice President at VenueNext, attended the summer session to speak with the 49ers STEM Leadership Institute's 120 students.
Last year, the 49ers STEM Leadership Institute's Chevron STEMZONE was launched in partnership with the 49ers, Chevron, the Silicon Valley Education Foundation, and the Santa Clara Unified School District. The program, a six-year curriculum beginning in seventh grade and continuing through high school, seeks to prepare students with high academic potential to be outstanding in STEM (science, technology, engineering, mathematics), inspiring and enabling young scholars to pursue these majors at top-tier universities and in their professional careers. The program leverages rigorous college-preparatory curriculum, a state-of-the-art engineering lab and more than 300 hours of additional learning time each year.
Emily, a second year 49ers STEM Leadership Institute student and rising eighth grader, says of the program, "I'm looking forward to new challenges [this year]; experiencing new things and learning."
During the event, students from both grades participated in a team-building exercise where they had to solve a problem by engineering a solution with only the items provided to them. Leveraging every-day items such as empty water bottles, paper clips and Styrofoam, each student team derived unique, innovative solutions.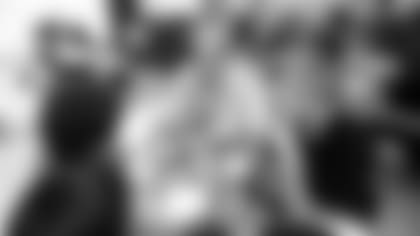 *John Paul, Chief Executive Officer of VenueNext, brainstorms with students of the 49ers STEM Leadership Institute to design a solution to a problematic camping scenario. *
 "I just wish I had this growing up," said Paul, co-founder of VenueNext which is the developer of the Levi's® Stadium App that enables in-seat food and drink delivery and other innovative functionality at Levi's® Stadium. "We're building leaders for tomorrow."
In addition to recognizing last year's inaugural class of 60 students and the program's strides to date, the event served to induct the 49ers STEM Leadership Institute's second class of 60 incoming seventh grade students. York, Paul, and Bhatt addressed all 120 students, sharing words of wisdom for the young scholars.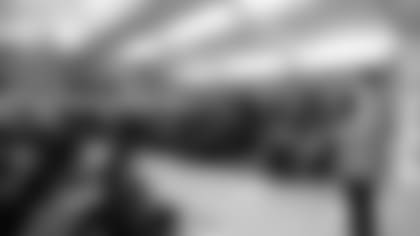 John York, Co-Chairman/Owner of the 49ers, addresses the inaugural and incoming 49ers STEM Leadership Institute classes at Cabrillo Middle School on Thursday, July 23, 2015.
"If you can learn to learn," said York to the students, "you can continue to educate yourself for the rest of your life."
Rounding out the day, students received commemorative 49ers STEM Leadership Institute t-shirts, while York passed out key instruments for a successful school year ahead – San Francisco 49ers pencil bags complete with No. 2 pencils.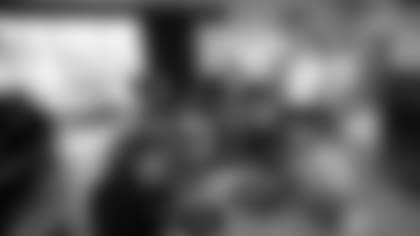 John York passes out school gear to eager incoming seventh at eighth graders at Cabrillo Middle School.