On Wednesday, May 6, in honor of Mother's Day, the San Francisco 49ers partnered with CityTeam Ministries' House of Grace, a San Jose-based non-profit recovery program where addicted, abused or homeless women can rebuild their lives without being separated from their children.
49ers players, and coaches and players wives, teamed up to provide the women with a special surprise day of pampering which included hair styling, make-up application, and manicures and pedicures to celebrate the ladies commitment to becoming a more supportive mother and recognize their dedication to provide a stable, safe and sober environment for their children.
A professional hairstylist herself, 49ers quarterback Alex Smith's wife, Elizabeth, donated her expertise for the day manning the hairstyling station for the women. Also, being here and giving her time to honor mother's for Mother's Day was very special to her.
"This is really important for me to come out here and do this because for me, mothers are so important. My mother means the world to me," said Elizabeth Smith. "These women have had a little rough patch in their lives and they've had the opportunity to rebuild this relationship with their children. And to me, I think that a relationship between a mother and a child is very important. Mother's Day is a celebration of a mother and a child, and this is a very good opportunity for them to spend some quality time together and for us to pamper them in honor of that."
While the wives spearheaded the makeover portion of the event, the players were busy taking care of the children playing games and making Mother's Day cards and frames for the children to give to their mothers at the end of the day.
"Today, we have been hanging out with the kids," said Alex Smith. "We get to hang out with them a little bit and make some Mother's Day cards, Mother's Day frames because they're going to be taking some pictures later and put the pictures in the frames, and hopefully have the kids have something to give their moms on Mother's Day. It's fun. It puts things in perspective. It's always nice to come do things like this."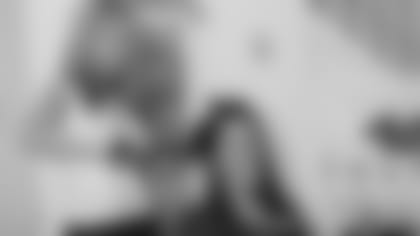 49ers players and wives included Alex and Elizabeth Smith, Adam and Erika Snyder, Eric and Emily Heitman, Andy and Rachel Lee, Shaun Hill and his girlfriend Ashton, Vernon Davis and Tony Wragge. 49ers Coaches wives, Kim Singletary and Shereese Carlisle, also played a helping hand throughout the day.  Coach Singletary's daughter, Jill, also attended the event to help pamper the ladies.
Volunteers from San Jose City College School of Cosmetology also donated time and effort as 16 students and teachers came to provide the manicures and pedicures for the women.
After their beauty treatments, the women were reunited with their children for individual family photos, which were printed, framed and presented to the mothers by their children and 49ers for an early Mother's Day present.
"House of Grace provides an important service for Bay Area mothers looking to rebuild their lives and the San Francisco 49ers are proud to partner with such a great program," said John York, owner of the San Francisco 49ers.
CityTeam Ministries' House of Grace Recovery Program is a 12- to 14-month comprehensive residential program located in San Jose, CA where addicted, abused or homeless women can rebuild their lives without being separated from their children. The women at House of Grace enroll in educational, vocational and life skills classes and counseling, and attend 12-step meetings. Program graduates re-enter society with skills, positive attitudes and goals. House of Grace has a proven track record of making a lasting difference in the lives of women who have successfully completed the required phases.
Prior to today's event, the women were given another treat to make the day a complete day of transformation and pampering by making a trip to Career Closet, a San Jose based volunteer organization that provides business attire and career counseling to disadvantaged women. At Career Closet the women were able to pick out a new outfit to bring back to the House of Grace and change into after their makeovers were complete.
As a result of Career Closet's generous donation, the 49ers Foundation provided them with a $1,000 check to use towards continuing their work for women in need.
In 2008 alone, the 49ers Foundation raised and donated $1.6 million. Over the past seven years the 49ers Foundation has donated a total of $8.2 million.