Tight end Vernon Davis, wide receivers Josh Morgan and Ted Ginn Jr., cornerback Shawntae Spencer and fullback Moran Norris counted down to "Noon Year's Eve" Tuesday afternoon at the Santa Clara Convention Center as they celebrated the success of the inaugural year of the 49ers CARE program with the program's beneficiary organizations and Visa volunteers.
In its first year, the 49ers CARE program, which gives players the opportunity to purchase a section of season tickets to give out to a charitable organization of their choosing, had an exceptional success rate. In all, 16 players purchased tickets which totaled more than $100,000 for local non-profits like the 49ers Academy, Fresh Lifelines for Youth and Bayview/Hunter's Point YMCA, among others.
"It was something that was actually new to the organization, and when I heard about it I wanted to be a part of it," said Spencer, who chose to donate his section of season tickets to the Make-A-Wish Foundation. "It was great, just meeting the kids. They have so much energy and we ran around and played tag and took photos. Just getting a chance to interact with them and talk with some of the families and things like that, it was great."
The carnival-style event featured 49ers inflatables, games like skee-ball and wack-a-mole, face painting, air hockey, foosball and traditional carnival games. Each of the 49ers CARE beneficiaries had the opportunity to send 25 representatives to the event as they enjoyed finger foods and booths set up by Boy Scout volunteers throughout the day.
The groups also had the chance to meet players, take pictures and receive autographs, as well as present them with a specially painted football award.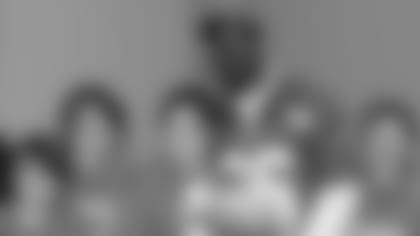 "This is the best ball that I've ever had," Spencer said. "The interceptions, fumble recoveries, and touchdowns, things like that – it doesn't mean as much as this one right here. This one has a personal meaning to me. It's different from just playing the game.
"What we do for a living is a game at the end of the day. But this right here is something totally different and hopefully I can continue to partner up and do some things with the Make-A-Wish Foundation and make a difference."
While the organizations and participants were excited for the opportunity to meet their sponsoring player, the players were just as thrilled to meet the participants.
"They've been coming to the games the whole year, and just to finally meet them and put a name with a face – because I've heard so many great things about them – that means a lot," Norris said. "Giving back, putting a smile on a kid's face, that's real big."
The "Noon Year's Event" also celebrated the culmination of a year's worth of Community Tuesday events sponsored by Visa, in which the 49ers Foundation distributed more than $1.8 million in grants to Bay Area organizations that support the Foundation's mission of keeping kids 'Safe, On Track and In School.' Throughout the 2010 season, players spent more than 430 hours giving back to the Bay Area community.
"The 49ers Foundation is so pleased to be breaking records," said Joanne Pasternack, Director of Community Relations/49ers Foundation. "This year we had nearly 90-percent player participation in our community Tuesdays through a wide variety of events, ranging from visiting hospitals and schools to rebuilding a community center, youth football programs, and just anything else that somebody could come up with."
A few of the many organizations receiving grants this year included Bayview/Hunter's Point YMCA, 49ers Academy, Fresh Lifelines for Youth (FLY), City Year San Jose / Silicon Valley, Silicon Valley FACES, Eastside College Preparatory Academy, Glide Foundation Organizing Project, City Year, and Santa Clara Schools Foundation.
The San Francisco 49ers Foundation is the non-profit community funding arm of the San Francisco 49ers. Now in its 19th year, the San Francisco 49ers Foundation supports development programs for underserved youth that keep them safe, on track and in school. A significant portion of its funding goes toward family violence prevention and youth development programs that teach leadership and respect. Through the direction of team owners Denise and John York, the 49ers Foundation has raised and distributed over $6 million to non-profit organizations over the last four years.
The 49ers CARE Program participating players and beneficiaries included:
Chilo Rachal (Chilo's Champs) – Bayview/Hunter's Point YMCA
Dashon Goldson (The Hawk's Nest) – Fresh Lifelines for Youth (FLY)
Delanie Walker (Walker Madness) – The ROLE Model Program
Frank Gore and Moran Norris (Smash and Dash) – Special Olympics
Joe Staley (Staley's Scholars) – Bring Me A Book
Josh Morgan (Josh's Dream Catchers) – Year Up
Justin Smith (Justin's Justice) – Support Network for Battered Women
Manny Lawson (Manny's Munchkins) – After-School All-Stars
Eric Heitmann (Heitmann's Heroes – Ronald McDonald House at Stanford
Nate Clements (Clements' Corner) – Ella Hill Hutch Community Center
Nate Davis (Nate & RJ's All Stars) – Robert Julian Robins Foundation
Joe Staley (Patrick's Prototypes) – California Police Activities League (CALPAL), Boys & Girls Club of the Peninsula
Ray McDonald (Ray's Renegades) – Bay Area Women's Sports Initiative (BAWSI)
Shawntae Spencer (Spencer's PITT) – Make a Wish Foundation
Ted Ginn Jr. (Ted Ginn's Crewcamp) – Boys & Girls Club of San Francisco
Vernon Davis (Vernon's VIPs) – 49ers Academy, CityTeam Ministries' House of Grace