At the end of the 49ers first day of organized team activities on Monday, head coach Mike Singletary spent close to 15 minutes at the end of the workout letting his team know exactly where they stood with him.
Singletary didn't sugarcoat his feelings.
"I think the players know me well enough to know it's all about getting better every day. And, if we're not getting better, then that means we're going backwards, and we can't do that," he said after the workout.
Singletary implored his team to value every period of the voluntary practice in order to maximize their potential of becoming a championship-caliber team. While some of the play was not up to his standards, Singletary was pleased with some of the things he saw on the field.
"There were some positives things today," he added. "I don't want to say the whole day was awful, because it wasn't. But, it just wasn't what it needed to be. And that's really the bottom line."
For the rookies on-hand, the speech might have been just their latest eye-opening NFL experience. But on the other hand, many of the veterans knew what Singletary was getting at and will use his words as motivation for the rest of the four-day OTA session.
"I think that you always have to be ready for that (kind of speech)," quarterback Shaun Hill said. "He's a fiery guy and he obviously holds the quarterbacks to a high standard. I've been with him for half-a-year so I know what he's about and what he's looking for, so that's not the first time I've gotten one of those (speeches) before."
Singletary let it be known that he views OTAs as a crucial time period for the entire 49ers organization.
"OTAs are important for everybody: coaches, young players, veteran players," he said. "Obviously, the younger players for the first time they get a first chance to make an impression. For the veterans as well, 'How are you feeling? What have you remembered from last year?' So, it's just a combination of a lot of things."
The first day of OTAs also served as the latest stage of the quarterback competition between Hill and Alex Smith. With both quarterbacks learning a new playbook, the duo was not willing to concede the new offensive scheme as a reason for the lack of crispness at practice.
"I think after the fact, maybe after OTAs we can look back and reflect on where we're at, but right now, I think coach is right, we need to hold ourselves up to another level and try to push that bar," Smith said. "We're all trying to raise that bar and it takes all of us. Because where the bar is at, and where it's been the past four years obviously isn't good enough."
Hill intimated there's some difficulty in learning the new playbook despite the fact that it's similar to the system the 49ers used in 2006 with offensive coordinator Norv Turner.
"Even though a play might look the same on paper from one system to the next, all the nuances of that play are completely different and that's the tough part," he said. "You ask us to go in there and draw a play on the chalkboard two days into a new coordinator, a lot of times we can do it, but knowing all the nuances, the in and outs of every single play, that's the difficult part."
Because there's a learning curve for both signal-callers, Singletary said he will rely on his coaching staff to help him make the final decision on who will be named the starter.
"I will say this: Jim (Raye), Mike (Johnson), all three of us, Jimmy Raye, we're all continuing to communicate on the quarterback (decision). And, they're going to tell us when that decision needs to be made. I don't think, you just say, 'OK, it's that guy.' They're going to come out here and they're going to compete, and at the end of the day, we'll know when that decision needs to be made."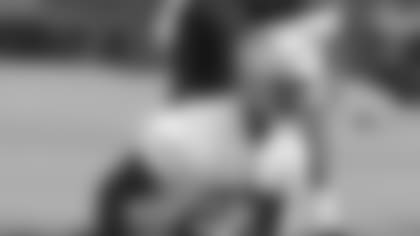 On the defensive side of the ball, the 49ers were flying all over the field with Pro Bowl linebacker Joe Staley and his supporting cast looking much like the team that finished the 2008 season ranked 13th in yards allowed from scrimmage.
"I think we felt pretty good defensively getting back out there with the guys and running the plays, trying to adapt back to the chemistry of the whole thing," veteran cornerback Walt Harris said. "You definitely want to continue working on the fundamentals aspect of it and continue to learn the defense to try to keep those things into your memory process."
For the rookies on defense, being on the field as some of their veteran teammates was quite the experience for them to process on their first day of OTAs.
"At first I was outside looking around during our walk-through and I was like, 'That's Takeo Spikes and Patrick Willis!'" rookie defensive tackle Ricky Jean-Francois said. "After that I knew I had to have a good practice because those are two of the best linebackers. It's great being able to play with them."
Jean-Francois and the other rookies soaked in the experience of playing alongside the entire 49ers roster.
"It's good seeing all the vets here, because now we get to see how we have to act around them in order to fit in," he said. "We get to see an example of how we need to carry ourselves in the league."
On the flipside, the veterans were pleased with the level of effort they saw from the rookies after day one of OTAs.
"I think they're a good group of guys who are willing to work and that's all you can ask for," outside linebacker Parys Haralson said. "You want the guys to come in and work hard and get them used to how we do things around here and show them the attitude we're going to carry this season. That's what we're looking for, guys who will do anything to help this team win."
As the team jogged over to the practice field to begin stretching, defensive coordinator Greg Manusky made a funny comment to some of the other coaches while running on the field. "Hug your favorite player today, give your favorite player a hug!" he cracked with a smile.
A few minutes later, while the defensive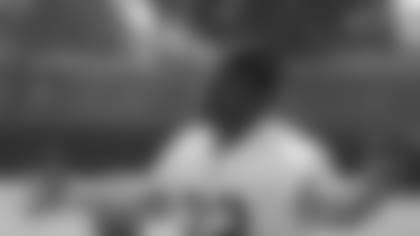 and offensive players stretched across the field facing one another, cornerback Nate Clements laid out a challenge to Shaun Hill.
"If you throw it to my side I guarantee I'll get at least one (interception)," Clements said with a big grin.
"You're all just X's to me," Hill calmly replied.
"I have to be at least a big X!" Clements said immediately.
"No, you're all just X's to me. It doesn't matter if Barry Sims is playing cornerback, you're all just X's to me," Hill said, refusing to take Clements' trash talking bait.
During the 11-on-11 portion of practice, Alex Smith connected on a nicely thrown 40-yard pass down the right sideline to wide receiver Josh Morgan, who beat undrafted rookie free agent Carlos Thomas on a go route.
On the first running play of the 11-on-11 work, Willis proved to be already in mid-season form as he got in the backfield but wasn't allowed to bring down Gore. "Tackle-for-loss already?" he asked rhetorically after he two-hand touched Gore.
Later in practice, Clements made good on his promise for an interception by cutting off a Hill pass intended for wide receiver Maurice Price during 7-on-7 work. It appeared to be a miscommunication on the route between Hill and Price that allowed Clements to make a play on the ball.
Clements couldn't help but laugh while running down the left sideline with the ball. After the play was over he said to Shaun, "I got ya!"
Hill came back a few plays later and connected with a wide-open Morgan 40 yards down the field on a deep post pattern over the middle for a 60-yard touchdown. It looked like a possible blown coverage by the defense which allowed Morgan to run free. Takeo Spikes recognized Morgan too late and could not get enough depth on his pass drop to make a play on the pass.
After practice had concluded the linebackers did some extra running on the adjacent hill led by veteran linebacker Jeff Ulbrich.
"That was 'Brich's idea," Haralson said. "He always has something extra for us all to do and it's always good to get extra cardio and conditioning. It's good to get your heart rate up and get your legs back tight.
The 'backers did a total of 12 reps where they were shuffling, backpedaling and running straight up the hill.
49ers sign S Curtis Taylor
On Monday the 49ers announced the signing of seventh-round draft pick Curtis Taylor and the release of defensive back Jimmy Williams. You can read the press release of the transactions here.