The San Francisco 49ers Foundation and Hedge Funds Care hosted the 9th Annual West Coast "Open Your Heart to the Children Benefit" " at The Bently Reserve in San Francisco on Wednesday, April 28th to raise funds to address the prevention and treatment of child abuse in the Bay Area.
49ers Owner John York, President Jed York, current players Moran Norris, Joe Staley, Josh Morgan, Parys Haralson, Dashon Goldson, and Tony Wragge, along with alumni Jamie Williams, Guy McIntyre, Keena Turner, JJ Stokes, Eric Wright and Dennis Brown all attended the benefit to support the cause.
"This event has been part of the 49ers foundation for nine years," said John York. "We have an intimate relationship with Hedge Funds Care and they are part of our primary mission to keep kids safe, on track and in school because the Hedge Funds Care mission is the safe portion which is to stop child abuse and family violence. It really is a very important thing and we've developed a great partnership over the years."
During the event, Dr. York and Co-Chairs of the West Coast Hedge Funds Care Executive Committee, Angela Osborne and Todd Goldman, spoke to the audience about the importance of the night and thanked all for their support for the cause.
Dr. York reiterated the importance of the 49ers not only being successful and great on the field every Sunday during the football season but also every day in the year out in the community.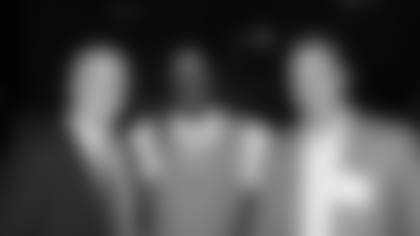 Many of the players expressed the same sentiments when they discussed why it was so important to be a part of a benefit of this kind.
"It's for a good cause, we are here to reduce child abuse," said Goldson. "Everybody here is really serious about this and showing support."
Money from the event was raised through ticket sales, raffles, and a silent auction. Last year's event raised over $650,000 and this year is said to reach close to $1 million for those in need.
Executive Member of Hedge Funds Care, John Williamson, discussed the impact the 49ers make on this event each and every year.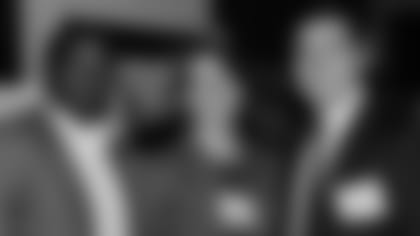 "It is great to have the 49ers as a partner in Hedge Funds Care. They are not a passive player in this particular organization here is San Francisco. Dr. York and his group is very active and not only do they provide support indirectly but also contributed helmets and jerseys for the silent auction. There are other organizations helping the cause as well but it's really the local community and the 49ers that are making this happen."
Hedge Funds Care is an industry alliance formed in 1998 with the sole mission of raising funds to prevent and treat child abuse. To date, the group has distributed over $21 million internationally through local agencies. In addition to the dinner in San Francisco, Hedge Funds Care also holds events in Atlanta, Boston, Chicago, Denver, London, Toronto, Cayman Islands, and New York.