*Community heroes honored at luncheon in San Mateo
---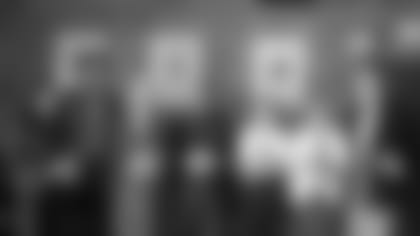 (From left) Hoang-Anh Nguyen, San Francisco 49ers Alumni Coordinator Steve Bono, Bernadine Dutra, David Williams, Anthony Cruz, Cynthia Geddes and Phil Hammer.
Santa Clara, Calif. – The San Francisco 49ers announced that Bernadine Dutra, founder and president of OneChild, is the winner of the 2008 49ers Community Quarterback Award. In honor of her contributions to the community, NFL Charities presented a $10,000 grant to Dutra on Monday at a team luncheon in San Mateo last Thursday, hosted by former 49ers quarterback Steve Bono.
Dutra, a Fremont resident, founded OneChild in 2001. The non-profit organization is dedicated to providing disadvantaged children throughout the San Francisco Bay Area with new clothing and school supplies.
"The mission of OneChild is that we cannot save the world, but we can improve the life of one child at a time," Dutra described. "It breaks my heart to see children going to school in clothing that doesn't fit or isn't clean. You know that those children aren't being treated well by their peers."
While many local children may be in struggling financial situations, the goal of OneChild is to increase their self-worth and confidence through outreach and donations.
"Without self esteem, children don't do well in school and that sets them up to have a difficult time in life," Dutra said. "I personally didn't have any self confidence until I was 38 years-old and began to accomplish things for myself, so I know what that means for a child. Doing this brings a joy to me that I can't describe."
OneChild serves children from infancy to high school. The children and their parents can come to the organization's 'store' for a one-hour private appointment and shop for their clothing and school supplies to ensure the students' confidentiality. All of the items are brand-new with tags and packaging. The organization depends entirely on grants and donations.
The 49ers have also announced that five finalists will receive a $1,000 grant for their own agencies. The finalists include Anthony Cruz, a 12 year-old Lockwood 4-H volunteer whose award will be donated to the Sensory Processing Disorder Foundation on his behalf to support other children with autism, Cynthia Geddes of the Berkeley Food and Housing Project, Hoang-Anh Nguyen of Project Cornerstone, David Williams, an after-school judo instructor, and Phil Hammer of the Silicon Valley Campaign for Legal Services.
The 49ers Community Quarterback program, as part of the NFL Charities Community Quarterback efforts, recognizes dedicated local individuals who devote their time to improving the lives of Bay Area residents. The program, in its eighth year, calls for nominations from Bay Area residents of community volunteers who demonstrate leadership, dedications and a commitment to bettering their communities.
Nominations were due on May 31, 2008 and the five finalists, including the overall winner were chosen in August of 2008.