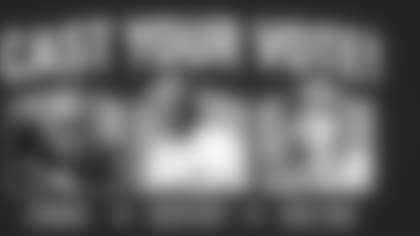 ](http://www.49ers.com/team/history/HOF-vote.html)
The San Francisco 49ers and the York family announced on Monday that the team's "Faithful" fans will annually select one of three finalists to become a member of the Edward J. DeBartolo Sr. 49ers Hall of Fame. Roger Craig, George Seifert and Gordy Soltau have been named this year's fan vote finalists by the 49ers Hall of Fame selection committee. Fans can now log on to 49ers.com to vote their favorite finalist into the 49ers Hall of Fame. Fan voting runs through July 15, 2011.
"The 49ers Hall of Fame is very special to me, my family and our organization," said 49ers President and CEO Jed York. "We wanted to reward our fans for their tremendous loyalty by involving them in this very important and special process. I am so proud to know that our fans will have a significant role in building the 49ers Hall of Fame for years to come."
In addition to the fan selection, 49ers Ownership will be able to select at least one inductee each year. Those people named as finalists in the fan voting process will not be considered in the Ownership selection. Both inductees will be honored throughout the weekend of November 12-13, 2011, highlighted by a ceremony at halftime of the 49ers home game versus the New York Giants.
As a prerequisite for induction, all 49ers Hall of Fame candidates must have displayed one-or-more of the following qualifications: outstanding production and performance on the field, key contributions to the team's success, and/or the embodiment of the spirit and essence of the San Francisco 49ers.
The 2011 Fan Vote Finalists
ROGER CRAIG - 49ers Running Back 1983-90
An 11-year NFL veteran, Roger Craig spent eight seasons as a member of the 49ers after being drafted in the second round of the 1983 NFL Draft out of Nebraska. Known as a relentless competitor, Craig is one of the most versatile running backs to ever play the game, and in 1985, he became the first player in NFL history with 1,000 rushing yards and 1,000 receiving yards in the same season. In eight seasons with the 49ers, Craig totaled 11,506 yards from scrimmage, which ranks second most in team history. He finished his NFL career with 8,189 rushing yards, 4,911 receiving yards and 73 total touchdowns, making the playoffs in each of his 11 seasons. The four-time Pro Bowler (1985, '87-89) and one-time All-Pro (1988) won three Super Bowl titles with the 49ers (Super Bowls XIX, XXIII and XXIV) and was named AP Offensive Player of the Year in 1988.
GEORGE SEIFERT – 49er Head Coach 1989-96 (Def. Coor. 1983-89 & Secondary 1980-82)
George Seifert served eight seasons as the head coach of the 49ers and compiled a 108-35-1 overall record, which included two Super Bowl titles (XXIV and XXIX). When he retired after the 1996 season, his club-record .755 winning percentage marked the best in NFL history. He reached both 50 and 75 wins faster than any head coach in NFL history, and became only the second rookie head coach in NFL history to win a Super Bowl (XXIV). A three-time NFL Coach of the Year (1989, '90, '94), Seifert joined the 49ers coaching staff in 1980 and took part in all five of San Francisco's Super Bowl Championships. Seifert is a native of San Francisco and graduated from Polytechnic High School, which is located across the street from Kezar Stadium.
GORDY SOLTAU - 49ers E/K 1950-58
Gordy Soltau spent his entire nine-year NFL career as a member of the 49ers, excelling as both a pass-catching end and kicker. A three-time Pro Bowler (1951-53) and two-time All-Pro (1952-53), Soltau led the 49ers in scoring in eight of his nine seasons played, including an NFL-high in both 1952 and 1953, and was the 49ers all-time leading scorer with 644 points upon his retirement in 1958. He recorded 249 catches for 3,487 yards and 25 touchdowns, while converting 70 of 139 field goals for 303 points, during a career in which he only missed two games. Soltau was originally drafted in the third round of the 1950 draft by the Green Bay Packers out of the University of Minnesota. He was quickly traded to the Cleveland Browns, who in turn, sent him to the 49ers. Prior to attending college, Soltau served in an elite branch of the Navy – the Office of Strategic Services (OSS) – where he became one of the original frogmen during World War II.
The Edward J. DeBartolo Sr. 49ers Hall of Fame selection process is as follow:
A list of 10 semi-finalists is submitted by the 49ers alumni department to the 49ers Hall of Fame selection committee.
The selection committee meets and deliberates on the candidates, narrowing the field to three finalists for the fan voting process.
The results of the fan vote, via 49ers.com, will determine one inductee each year.
49ers Ownership will select at least one additional inductee each year. Those people named as finalists in the fan voting process will not be considered in the Ownership selection.
The "Fan" and "Ownership" inductees will be announced in late July each year.
The 49ers Hall of Fame selection committee includes: former radio voice of the 49ers, Joe Starkey;*FOXSports.com editor and member of the Pro Football Hall of Fame selection committee,Nancy Gay; *San Jose Mercury News columnist,Mark Purdy; host of 49ers Total Access and KTVU-TV sports anchor,Joe Fonzi; 49ers Vice President of Football Affairs,Keena Turner; 49ers Director of Alumni,Guy McIntyre; 49ers Director of Marketing,Ali Towle;and 49ers Director of Public Relations,Bob Lange**.
**The Edward J. DeBartolo 49ers Hall of Fame
**Established in 2009 and dedicated to Edward J. DeBartolo Sr., the patriarch of one of the most storied franchises in all of professional sports, the 49ers Hall of Fame was created to recognize players, coaches and executives who have made exceptional contributions to the organization.