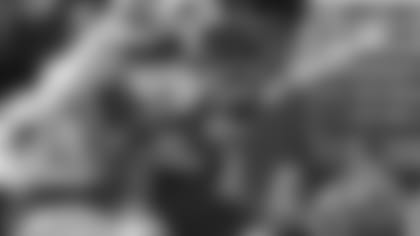 Nebraska LB Lance Brandenburgh
The 49ers announced Thursday that the team has signed 11 rookie free agents. San Francisco inked rookie free agents S Lewis Baker (Oklahoma), G John Booker (San Jose State), LB Lance Brandenburgh (Nebraska), LB Ezra Butler (Reno), WR Cam Colvin (Oregon), G Brian De La Puente (California), TE J.J. Finley (Oklahoma), DE Louis Holmes (Arizona), WR Robert Jordan (California), S D.J. Parker (Virginia Tech), LB Shaun Richardson (Tennessee State).
Baker (6-3, 203) saw action in 50 games with 19 starts at Oklahoma and tallied 171 tackles, nine tackles for loss, one fumble recovery and five passes defensed in his career. In 2007, Lewis played in all 14 games with 12 starts at linebacker and recorded 91 tackles and seven tackles for loss. A year prior, Baker saw action in all 14 games, tallying 31 tackles, one fumble recovery and a team-high 15 special teams tackles. Baker played in 11 games with seven starts at the strong safety position in 2005 and registered 36 tackles and two passes defensed. Baker redshirted in 2004 after playing in 10 games in 2003 as one of only two true freshman on the team to see action, posting 13 tackles.
Booker (6-4, 313) started 35 games at San Jose State, lining up at different positions along the line during his career. In 2007, Booker started nine games at right tackle and one game at left tackle, earning All-WAC second-team honors as one of four team captains. Booker started at three different offensive line positions (left guard, right guard and right tackle) in 2006 for the Spartans. A year prior, he held down the right guard position. Booker became the first true freshman to start at offensive guard for the Spartans since freshman eligibility was restored in 1972. He made his first start against Boise State (11-13-04) just two months after his 18th birthday and went on to start the final two contests of the season.
Brandenburgh (6-1, 230) was a versatile member of Nebraska's linebacking corps throughout his collegiate career, earning four letters while lining up at all three linebacker spots. He played in 41 games and made 118 career tackles. His most impressive year came as a senior in 2007 when he tallied 51 tackles before his campaign was cut short when he suffered a season-ending injury in the ninth game of the season. Brandenburgh was also a three-time first-team Academic All-Big 12 choice (2005-07).
Butler (6-2, 235) saw action in 44 games with 35 starts at Nevada and posted 258 tackles, 17 sacks, six forced fumbles, five fumble recoveries and four interceptions, two of which were returned for touchdowns. He also set a school career record with 51 tackles for loss. Butler was named the team's Outstanding Defensive Player by teammates and coaches in 2007 after starting 10 of 11 games and posting a team-high 93 tackles to go along with 3.5 sacks, three forced fumbles, one fumble recovery and one interception returned for a touchdown. In 2006, Butler posted 71 tackles, 7.5 sacks, two fumble recoveries, one forced fumble and a 23-yard interception return for a touchdown in 13 starts. A year prior, he started 12 games and ranked second on the team with 75 tackles to go along with 5.5 sacks, two forced fumbles and one fumble recovery. As a redshirt freshman, Butler lined up eight games at left defensive tackle and tallied 19 tackles and a half sack.
Colvin (6-3, 210) caught 74 passes for 892 yards and seven touchdowns as a collegian at Oregon despite a career that was often slowed by injuries. Colvin's healthiest and most effective season came as a sophomore in 2005 when he caught 22 passes for 332 yards and three touchdowns while starting all 12 of the team's games.
De La Puente (6-4, 302) started all 13 games at left guard for California in 2007 and earned honorable mention All-Pac-10 honors. He also picked up the team's Bob Tessier Award as its Most Improved Offensive Lineman. De La Puente was part of a unit that allowed a league-low 11 sacks and helped Justin Forsett rush for 1,546 yards to rank second in the conference, second on the Golden Bears' all-time single-season list and 15th nationally.
Finley (6-6, 254) played in 51 games with 29 starts at Oklahoma and caught 62 passes for 775 yards with 10 touchdowns in his career. Finley starter 13 of 14 games in 2007 and earned All-Big Twelve Conference honorable mention after posting a career-highs of 23 receptions, 290 receiving yards and four touchdowns. In 2006, he started all 14 games and finished with 19 catches for 241 yards with three touchdowns. A year prior, Finley appeared in 11 games with two starts and recorded 13 catches for 150 yards and two touchdowns. As a redshirt freshman, he appeared in 12 games behind James Moses at tight end and caught seven passes for 94 yards and one touchdown.
Holmes (6-6, 265) played in 24 games with 22 starts at the University of Arizona after transferring from Scottsdale Community College following the 2005 season. He finished his career with the Wildcats with 72 tackles, 10.5 tackles for loss, six sacks, two forced fumbles and one fumble recovery. In 2007, Holmes started 10 of 12 games and recorded 36 tackles. In 2006, he posted 36 tackles, four sacks, two forced fumbles and one fumble recovery as he earned second-team All-Pacific 10 Conference honors. At Scottsdale Community College, Holmes posted 192 tackles, 40 tackles for loss and 16 sacks, earning NJCAA All-Region first-team honors in 2005 and first-team 2004 NJCAA All-America honors.
Jordan (5-11, 171) had a solid collegiate career at California, where he ranks No. 7 on the Golden Bears' all-time list for receptions (156) as well as ninth in both receiving yards (2,047) and receiving touchdowns (13). The two-time honorable mention All-Pac-10 choice also owns California's record for consecutive games with a reception by catching a pass in 42 straight contests. Jordan posted career-highs of 47 receptions and 689 receiving yards in his 2007 senior season. He had 247 of those yards in his final two contests and was named the Golden Bears' Most Outstanding Offensive Player in the 2007 Big Game versus Stanford.
Parker (6-0, 198) started the final 27 games of his collegiate career at free safety for Virginia Tech. He was considered the captain of a secondary that in 2006 led the nation in pass defense (128.23 ypg) and total defense (219.46), while the entire defensive unit also led the nation in scoring defense (11.0 ppg). As a senior in 2007, the Hokies ranked third in the nation in scoring defense (16.07 ppg) and fourth in total defense (296.93 ypg). He finished his career with 144 tackles, including a career-high 59 stops in his senior season to earn All-ACC honorable mention recognition. He also forced three career fumbles and returned another for a touchdown, while picking off five passes and returning one for a score.
Richardson (6-1, 248) played in 11 games at defensive end for Tennessee State in 2007, earning All-OVC Conference first-team and All-Ohio Valley Conference first-team honors after tallying 46 tackles, 13.5 tackles for loss, seven sacks, four forced fumbles, one interception returned for a touchdown and one fumble returned for a touchdown. In 2006, Richardson posted 25 tackles, eight tackles for loss, 2.5 sacks and two passes defensed. Richardson transferred to Tennessee State from Joliet (IL) Junior College.