For over 200 youth at the 49ers Academy in East Palo Alto, living a healthy lifestyle resonated as they spent their afternoon running football drills and talking with 49ers players and actor Matthew McConaughey.
The 49ers partnered with McConaughey Tuesday afternoon for a Just Keep Livin' PLAY 60 event, a joint effort between McConaughey's Just Keep Livin Foundation, the 49ers RESPECT campaign and the NFL PLAY 60 campaign.
The goal of the effort was to help kids lead active lives and make healthy choices to become great men and women by dedicating themselves to improving their physical and mental health through exercise, teamwork, gratitude, and positive life choices.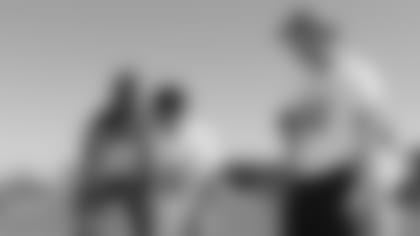 Several 49ers inlcuding Vernon Davis, Joe Staley, Josh Morgan, Tony Wragge, Reggie Smith, Curtis Taylor and Tarell Brown all took part in the event with McConaughey.
The excited children listened to a brief introduction by McConaughey about the importance of being active and "breaking a sweat," before the sixth, seventh and eighth graders broke into small groups to work with individual players on football drills like tackling, throwing and catching. The players also promoted teamwork, cheering the youth on and getting everyone involved in encouraging each other.
"I know it means a lot to these kids, and it means a lot to me," said tight end and 49ers Play 60 spokesperson Vernon Davis. "For us to come out here you can make their day, you can just change the whole way they think, teach them things that they will carry with them the rest of their lives."
McConaughey, who began j.k. livin in May with his partner, and co-founder, international model Camila Alves, who was also in attendance and went through each station and inspired the youngsters. "Get active, break a sweat every day. It's not only good for your body, it's good for your mind," he told them.
"We've found that kids are getting better grades because they're getting more exercise, we've found that they're getting along with their parents better," McConaughey explained. "Their parents are coming forward and saying that the relationships are getting better because it's a stress reliever. Kids are sleeping better and their attitudes are better, and their getting the confidence to try out for teams."
The children, who have been excited about the visit since they found out about it, took special care to behave this week so that they could participate in such a highly-anticipated event.
"For the kids, this is their dream come true," said Michele Sharkey, 49ers Academy executive director. "Having the guys out here is just a huge treat and they've been so excited. Everyone turned in their homework and did everything they needed to do to be here. It means a lot, especially around the message that both j.k. livin and PLAY 60 mean is because what we're trying to instill here is that healthy lifestyle for our students, especially around the importance of exercising every day and healthy eating. I really think it's a great message and it ties into our whole message here at the 49ers Academy."
"Sometimes it's the small things that you do that you get the most blessings from," said linebacker Patrick Willis. "Coming here and doing something like this on our day off means a lot to these kids and makes a difference in their lives."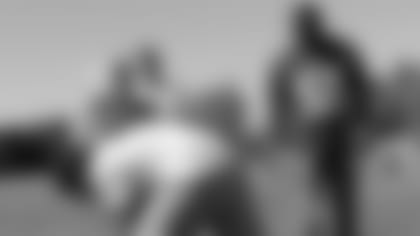 Willis and his fellow teammates efforts were definitely not overlooked by the youth.
"It means a lot to me to have the 49ers come because it means that they care for us. I had a bunch of fun," said thirteen-year-old Malcolm. "My favorite thing was hitting the bags. I learned a lot today - some new football techniques, how to be healthy like drinking a lot of water, and getting out to play 60 minutes a day."
The 49ers RESPECT campaign leverages the power of community involvement and its ability to generate public awareness to share the importance of respect and its central role in helping young people become good community citizens. As part of the campaign, members of the 49ers organization take part in a variety of community events to reach out to youth and impart the value of respect in three important areas of their lives: families, schools and communities.
The NFL PLAY 60 campaign is designed to tackle childhood obesity by getting kids active through in-school, afterschool and team-based programs, online child-targeted outreach on NFLRUSH.com, and many partnerships with like-minded organizations.
Snacks were donated by Somersault Snack Co. and transportation was provided by Mosaic Global Transportation.