On Monday, November 16, the San Francisco 49ers partnered with Verizon and Avenir Restaurant Group to cook with and serve lunch to SF City Academy for the 49ers annual Alumni Legacy Project presented by Verizon. Founded in 1997 as the first elementary school in San Francisco's Tenderloin District, SF City Academy's mission is to equip and empower children to break the cycles of poverty and despair through a quality education.
The event brought together 49ers alumni G Guy McIntyre, C Eric Heitmann, DE Dennis Brown, WR Dwight Clark, TE Eason Ramson, DT Dana Stubblefield, and CB Donald Strickland, Jenna and Mara York, and Verizon volunteers as they teamed up with 5th through 8th grade students for an Iron Chef-inspired cooking competition aimed at teaching students basic cooking skills as well as the importance of health and nutrition.  The school's entire student body was engaged through a variety of tasks including food preparation, cooking and décor, and enjoyed lunch beside the 49ers legends.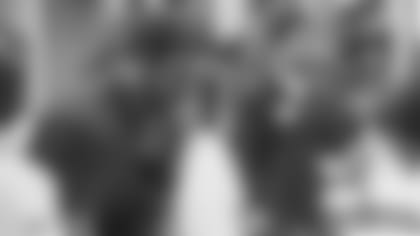 *Alumnus Eric Heitmann tosses his stir-fry dish during the cooking competition. *
Heitmann, Ramson and Strickland led the students in making a healthy teriyaki stir-fry, while Clark, Brown and Stubblefield led the pasta Bolognese team.  The event proved to be a learning experience for all, as students weren't the only ones learning how to cook. 
Clark confessed his lack of knowledge in the kitchen and underscored how he was learning how to navigate the kitchen as well. "I can barely make a sandwich," said Clark. "Today, we're learning how to prepare vegetables and assorted herbs for Bolognese."
McIntyre had the arduous task of tasting both dishes and crowning the victor. By the slimmest of margins, he declared the stir-fry chefs the winning team, giving Heitmann, Ramson and Strickland bragging rights for the year.
The day was both entertaining and inspiring, as 49ers alumni continued to build their legacy off the field by stressing the importance of education as a tool for positive change.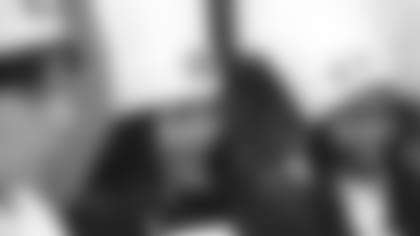 Leaving with more than satisfied appetites, SF City Academy students took home valuable lessons in healthy cooking and eating.
"It's great to partner with SF City Academy to engage students and educate them about healthy eating," said Joanne Pasternack, vice president and executive director of community relations and the 49ers Foundation. "This event underscores the 49ers commitment to keeping kids, 'Safe, On Track and In School."
Students were sent home with new recipes to share with their families and goodie bags in line with the day's health and wellness theme which included shampoo and conditioner, toothbrushes and toothpaste, and beanies to keep them healthy and warm throughout the holiday season.
As part of the 49ers community relations efforts, the 49ers are running an internal donation drive during the month of November to collect health and wellness items for SF City Academy.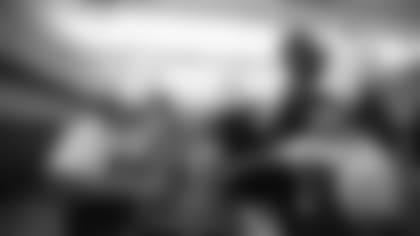 Alumnus Dennis Brown guides the students in cooking up the perfect Bolognese sauce.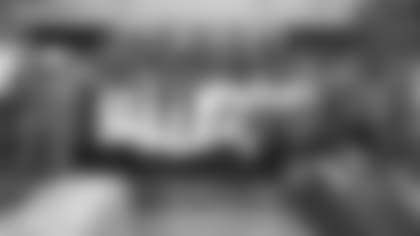 *Following a fun cooking competition and hearty meal, San Francisco 49ers alumni pose with students from SF City Academy. *