Our pre-draft series continues with a look at one of the nation's biggest and most versatile receiving prospects hailing from the Big East Conference.
His coach left New Jersey for the National Football League this offseason and so did Mohamed Sanu, a 6-foot-2, 215-pound receiver out of Rutgers University.
The coach, Greg Schiano, joined the Tampa Bay Buccaneers organization earlier this offseason to be the team's new head man.
Now, Sanu will make a similar career move as he looks to test his skills at the game's highest level. Sanu leaves Rutgers with 210 catches, 2,263 receiving yards and 12 touchdowns in his three-year career.
As a junior, Sanu broke school and conference records with 115 catches, which included a 16-catch performance against Ohio University.
Sanu even met with Shciano's Buccaneers team at last month's NFL Scouting Combine. The first-team All-Big East performer also met with the 49ers at the combine, a sign that the physical receiver could be in the team's plans when they select the No. 30 overall pick on April 26.
Many draft experts have Sanu pegged as a late first, early second-round pick, and have also slotted Sanu to the 49ers in their mock drafts.
The junior wide receiver felt he had put enough on film to leave school early, following in the footsteps of 49ers right tackle Anthony Davis who left the Scarlet Knights program in 2010 to be San Francisco's first-round pick (No. 11 overall).
In Sanu's mind, playing for a disciplined coach like Schiano has him prepared for the rigors of the NFL lifestyle.
"He really knows how to discipline his players and how to instill a great set of core values into us and that just helps us in the long run," said Sanu at the recent combine. "The offseason workouts and everything there, it's run like an NFL organization, so I owe it all to him for having us NFL-ready."
From day one, Sanu established himself as one of the most productive receivers, not only in his conference, but in school history.
A starter in 37 of his 38 career games, Sanu set Rutgers' school record with 210 career receptions.
Turning pro seemed to be the smart choice after a stellar junior campaign in which he posted 1,206 receiving yards (third-most in Scarlet Knights single-season history). Sanu posted six, double-digit receptions games last season, too.
Now, Sanu has to show scouts the measurables needed to play on the perimeter in the pro game. He's already shown strong hands, a willingness to finish plays after the catch and block in the run game.
At the combine, Sanu posted a 4.67-second, 40-yard dash and added 19 reps on the bench and a 36-inch vertical jump.
The 40-time is key to Sanu's draft standing.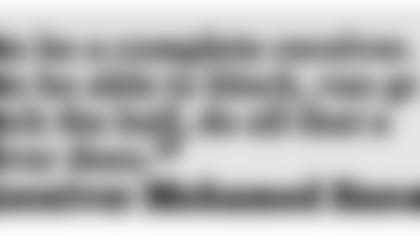 "I know what I can do on the field and how well I can play and I know a lot of things I can do in the film room so I just have to go out there and perform," said Sanu, who thinks 40 times are overrated "to a certain extent."
Speed might be in question with Sanu, but certainly power is not being discussed.
As a quarterback in Rutgers' Wildcat offense, Sanu finished his career with 653 rushing yards and nine touchdown runs. Furthermore, Sanu threw four touchdown passes and possesses the longest touchdown run in school history, a 91-yard scamper.
All the extra experience of carrying the football hardened Sanu and gave him an appreciation for the physicality needed to perform at a high level.
Blocking and finishing plays by lowering his shoulder into opposing defensive backs is something Sanu takes extreme pride in doing.
"You have to be a complete receiver," he said. "You have to be able to block, run great routes, catch the ball, do all that a wide receiver does. You can't be a guy who can just catch the ball and takes run plays off, because it's the other plays that are designed for the running backs so he gets his chance to shine.
"You have to make sure you do your job for him because when you're running your route he's back there pass protecting for you."
With tons of physical plays left on tape, scouts will have a lot to study from now until April 26 when the 2012 NFL Draft begins.
Decision-makers will also have to evaluate the findings from Sanu's March 21st pro day. Those numbers could display whether the receiver with 33 and ½-inch arms can distance himself from the other big-bodied receivers being discussed as first-round picks.
"I feel like I can do pretty much everything," Sanu said. "I try to make sure that I do everything well and good enough to be a well-rounded receiver so I focus on everything and doing the right things."
So will Sanu be disappointed if he doesn't end up under Schiano's guidance once again?
"It would be amazing, but I have to see what goes on and what happens. Wherever I am, I'm going to be happy and just have to respect the game and enjoy myself."