We wrap up Pac-12 week in our pre-draft series with a look at a talented wide receiver who once had aspirations of being a two-sport star.
Whether it be football or basketball, Arizona wide receiver Juron Criner has thrived on the perimeter during his athletic career.
Coming into a basketball school like Arizona, home to legendary ex-coach Lute Olson, Criner had aspirations of being a two-sport star. Ultimately – and for his benefit – Criner was swayed to drop his basketball sneakers for good by his former football coach Mike Stoops. Four years later and Criner is knocking on the NFL's door.
"I definitely feel I was good enough to play (basketball) at that level," Criner said. "But the dream got killed because once you're in it, full-time football, you made that decision and you don't have the time or the energy to do both."
Much of Criner's success also had to do with the rapport he developed with fellow NFL Draft hopeful and quarterback Nick Foles. In their final two seasons together, the duo became one of the most prolific in the Pac-12.
"It was a great experience," Criner said. "He's a great quarterback and we developed chemistry right away. He was one of those guys who said, 'Hey, how do you like this?' 'Try this.' I just told him wherever you throw it, I'm going to catch it. We went from there and learned from each other."
If he was still on the hardwood, Criner would be on the wing as a shooting guard or small forward. As it is now, Criner helps make up one of the strongest draft classes of wideouts in recent memory.
It's a good thing he was a quality hoopster, as it was the reason Arizona noticed him in the first place. But as Criner's recruitment evolved, he started getting attention from the Arizona football staff instead.
After a 1-5 start to the 2011 season, Stoops was relieved of his duties as coach. That didn't stop Criner from posting eye-catching numbers in his senior season. The Las Vegas native had 75 catches for 956 yards and 11 touchdowns, following up an even better junior year when he had 82 receptions, 1,233 yards and 11 scores.
Aside from his individual success, Criner also enjoyed the opportunity to lead his team once Stoops left the program.
"We faced quite a bit of adversity my senior year," Criner said. "But we just banded together as a team and came together when we had the whole coaching change thing. He (interim coach Tim Kish) basically handed the team to the seniors. That definitely gave us a closer bond. We talked to the team, pulled together and got it done."
But with the NFL Scouting Combine becoming an all-important evaluation tool, Criner's final two seasons have been somewhat watered down by a slow performance in Indianapolis. The 6-foot-3, 224-pound wideout ran a 4.68-second, 40-yard dash, which ranked 38th out of 40 wide receivers at the combine.
Criner reportedly improved his time to 4.52 seconds on an indoor track during his March 19 pro day. He also looked fluid in position drills, showing a precision route running and great body control.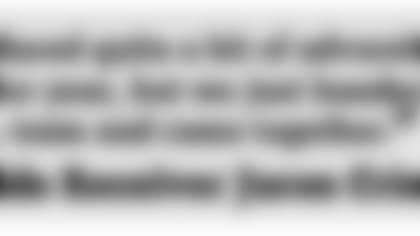 That's not to say Criner lacks other impressive measurables. The big-bodied target had a 38-inch vertical leap and has some of the biggest hands you'll find.
"Everybody whose hand I shake, they tell me I make their hand feel small," Criner said.
One of Criner's strengths is considered to be his route running. But he's not all finesse, as Criner said he also takes pride in his blocking, which is an important part of the job description in the 49ers offense. Natrually, Criner also uses his basketball background to his advantage on the field, too.
"I have a bit of basketball history, so I'd say that gives me an edge with timing jump balls and hand-eye coordination with tracking down the deep ball," Criner said. "The other way is just by showing how agile I am for a guy my size and weight, running crisp routes and showing great hands, and getting in and out of cuts. … So I'd say that's my biggest asset."
The 49ers offense has added plenty of weapons this offseason, especially at the wide receiver position. Perhaps Criner will be the latest addition along with free agents Mario Manningham and Randy Moss. Most mock drafts have Criner getting drafted in the third or fourth round.
While he may be 22 years old, Criner's body has already given him hints on which sport to pursue full-time.
"I used to go to the rec center and play basketball," Criner said. "But as I got older and started getting a lot more bumps and bruises, couldn't afford to do that."