We finish Big 12 Week of our pre-draft series with a look at a Texas A&M receiver with a 49ers pedigree.
When Ronnie Lott touts your dad as an All-Pro, you've got to have some good football genes. Such is the case for Texas A&M wide receiver Jeff Fuller, who's father, Jeff, teamed with Lott to create one of football's hardest hitting safety duos.
Fuller spent his entire six-year career with the 49ers from 1984-89, playing on three Super Bowl championship teams. A spinal injury cut short the elder Fuller's career, but his son looks primed to carry on his family's NFL legacy.
As he prepares for the pros after a disappointing senior season, Fuller said his father has offered some simple advice.
"He just told me that nothing ever comes easy," Fuller said. "I'm just looking forward to getting out there and competing and being on a team."
Both Fullers went to Texas A&M and perhaps they will both be 49ers. Fuller projects to be a mid-round pick in the upcoming draft and could be selected in the fifth round like his father.
Some speculated Fuller would have been a top-40 pick had he left for the NFL draft after his stellar junior campaign, when he was a Biletnikoff Award finalist after catching 72 passes for 1,066 yards and 12 touchdowns. But he returned for his senior season in 2011, one marred by injuries and dropped passes, to record 70 catches for 828 yards and six scores.
"I hate to make excuses," Fuller said. "I had a lot of things happen out of character this year and there's no one to blame but myself. It's just really unfortunate."
During his final two seasons in College Station, Fuller became the favorite perimeter target of quarterback Ryan Tannehill, who figures to be one of the first signal-callers drafted this year.
"He's one of the smartest people I know," Fuller said. "At the same time, he's also really down to earth. He used to play receiver so he is a coach on the field. He's able with the young receivers, me as well, pull them off to the side and say, 'You need to run this like this and it's going to be here at this time.' He's definitely one of the best and I'm really looking forward to seeing him succeed."
Given Fuller's size (6-foot-4, 223 pounds), Gil Brandt of NFL.com even suggested he try adding on weight to become a tight end at the NFL level. At his pro day, reports of Fuller's 40-yard dash time ranged from 4.53 seconds to 4.66.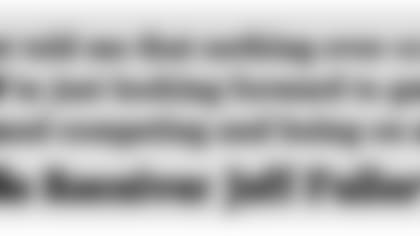 For now, it looks like Fuller has worked past the hamstring problem that hampered him in 2011 and the stress fracture in his foot he incurred at the Senior Bowl, and is poised to be one of the many talented wideouts drafted in 2012.
"I wouldn't even call it a roller-coaster season," Fuller said of his senior campaign. "It was a down season but I learned a lot from the experience. I came back to be part of something great, which I was. I'll never take back anything I did in the past."
The 49ers have already made significant upgrades to their receiving corps, signing free agents Mario Manningham and Randy Moss, but could still look to upgrade their passing attack through the draft.
Not only was he catching passes from an NFL-caliber quarterback like Tannehill, but Fuller was learning the ropes from head coach Mike Sherman. The former Green Bay Packers coach was relieved of his duties at Texas A&M after a 6-6 finish in 2011, but has since been hired as the offensive coordinator of the Miami Dolphins.
Sherman, like Fuller, started at Texas A&M during the 2008 season.
"Every single year, he stayed on me about getting better," Fuller said. "He's always made an emphasis on things I need to improve on each year. I've always made it a point to do that. Every year, he stayed on me. I really do owe a lot of my success to him for getting me ready for this situation."
One of Fuller's former college teammates, 2011 NFL Defensive Rookie of the Year Von Miller, has also been aiding the latest crop of draft-eligible Aggies. But when it comes to advice, there's no better source than his father.
"He's helped me a ton," Fuller said. "He's always said, 'Nothing comes easy.' I learned that firsthand this year. He's helped me through a lot of hard times and has always given me pointers and been there for me. I really appreciate him for that."