Clemson TE Dwayne Allen, who won the 2011 Mackey Award as the nation's top tight end, wraps up ACC week in our 49 in 49 pre-draft series.
As he played through his stellar 2011 campaign at Clemson, tight end Dwayne Allen may well have been auditioning for Greg Roman. The 49ers offensive coordinator, who proved to be one of the NFL's most creative and innovative play-callers in his first year on the job, loves to keep defenses on their toes.
With the 49ers featuring a tight-end happy offense – sometimes using three on the field at the same time – Allen could very well be the next in line behind Vernon Davis and Delanie Walker.
Clemson hired Chad Morris to run its offense in 2011 and Allen flourished. Aside from lining up in traditional tight end positions, Allen also lined up in the slot, out wide and in various spots in the backfield.
"He said he was going to make me the most versatile player in the country," Allen said of Morris. "I believe he did that, as far as the tight end position."
From the sounds of it, Allen already knows how important the tight end position in Roman's system. Count him among the people who watched Davis enjoy one of the greatest postseason's from a tight end in league history.
"Watching the playoffs was great," Allen said. "Watching the end of the season – seeing all the tight ends shine and get love was great."
In his final year with Clemson, Allen had 50 catches for 598 yards and eight touchdowns, helping the Tigers claim their first ACC Championship since 1991. Even more impressive was that Allen played the second half of the season with a turf toe injury that limited his mobility.
Still, it didn't stop him from being named the best tight end in the country, as he became the latest ACC player to earn the John Mackey Award.
"I was very proud to bring it back to the ACC," Allen said. "Past winners being Kellen Winslow Jr., Heath Miller – who else was in the ACC that won the thing? I believe there was one more guy. But it was a tremendous honor."
Allen showed steady production throughout his junior campaign, with arguably his best performance coming against Auburn, when he caught seven passes for 80 yards and a touchdown. About the only thing harder than stopping Allen was trying to get him to sit out a play.
"I'm a guy that's going to be on the field," Allen said, "Whether it's first-and-10, third-and-short or fourth-and-forever. I'm not going to come off the field, and I feel like that's an advantage to whatever offense that decides to take me."
For now, most mock drafts have Allen pegged as the second tight end to be taken off the board behind Stanford's Coby Fleener. Some even speculate Allen will be drafted first. A look at Allen's highlights on YouTube reveal a big-bodied athlete with some impressive physical skills.
He's listed at 6-foot-3, 255 pounds, but didn't have the greatest showing at the NFL Scouting Combine in February. Allen posted a disappointing 40-yard dash time (4.89 seconds), but finished second in bench press (27 reps), fifth in the three-cone drill (7.12 seconds) and fifth in the 20-yard shuttle (4.37 seconds) among tight ends.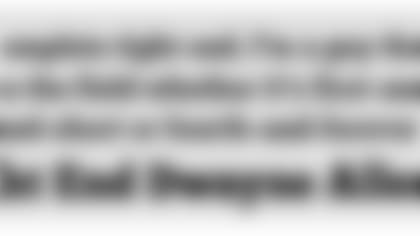 But Allen doesn't sound deterred by his lack of eye-popping measurables.
"I'm a ballplayer, flat out. I'm not a track guy," Allen told the Associated Press after his March 8 pro day. "My 40 time is what it is. If you watch me on film I play way faster. That's all that matters."
Allen figures to be a late-first, early-second round pick in the upcoming draft and many expect him to be an immediate contributor. He possesses some soft hands and has shown he has a great grasp of the mental side of the game, as evidenced by his diverse role in Clemson's offense. Further cementing his status as one of the best all-around tight ends in the 2012 Draft are the glowing reports of his blocking ability.
"I'm a complete tight end," Allen said.
With 32 possible employers, Allen doesn't sound like the picky type. His only request is playing time.
"I don't have any expectations for when I'm going to be taken," Allen said. "Hopefully the team that chooses me needs me and is going to use me in the right way."