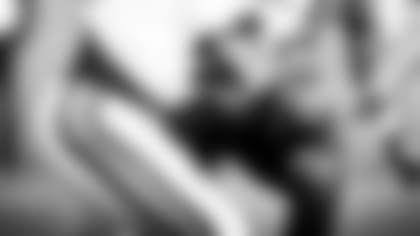 Our pre-draft series continues with a look at one of the nation's most productive and professional prospects heading into the 2012 NFL Draft.**
It doesn't get more versatile than Virginia Tech running back David Wilson.
The running back with a unique skill set stands out for many reasons on the field, but perhaps is more diverse with his talents away from it.
Take these instances to heart:
-Wilson once caught a rabbit on Virginia Tech's campus with his bare hands.
-Wilson dressed in a shirt and tie for mostly all of his college classes in Blacksburg. (He wore a suit and tie to his team meetings at the 2012 NFL Scouting Combine, too).
-Wilson routinely celebrated collegiate wins by executing perfect back-flips, a talent the running back says he acquired at a very young age.
"I guess I take the most pride in the back flips," Wilson said at the 2012 NFL Scouting Combine.
Need more proof of Wilson's unique approach? Here's how he viewed performing in front of the masses of NFL talent evaluators and decision-makers:
"I look at this combine thing as another track meet," Wilson told reporters in Indianapolis. "I told my sister the other day on the phone, 'I finally get to run another track meet.' You've got the broad jump, which is like the long jump, the 40 is like the 100, vertical jump, high jump.
"All this stuff just goes hand-in-hand, and at the end of the day, you've got football drills."
Wilson certainly excelled at the so-called "track meet."
He leaped 132 inches in the broad jump, ran a time of 4.49 in the 40-yard dash and posted a 41-inch vertical jump.
It's not hard to see why Wilson approached the combine in such fashion.
Wilson split time between the Hokies football and track and field teams throughout his collegiate career. But mostly on Saturdays was when you'd find the 5-foot-10, 205-pound running back doing his most impressive hurdling and sprinting.
In 2011, the ACC's Offensive Player of the Year started in all 14 games and proved his worth by playing in more than 700 snaps on offense and 51 on special teams.
Wilson rushed for a school-record 1,709 yards on 290 carries (5.9 yards per rush) and added nine rushing scores on his way to earning second-team All-American honors. Furthermore, Wilson averaged 122.1 yards per game in 2011 and even rushed for seven-straight 100-yard games, the most under Virginia Tech's tenured coach Frank Beamer.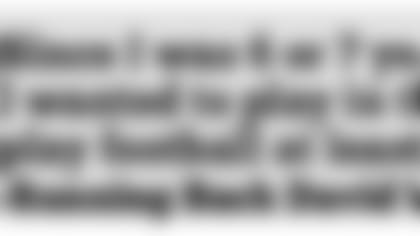 Now, Wilson is positioned to do something he's always wanted to do.
"Coming out of high school I thought it would be easy to do because this is what I've wanted to do my whole life," said Wilson, who finished his college career with 2,662 rushing yards and 18 rushing touchdowns. "Since I was 6 or 7 years old, I wanted to play in the NFL, or play football at least."
Because of his consistent production, Wilson figures to be one of the top running backs available in this year's draft. Described by coaches as a do-it-all runner who stands as one of the strongest pound-for-pound players coming out of the Virginia Tech program, Wilson hasn't let positive feedback cloud his goals for his professional career.
"I'm just blessed to be here. Scouts have me ranked pretty high. It's right in front of me just to grab it," Wilson said.
He seized another opportunity at his recent pro day by improving his 40 time (reportedly in the 4.35 to 4.40 range) and continuing to showcase his fluid movement skills and all-around athleticism.
And while Wilson likely won't be handed a starting running back position at the next level from day one, he can impact his new team in other ways.
Wilson put his track skills to good use in the mad-dash known as kickoff return. Last season, Wilson led the Hokies with 22 kick returns for 415 yards. For his three years in college, Wilson averaged 21.7 yards per return and posted two touchdown returns during his sophomore campaign.
According to Wilson, natural return ability is something he's always possessed.
"Coming out of high school, I was way faster than everybody, stronger than most of my tacklers. It got kind of easy to a point," Wilson shared. "But coming to college, everybody's good. Everybody's an athlete, so you have to put more strategy into how you run the ball, and I think that's where I mostly improved: strategizing and setting up my defenders so I could make them miss in the open field and break arm tackles."
Wilson's also well aware the added talent sets him apart from his competition.
"I'm very comfortable being back there catching kicks, and I think that's an asset I bring because not all the backs in the draft return kicks."
But until the 2012 NFL Draft rolls around, Wilson will have to continue to do what he's done for just about every big run or back-flip.
"This is something I've wanted to do for a long time, and this is a part of it. I'm happy to be here and doing my best to put my best foot in front of me."