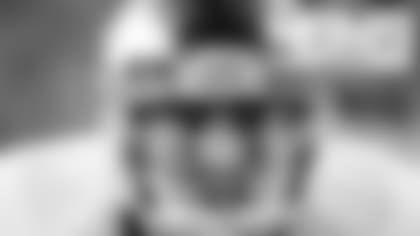 Our pre-draft series continues with a profile on a standout linebacker that you've probably read about this offseason.**Draft expectations are very real for first-round inside linebackers. If you're among the top 32 selections in the NFL Draft, teams are counting on you to be a productive force inside the tackle box.
Only one inside linebacker was taken in the first round of the 2012 NFL Draft. Dont'a Hightower was the choice at pick No. 25 by the New England Patriots.
This time around, several linebacker prospects are being discussed as potential first-round options, most notably a Notre Dame linebacker who made offseason headlines for his actions away from the field.
Enter Manti Te'o, the victim of an internet hoax that captivated the nation.
The four-year playmaker on the Irish's BCS title game team was the subject of a full scale University investigation when it was learned that he was duped by a fake girlfriend who he thought had passed away during his Heisman Trophy candidacy.
Te'o, the 2012 Nagurski, Bednarik, Butkus and Maxwell award winner, recorded seven interceptions as a senior and was instrumental on Notre Dame's resurgence in 2012. He finished second in the Heisman voting behind Texas A&M quarterback Johnny Manziel. However, nobody truly understood the depth of Te'o's off the field problems until it came to light one month before the 2013 NFL Scouting Combine.
There, Te'o faced the media just like opposing running backs: head on.
"How I'm handling it going forward is doing what I'm doing, focusing on the moment, focusing on football and the combine," the 6-foot-1, 241-pound linebacker said. "Not everybody gets this opportunity to be here. I'm sure there's thousands and thousands of people who would like to be here in Indianapolis. Just trying to enjoy the moment."
The moment, like his appearance in the BCS title loss to Alabama, was a challenging experience. Te'o struggled to impact the biggest game of his collegiate career and later missed an opportunity to impress scouts at the combine by posting a 4.82, 40-yard dash. He later followed it at his pro day with a reported 4.75 time, but it remains to be seen how much his big-game production and off the field headline-making has hurt his draft status.
It's hard not to fault the linebacker who aims to be selected on Day 1 of the draft.
Prior to stepping to the podium inside of Lucas Oil Stadium where hundreds of reporters would scrutinize his every word uttered, Te'o was under the biggest media storm in combine history. It only intensified when he explained his side of the story.
With teams, however, Te'o felt like it all about football and his 113-tackle performance in 13 starts as a senior. Sure, some franchises asked about the unique situation he dealt with, but mostly people wanted to know why he struggled against the Crimson Tide's pro-style offense.
"That's all on me," the proud linebacker said with his head up. "I played hard and so did my team, but Alabama had a great game plan and so did we. They executed better than we did."
Te'o, the instinctive defender who worked his way into the starting lineup as a true freshman, didn't blame his hoaxing incident for his struggles against Alabama. Like most draft experts, the Notre Dame linebacker, too, doesn't know the true impact the BCS title game performance will have on his draft status.
In Te'o's mind, he felt compelled to help someone he cared about. It just happened to be a scam, someone he trusted turned out to be lying to him.
Asked why he didn't speak out about the incident once he learned of the hoax, Te'o kept his reply short.
"It was just a whirlwind of stuff," the linebacker prospect said. "A 22-year-old, 21-year old at that time, just trying to get your thoughts right. Everybody was just kind of chaos for a little bit, so you let that chaos die down and wait until everybody's ready to listen."
Te'o has gone on several national television shows to tell his side of the cautionary tale and looks to move on from the experience and get back to playing football, the game he loves.
"I'm very grateful for those who helped me to get through that time," he said. "I felt it went as smoothly as it could."
Hoax or no hoax, what matters most for the Notre Dame linebacker will be his honesty with NFL clubs and his production on the field. If teams are interested in bringing in one of the top inside linebackers in this year's draft class, they'll want to develop a level of trust with their incoming rookie.
That's the case with all NFL newcomers, first-round or not.
Te'o looks forward to learning from the experience and not letting the situation linger once he joins an NFL locker room.
"I think I've learned the difference between the things I can control and the things I can't control," he said. "And hopefully by doing the things I can control well I'll have more favor in the other category. Whatever team I go to, I'm just going to be me, I'm going to work hard, I'm going to do my best to help the team win. And whatever happens, happens."
Te'o hopes his attitude will set him apart from other linebacker prospects.
In his mind, his approach to football is what makes him unique.
"I think what I bring to the table is a lot of heart, a lot of energy and somebody that works hard, somebody who hates to lose," Te'o said. "I always say, 'I hate losing more than I love to win.'
"The reason why I love to win is because I don't have to go through that feeling of losing. It's those times where I lose that feeling that will stick with me. For teams I tell them, 'You'll always get somebody who's humble, works hard, doesn't say much and will do everything it takes to win.'"
Te'o called his hoaxing episode "embarrassing," but wouldn't change his actions. He's moved on from the tough lesson, tightening his inner circle of friends, all with the mindset of aiming to make a lasting impression wherever he plays football next.
"It could be a hurdle, but it could also be a great opportunity to show who you really are," Te'o said. "That's the way I've approached it and it's been a great growing experience for me."