49ers.com's pre-draft series continues with a profile on a talented inside linebacker who decided to forgo his senior season and enter the 2012 NFL Draft after leading his team to the BCS National Championship in 2011.
Some called it boring and opponents called it bruising. But to Dont'a Hightower, Alabama's defense was a beautiful thing. After all, how do you argue with something that results in a BCS National Championship?
Such was the case for Hightower in 2011, as he proved to be a cornerstone of the vaunted Crimson Tide defense, one that led 'Bama to a 21-0 win over Louisiana State on college football's brightest stage. In the biggest game of his life, Hightower racked up four tackles, a forced fumble and a sack.
After fighting through a serious knee injury in 2009 to regain his top form, Hightower was voted as a team captain in 2011. On game days you could hear him barking out the defensive calls from his inside linebacker position, leading one of the greatest defenses college football has ever seen.
"It was definitely something I took pride in, being elected as a team captain by my peers, guys that want to look up to me during the good and the bad," Hightower said at the NFL Scouting Combine. "I had to step up. We lost a lot of leaders and a lot of older guys my sophomore year coming back from the injury. From that point on I kind of ran with it."
While the 49ers appear to be set at inside linebacker, with reigning All-Pros Joe Staley and NaVorro Bowman in the fold, Hightower would be an explosive backup. In fact, Hightower said he looks up to Willis, along with others like Ray Lewis, Terrell Suggs, James Harrison and former college teammate Rolando McClain. He even had a chance to sit down for dinner with Brian Urlacher and pick his brain while training for the draft in Arizona.
Hightower possesses a combination of size (6-foot-4, 265 pounds) and speed (4.68-second, 40-yard dash) that could also translate into a big weapon on defense and special teams. He's slated as a late-first-round, early-second-round selection and could be an option with the 49ers' first round pick at No. 30.
More than two-plus years removed from his devastating anterior cruciate ligament injury, Hightower said he feels blessed to have a chance to be a first-round pick.
"Growing up, that's all I wanted – just a chance to play in the NFL," Hightower told reporters after his pro day on Wednesday. "To have the opportunity to go in the first round with as much talent as you have in the draft, especially this year, it definitely means a lot to me."
During Hightower's days in Tuscaloosa, Alabama employed a points system for players to gauge their individual success. Members of the Tide would accumulate points for big plays like turnovers and sacks, while losing points for mental errors and other miscues. As Hightower was quick to boast at the Combine, he was Alabama's highest point-getter by the end of the season.
"Don't let (teammate) Mark Barron tell you no different," Hightower said.
From the time he saw Hightower as a high schooler in Tennessee, Alabama coach Nick Saban knew he had something special. So he offered him a scholarship, before watching Hightower blossom into one of the most complete linebackers in the country – a player with brains and brawn.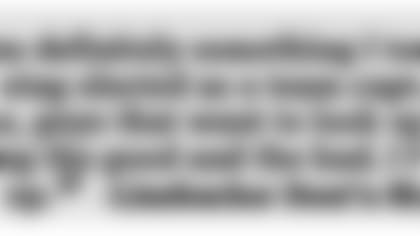 On the verge of seeing another talented class of players head to the NFL, Saban said Hightower's versatility is one thing that separates him from other athletes around the country.
"He has done it all here," Saban said at Alabama's pro day. "He's got a lot of diversity as a player, because he has played a lot of different positions. I think he is going to offer the same thing at the next level; inside backer, nickel backer, defensive end and odd-rusher.
"So there are not many other things that you can do, and I think he does all those things very well. I think he is very smart, he has leadership qualities. I think people are starting to recognize that the more and more they are around him."
But there are still questions regarding Hightower's ability to cover receivers in man-to-man coverage at the professional level. Hightower felt confident in his performance at Alabama's first pro day on Wednesday, while the school will hold another on March 29. A big crowd is expected for the second Alabama pro day session, as it will feature high-profile players like Barron, a safety, running back Trent Richardson and linebacker Courtney Upshaw, who didn't participate Wednesday.
"I feel like I showed everyone that I do have good hips," Hightower said after Wednesday's workout. "I'm able to come out of break pretty well. I feel like I did pretty well as far as the position goes. I'm not really a drill guy, but once you get me in the pads and on the field I feel like I did a really good job."