Best of the Rest week in our pre-draft series continues with a profile on one of the country's top all-around defensive linemen.
If an underdog can be 6-foot-3, 266 pounds and a possible first-round pick, Vinny Curry is your guy.
A man of his size and mobility figures to do damage upon reaching the NFL, but coming from a smaller school like Marshall has left Curry with something of a chip on his shoulder. If he was to be among the first round of picks on April 26 in New York City, Curry would be just the fourth member of the Thundering Herd to do so.
"I love being the underdog," the talented defensive end said. "I feel the underdog always works harder, always has something to prove. That's my personality. I feel like I always have something to prove. I just love to work, I love to get better. I just like the game of football. When you're in love with this game and you've got a passion for it, it's a different mindset."
If Curry were to be selected by the 49ers, who hold the No. 30 pick in this year's draft, he would join the only NFL team with multiple Marshall alumni. Wide receiver Randy Moss, who was picked 21st overall by Minnesota in 1998, and safety C.J. Spillman, who joined San Diego as an undrafted free agent in 2009, also attended the mid-major university in West Virginia.
To say the least, Curry was a disruptive force during his two seasons at Marshall. During the 2011 season, he had 11 sacks, 22 tackles-for-loss and seven forced fumbles en route to being named Conference USA Defensive Player of the Year.
"Our coaching staff preached competitive excellence," Curry said. "Basically what it is is – can you make a play when your number is called? For the most part, me being a team leader, I had to always be at competitive excellence, no matter what it was."
A pass-rusher like Curry always enjoys sacking the quarterback, but he also took pride in his ability to pry the ball away from the opposition. In fact, Curry said only one of his forced fumbles came on the quarterback, while the other six came from running plays or by hustling downfield.
Following a stellar junior year when he had 12 sacks, Curry said he expected to face double, triple and even quadruple tams in 2012. As such, Curry's defensive line coach Fred Tate pulled him aside one day for some extra motivation.
"He said, 'What you going to do, man?'" Curry said. "I'm like, 'What do you mean?' He said, 'You got to do something else to separate yourself from the rest of the defensive linemen in the country.' So I worked on stripping (the ball) every day."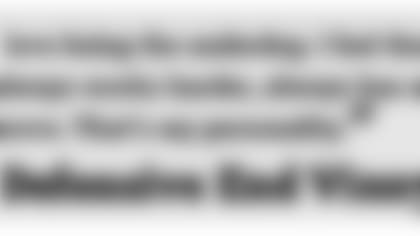 Another thing Curry added to his arsenal during his senior year was a supreme ability to stop the run. In all, the Neptune, N.J., native tallied 77 tackles in 13 games, an impressive number for any defensive lineman.
"That's another thing that I pride myself on, stopping the run and then getting after the quarterback," Curry said. "I feel like I'm an all-around player, probably one of the best here. I'm just striving on proving that each day."
While he may need to add on a few more pounds, Curry looks like a good fit as a defensive tackle in 49ers coordinator Vic Fangio's defense. Justin Smith and Ray McDonald are firmly planted as the team starters, but Curry would be a quality backup.
He might even have the athleticism to play at the outside linebacker in Fangio's 3-4 scheme, as he reportedly ran a 4.64-second, 40-yard dash at his pro day after a 4.92-second showing at the NFL Scouting Combine in February.
But it wasn't all gravy for Curry during his path to the game's highest level. Out of high school, Curry had low test scores and didn't qualify by NCAA standards. But as he sits on the doorstep of the NFL, he does so with a diploma in hand, as he graduated with a general studies degree in December.
"Everything just worked out for the best," Curry said. "I feel like that right there just told me an honorable lesson that school is very, very important. From that day on I was determined to get my degree. A lot of you know that I could have come out last year as a junior, but you know I wanted to get that degree. Just in case anything happened. My Plan B."