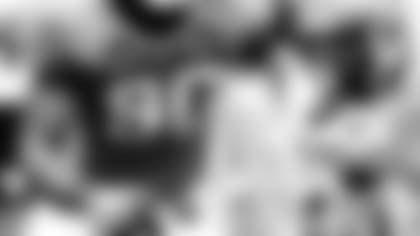 Our pre-draft series continues with a profile on one of the nation's most gifted pass rushers who wreaked havoc on the Atlantic Coast Conference while wearing powder blue uniforms.**
Around this time of the year, NFL prospects are doing their best to dispel inaccuracies about their own abilities.
Some are criticized for being so-called "one-year wonders." Others are analyzed extensively for perceived dips in their production.
North Carolina senior defensive end Quinton Coples falls into the latter category.
The two-time first-team All-ACC defensive end enters April's draft as one of the top defensive talents around, but also approaches the NFL level with questions about effort.
In the past two seasons that he earned first-team honors, Coples registered 30.5 tackles-for-loss and 17.5 sacks.
However, Coples racked up 10 sacks as a junior defensive end, his first season playing the position for the Tar Heels after beginning his collegiate career as a defensive tackle.
Still, Coples produced as a senior (leading his team with 15.5 tackles for loss and 7.5 sacks), it just wasn't to the liking of NFL talent evaluators who questioned his effort on every snap.
In response, Coples pointed to the coaching change made at the top of the North Carolina program which saw Butch Davis relieved of his duties prior to Coples' senior campaign.
"It kind of affected my game," the 6-foot-5, 284-pound defensive end said at the 2012 NFL Scouting Combine. "But overall, I went to the Senior Bowl, I did some things and I showed them that I can compete at the highest level."
Coples produced throughout his collegiate career (144 tackles, 24 sacks, five forced fumbles and four pass breakups), but the lack of production in his 2011 season compared to his breakout 2010 season has some people questioning what performer will enter the NFL in 2012.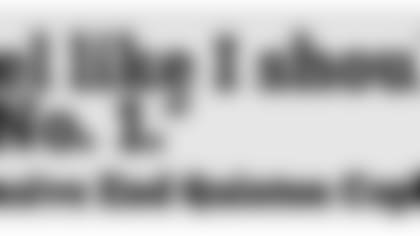 Coples could have been a hot commodity in the 2011 NFL Draft, but instead, he elected to return to school to mature as a person and become a better player.
While statistics might not illustrate those changes Coples felt internally, he grew as a technically-sound defensive end. He also found ways to best use the extra space he had playing on the end as opposed to on the interior.
With so many questions circling his senior season, it's no surprise just how much Coples was committed to displaying strong effort at the 2012 Senior Bowl.
"I think it was very important," Coples said. "I heard the rumors and all the things that were going on about me not playing as hard, so I took it personally. And I made a statement for myself that I can compete outside of the ACC and all across the country."
Coples continued to display his intriguing skills at the combine by running a 4.78, 40-yard dash to go along with 25 reps on the bench press and 31.5-inch vertical jump.
Coples followed the performance at his March 20 pro day by demonstrating fluid movement in both defensive line and linebacker drills.
As much as critics have discussed Coples' perceived lack of effort this offseason, they certainly can't knock his versatility.
"I take pride in being versatile," said Coples, who lined up in various spots across the Tar Heel defensive front. "It definitely has raised my stock in that it lets teams know that I can (play) inside or out. And I take pride in playing any position from the zero (technique) to the nine (technique)."
Having an athletic frame and experience across the defensive line should make Coples an attractive prospect for NFL defensive coordinators.
The same can be said for Coples' willingness to do whatever's needed from him.
"I'm definitely prepared for whatever defensive scheme that a team has," Coples said.
Despite playing under a new coaching staff in 2011, Coples felt his time under Davis, a former NFL head coach with the Cleveland Browns, proved to be a vital part of his development.
Davis' practices and coaching style gave a professional feel to Coples and his Tar Heel teammates.
"I think that was the best thing that ever happened to me as a collegiate football player."
Under Davis' guidance, Coples was considered to be one of the top players in the nation. At one point, ESPN draft analyst Mel Kiper had the North Carolina product listed as his No. 2 overall player.
So did Coples believe he was worthy of that designation still?
"I feel like I should be No. 1," he said.
But in order to prove himself to be the top player from the 2012 NFL Draft class, Coples will have to show everyone he's more like the player seen in 2010 than the one evaluated in 2011.
"A lot of people have a lot of high expectations for me and I appreciate that," Coples said. "But when you're playing the game of football, you have things that happen that don't go as planned. I think it was a situation that happened that I learned from, I matured from, and I think I'll reap the benefits at the next level."