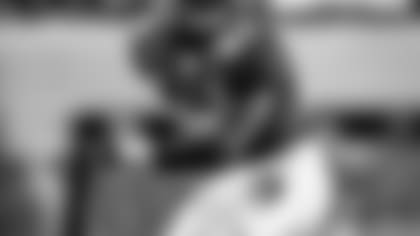 Our pre-draft series continues with a profile on a standout defensive back poised to hear his name among the first 32 selections in the 2013 NFL Draft.**
Physical wideouts dominated the NFL landscape in 2012. With many teams adopting a pass-first mentality in the regular season and especially more so in the postseason, bigger cornerbacks are needed to battle against those imposing wide receivers.
Perhaps one of the top big-bodied cornerbacks available in this year's draft will be selected in the top half of the first-round. If you go off the latest mock drafts released by various news outlets, chances are you'll find a Florida State cornerback consistently being discussed as a viable option.
Enter 6-foot-1, 210-pound Xavier Rhodes.
The Seminole standout enters the upcoming draft as one of the top defensive backs in his class. He's also quite versatile, plus eager to compete against the biggest and best receivers in the NFL.
"I'm a big corner. I can use that to my advantage," Rhodes said. "In a couple of years when I'm done playing corner, I can play safety."
Rhodes, a junior cornerback, will have time to make that change down the road. He'll first be asked to matchup against opposing wideouts on the perimeter while starting his professional career.
The Seminole cornerback is poised to do just that.
Rhodes intercepted three passes as a junior to give him eight over the courses of his three-year career at Florida State. He also tallied 39 tackles in 2012. Rhodes was known for his press-man coverage, a technique often used in the NFL.
The first-team All-ACC honoree often stood out with his ball-hawking, physical style of play. He also took great pride in doing it.
Asked at the 2013 NFL Scouting Combine about his best skill set, the Florida State cornerback asserted himself immediately in discussing his talents.
"Passion," Rhodes said. "I love to play the game and I'm aggressive… I love to win. I have set goals at every stage of my life. High school, I wanted to go to the state championship. College, nationals. NFL, I want to go to the Super Bowl like everybody else. But I'm going to work hard and make sure I get there."
Rhodes has put himself in position to do just that. After playing a key role on a 12-2 FSU team that won the BCS Orange Bowl and finished the year as the nation's No. 10 overall team, Rhodes decided to forego his senior year and take his talents to the NFL.
The redshirt junior flirted with the idea of coming out after his redshirt sophomore year, but thought better of it following a knee sprain in FSU's bowl game win over Notre Dame.
However, the setback didn't turn out to be so bad for Rhodes. Another year in the college game allowed him to improve as a technician and as a competitor.
Now, Rhodes stands poised to impact the pro ranks as a rookie.
Rhodes feels like he can step in and compete from day one. He ran a 4.43, 40-yard dash at the combine, plus he put up 14 reps on the bench press and leaped 40.5 inches in the vertical jump.
"My strength is my size and my physicality, speed, height," Rhodes said. "People say I'm not a typical corner, basically. My weaknesses are like any other corner. Just need to work on my technique. You can't perfect corner. It's a hard position to play so I'm just going to work on my technique."
There's no doubt Rhodes can improve on those skills with more coaching in the NFL.
Furthermore, he's got an advantage over other draft prospects due to the scheme he played in at FSU.
"At Florida State that's all we played was just press on defense," Rhodes detailed. "Going to the NFL and seeing teams do a lot of press, I feel good doing it."
Even so, Rhodes understands there's much more to the position than battling at the line of scrimmage. Depending on the coordinator's play calls, he'll have to show versatility throughout the course of a 60-minute game.
"I have to work on off coverage," Rhodes admitted. "You can't press every down, every play."
Rhodes has a lot going for him as he enters the draft. Three years of game tape and a physical approach to the game set him apart.
He's also unafraid to support the run, a key trait in being considered as an all-around defensive back in the NFL.
"I like to come down and set the edge, make the tackles and stuff like that," Rhodes said.
It remains to be seen how high the standout performer will be drafted and where he'll be picked in relation to fellow cornerbacks, but for now, Rhodes is carrying himself like he's the best of the bunch.
In his mind, there's nothing wrong with that approach.
"Of course I'm going to say I'm the best," Rhodes said. "If I don't have confidence in myself no one else will. I feel like I'm the best here right now. I meet all the measureables: big, strong, fast, physical. I feel like I'm the best here."