Our pre-draft series continues with a look at one of the Big 12 Conference's top cover corners.
The Big 12 is a passer's league.
With quarterbacks like Robert Griffin III, Brandon Weeden and Ryan Tannehill throwing to targets like Kendall Wright, Justin Blackmon and Ryan Broyles, it could be a nightmare for some defensive backs. But for players like Leonard Johnson, a cornerback from Iowa State, it just means he has more opportunities to flex his muscle.
"I always want the top guy," Johnson said. "Those guys are great receivers as we all know. So by me going out there and just doing exactly what I love to do, it says a lot about me in terms of competing and having that competitive edge. … I feel like if I dominate him, if I compete with him, then it kind of feeds to my confidence."
They're only going to get bigger and better in the NFL and Johnson is relishing the chance to show his abilities at the next level. What he lacks in size (5-foot-10, 196 pounds), Johnson makes up in smarts and sheer will.
During the NFL Combine in February, Johnson received several compliments from Big 12 receivers. While many of his ex-opponents also noted his quick tongue on the field, Johnson said he appreciated the chance to speak face-to-face with NFL execs in Indianapolis.
"Now I get a chance to talk about myself," Johnson said. "I'm agile, I'm a guy who competes every play very rep. I'm a guy who is a hard-nosed tough guy. I also have great ball skills and I can cover the best guy on the field."
Not only does usually Johnson cover the other team's best receiver, but he does it well.
Remember that game in November when Iowa State upset then-undefeated Oklahoma State and derailed its hopes of a BCS title? Guess who was guarding Blackmon?
For most of the afternoon, it was Johnson. Even though Blackmon still hauled in 10 catches for 99 yards and a touchdown, it was deemed a success by Johnson and his teammates.
"Not only did I have a good game, but my team took down the No. 1 or No. 2 team in the nation," Johnson said. "For me, that was big. But for the team, it was even bigger because that made us bowl eligible and gave us the opportunity to play Rutgers in the Bowl game."
Upon meeting Rutgers in the Pinstripe Bowl, Johnson proceeded to slow down another top receiver in the 2012 NFL draft, Mohamed Sanu, holding him to six catches for 62 yards.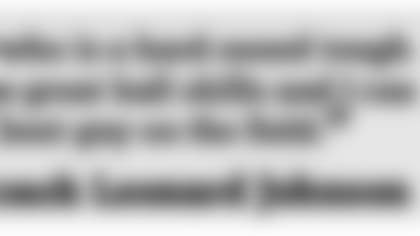 Johnson attributes much of his 2011 success to the mental development he experienced in his fourth year as a starter. Most mock drafts figure Johnson will be selected during in the middle rounds of the draft.
"This year and last year, as I got more comfortable with my scheme, my confidence went up," Johnson said. "I kind of started thinking like a quarterback. At least thinking how they would think and mixing that in with my games also."
The Clearwater, Fla., native has experience thinking like a signal-caller, as he played quarterback during high school. At the next level, though, he'll be responsible for slowing them down.
With six alumni currently playing in the NFL, Iowa State figures to add two more players to mix with Johnson and offensive guard Kelechi Osemele. Johnson said he's leaned on second-year Cleveland Browns safety David Sims and former NFL cornerback Ellis Hobbs for advice as he prepares for life in the pros.
"I know him pretty well," Johnson said of Hobbs, who retired due to injury in 2011. "I talked to him numerous times during my early years at Iowa state, haven't talked to him in a while, but he's a guy who shares a lot of advice, tips and pointers and things I can take from his game and mix them in with mine."
On paper, Johnson may not be the prototypical cornerback in today's NFL. He ran 4.71-second, 40-yard dash at the combine and doesn't possess the big frame that many others have, but Johnson doesn't sound worried.
"Honestly, it's all about how bad you want it," Johnson said. "Being a competitor, it's just a part of me. Bring me a 6-8 receiver. … It's not about how tall he is, it's how good can I use my tools to limit him."