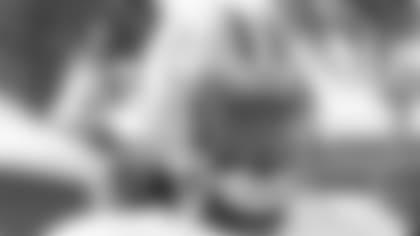 Starting free safety Dashon Goldson was originally a fourth-round draft choice of the 49ers in the 2007 NFL Draft out of the University of Washington.  49ers.com caught up with the athletic safety, known for being a talkative player at the 49ers training camp for a round of 20 questions.**
1. What was your welcome to the NFL moment?
When I was late to a meeting one time.
2. Who's you favorite 49ers player of all time?
3. Deion Sanders in his prime or Ronnie Lott in his prime?
I've got to go with "Prime."  That's my guy.  I used to love him.
4. What's something you're ashamed of liking?
I like R&B, women's music.  I listen to Mariah Carey; she's my favorite female artist.
5. Twenty years from now, what do you see yourself doing?
I see myself sitting in the Bahamas with a smoothie and a little umbrella in it.  
6. Where's the best place in the world to watch a football game?
At the house, right in front of the big screen.  
Tails.  Tails never fails.  
8. What's the weirdest or coolest dream you've ever had?
There was one where I thought I was falling out of the bed.  It's like you're dreaming and then you feel like you're falling so your body starts to jerk and it wakes you up! That's definitely the weirdest!   
9. Who's the best wide receiver to talk trash with?
I'd say Chad Johnson or Steve Smith, because they're going to talk back.
10. If you could only wear one pair of shoes for the rest of your life, what would they be?
I'd wear some Air Force Ones.  I can get fresh pairs though, right?
11. Training camp two-a-days or errands around the house?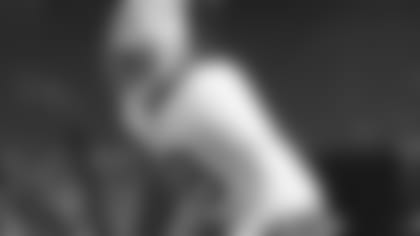 Training camp two-a-days.
12. Jeopardy or Wheel of Fortune?
13. What's your favorite kind of pizza?
Pepperoni pizza at Chuck-E-cheese's.  I've been there a couple of times and it's good.
14. What's your favorite comedy movie of all time?
15. What song are you always singing in the car or the shower?
Usually some kind of Usher song.   His are the only songs that I know the full lyrics to.  
17. What was the name of your senior prom date?
You're trying to get me in trouble!
18. Who's your best friend from another NFL team?
19.  Favorite movie quote from a TV show or movie?
"I study the arts under Bruce Lee.  I was on the first floor, he was on the second floor." – from the TV show Martin.
20.  If you entered a cooking competition, what would you prepare for the judges?
I'd whip up some Curry Chicken and some rice.  But, I can make it all; pork chops, steak, barbecue… you know what, I'd throw the barbecue on.  Throw the chicken on the grill.  Ask the boys about me, they came out to the apartment in the offseason.  I can also make some barbecued baked beans, macaroni and cheese and some mixed vegetables.