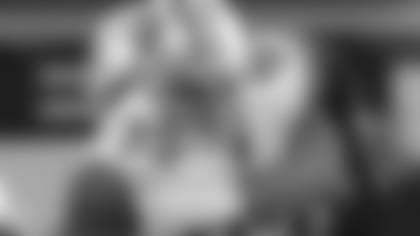 Second-year nose tackle Pierre Garçon had a strong training camp and is looking to improve upon his rookie season in which he played three games. 49ers.com recently caught up with the 6-foot-3, 295 pounder to see how training camp went as well as to find out more about him.1. How was camp different your second year? **
I actually knew what all was happening. I wasn't running around like a lost little kid. I knew all of the steps I needed to take to get better. You learn a lot in your first season, and it pays off at your second camp.
2. What's one thing you were sure to bring to camp this year that you didn't bring last year?My computer.
3. How did you keep yourself motivated during the grind of camp?I listen to a lot of music every day, that's what kept me going.
4. Who's your favorite offensive lineman to go against in practice?I can't pick just one. I like to go against all of them.
5. What's your favorite restaurant?I really like Sino over there in Santana Row.
6. Why do you have seashells in your hair?
Each of the eight seashells is for one of my family members who passed away in the Haiti earthquake.
7. What all has your foundation, Ricky Worldwide, done to support Haiti since that earthquake?We have donated a ton of clothes, food and money. A lot of those donations have come from players on this team and guys I went to LSU with who are now in the NFL. Chevrolet joined up with us too and sent 50 Chevys over there.
8. Which do you enjoy more, tackling a running back for a loss or sacking a quarterback?
Sacking the quarterback because I get to do the "peanut butter and jelly" dance.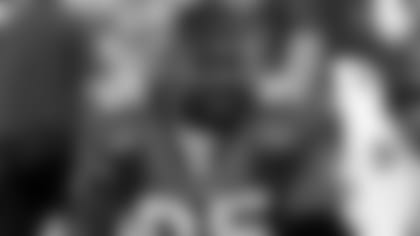 What is the back story to your "peanut butter and jelly" dance?Last year during the rookie show, some of the players had a dance-off. I decided to get in it, but I wanted to do something funny. **I thought about the *Family Guy *episode where they do the "peanut butter and jelly," so I went for it and it made everybody laugh. They didn't know a big guy could move like that.
10. What are your personal goals for this season?
I want to be a standout among second-year players, and when you look at my game tape from this year I want it to look like I've been playing in the NFL for 10 years.
11. Who was your favorite athlete when you were a kid?
He's actually still in the NFL, Chicago Bears defensive end Julius Peppers.
12. Being that you were a track guy growing up, who would win a 49ers decathlon?I'll win that.
13. What's the biggest difference between the Bay Area and your hometown of Miami?I think it's a faster life over there. There's nothing wrong with the Bay Area, I love it here, but I feel like there is something to do almost every moment of the day back home.
14. What do you like most about having a Twitter account?I like tweeting back and forth with my teammates.
15. What's your pre-game meal?Whatever the chefs cook up. But pasta is my favorite food, so I prefer to have that.
16. How far can you throw a football?About 65 yards.
17. What's something you're ashamed of liking?The TV show Girlfriends. I used to be caught up in that show.
18. Barbeque or seafood?I'll take barbeque any given day.
19. 20 years from now, what will you be doing?I know this might sound crazy, but I'm a computer geek, so I'm going to aim big and say owing half of Apple.
20. What do you want the 49ers faithful to know about you?I've heard people say I don't smile and I look mean, but I'm one of the goofiest guys you'll ever meet. If you sit down with me and talk, I guarantee I'll make you laugh the whole time.