49ers Project Request
Please use the links below for all creative, digital, and photography requests.
All creative content needs (graphic designs, videos, motion graphics, stadium graphics, web, Youtube) are processed through Wrike.
All digital (social, email) and photography needs are processed through Formstack.
Please ensure you fill out the correct form(s) to ensure you receive the support you need.
Some requests may require filling out both Wrike and Formstack requests. For instance, if you need a graphic that will be distributed on Twitter, please submit a Wrike for the graphic from design and a Formstack for the social team.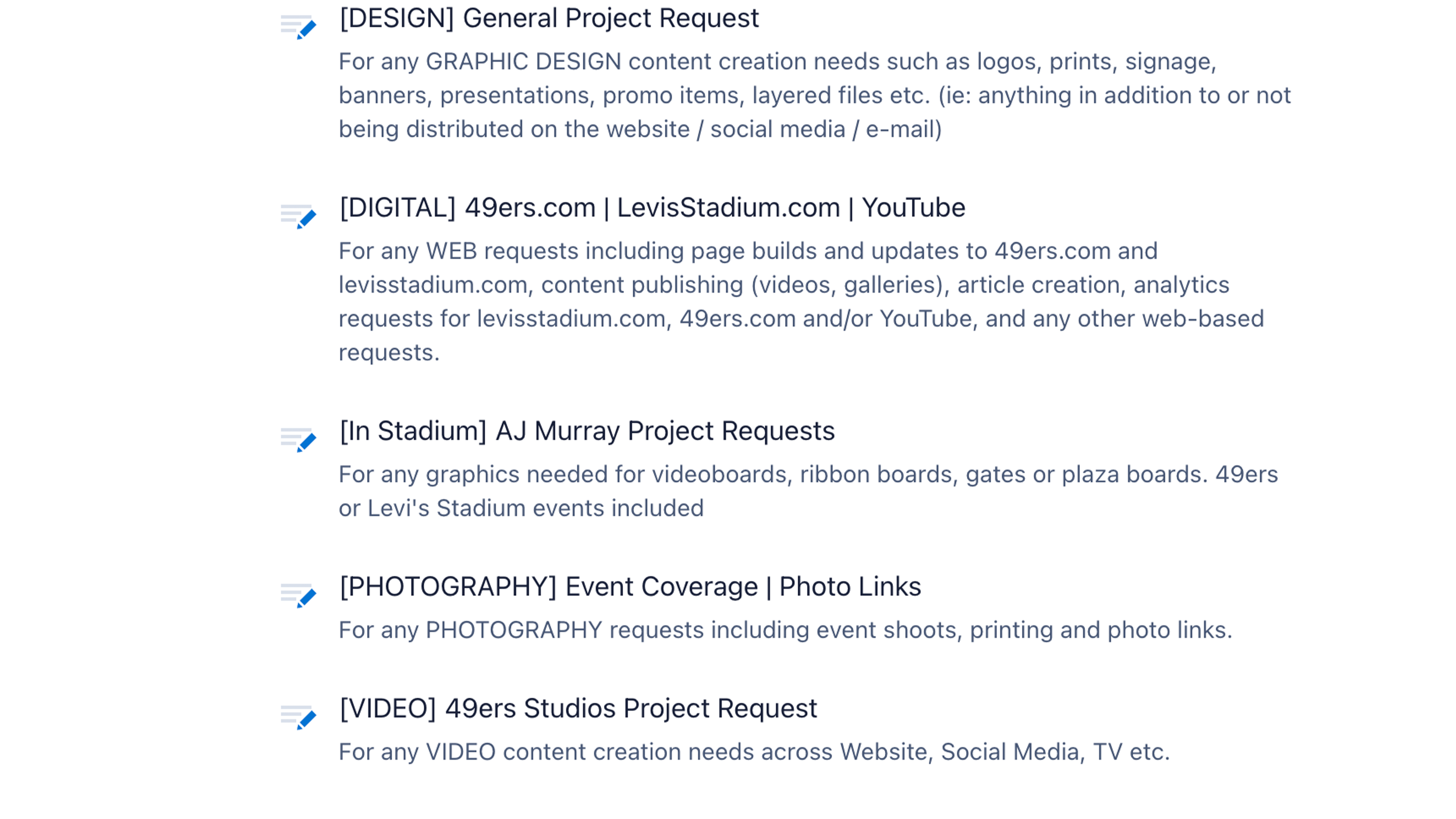 Wrike
For creative requests for 49ers studios and design, including graphic designs, videos, motion graphics, and stadium graphics
For web requests on 49ers.com, Levi's Stadium, and Youtube
To submit a request through Wrike, use your department's team credentials to log in and access the collaborator panel. Once logged in, click on the green plus button on the top left to submit a creative request.
Pro Tips and FAQs
Pro Tips
Provide as much detail as possible, including examples and screenshots.
Save 49ers.com/projectrequest to your bookmarks
Please make sure you submit your request in advance to try to avoid a fast turnaround time
ALL copy must be complete before work on project begins
FAQs
How do I log in to Wrike?
Your department will have a shared log-in that is to be used across the team to submit requests and track project progress. Please reach out to your team if you need help logging in or submitting a request.
How is the approval list used in the Wrike request form?
The approval list is used to determine who needs to see a proof and be given access to review. Please include all necessary emails of approvers.
If you want to stagger who sees reviews and when, feel free to make that note in the request form initially or write in a comment on Wrike after submitting your form.
I submitted my Wrike creative request form but have to make a change - how can I do that?
While you can't edit the Wrike form after submitting, you can make a comment that will be immediately visible to the creative team so they can amend the form. Simply @mention the name of the person working on your project and then write in your comment. On shared accounts, please ensure you add your initials to identify who to respond to on the team.