Over the course of the season, we will feature the top photo from each game taken by a member of the San Francisco 49ers photography staff in our "Worth 1,000 Words" series.*
Second Quarter, Week 2 vs. Seattle Seahawks*
*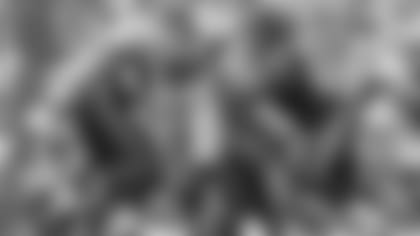 Shot by Terrell Lloyd, Senior Manager of Photography Services
Subject: DeForest Buckner
Location: CenturyLink Field
Lloyd:"When you pin a team inside the 10-yard line or the 5-yard line, what's going to happen is their adrenaline gets up because now they want to get a sack or a safety and you want to be ready.
"DeForest went past two guys to get through there. He squeezed through the line. It's that determination. You can see it in his face that he's trying to get to the quarterback to make a sack, to make a play, make a safety.
"In this shot, I like to kneel down low to the ground. It gives you a different perspective of the shot, and it makes the player look bigger. They're big already but it makes the player look much bigger.
"I have a special device for my camera. It's an angle view finder that I use. It makes it easier for me to look through, down low, I can actually put my camera on the ground and then looking through the angle and tilt the camera up a certain way. And then when they're coming in, they're coming through the line, it just makes them look so dynamic. You can capture something in their eyes or the emotion they're getting ready to go through. Because they're going to pin their ears back and they're coming."
Lloyd has served as the lead photographer of the San Francisco 49ers since 1996.