Linebacker Joe Staley recorded his first NFL interception and scored his first NFL touchdown on an 86-yard interception return in the third quarter of the 49ers divisional showdown against the Seahawks.
"Coach Nolan tells us all the time that anyone can have the ball and it is about just holding it tight and protecting it," said Willis, who believes he last scored while in high school. "High and tight, that is the only thing that I had in my mind was just to hold it high and tight and run until somebody brought me down."
A few players had chances to knock him down but the Pro Bowl backer just kept on going.
"He is always talking about how if he got an interception and saw greenery or a clear path, he was going to take it to the house," said Willis' teammate Manny Lawson. "This was one of those opportunities. It didn't look like he was going to make it, having to drop as far as he did, come up and get the ball, turn the corner and run. I thought an offensive lineman was going to get him, then I saw the quarterback and then he tried to cut back. He doesn't have good juke moves, but he scored nonetheless."
Lawson wasn't the only one happy to share a play by play of the runback following the overtime victory.
"Pat did a great job by first of all securing the interception and he just took it to the house," said wide receiver Bryant Johnson. "But, he looked real tired taking it to the house. I thought he was going to pitch it to someone. I was looking for that 4.3. He looked more like 4.7 on that one but he was able to get into the end zone and that was great."
Willis' return eclipsed the 49ers franchise record for an interception returned by a linebacker. John Johnson previously set the record in 1992.
"I was winded a little bit," admitted Willis. "But getting turnovers on defense was something we talked about last week, and it was something I wanted to work on this year."
Willis briefly left the game with a leg injury, but returned to action midway thru the following series.
DB PACKAGE

The 49ers often used their sub defensive package in the game, using an extra defensive back instead of a linebacker.
"I have confidence in our DB's," said Willis. "It was just a game plan we had for Seattle because of what they like to do. I love my DB's. If we have to play with 6, 7, that's what we'll do."
Head coach Mike Nolan said after the game he felt that was the best matchup given Seattle's propensity to air it out.
Sending a four-man rush never produced any sacks, but the secondary fared pretty well in their man to man coverage, holding Matt Hasselbeck to 189 passing yards and a 42.5 QB Rating.
Hasselbeck's leading receiver was tight end John Carlson, who had 6 catches for 78 yards.
"What I thought they did do effectively was use their young tight end several times over the middle," said Nolan. "We had had him covered, but he still did a very good job."
The package didn't fare so well against Seattle's rushing attack however late in the third quarter on a 15-play drive that was primarily run plays, including an eventual 1-yard touchdown by TJ Duckett.
Julius Jones finished with 127 yards on the ground, while the Seattle's entire backfield averaged 5.0 yards per carry.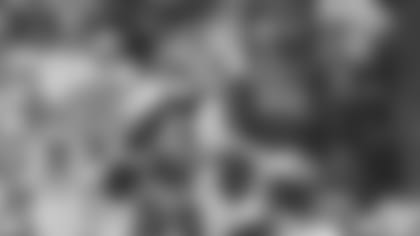 The package kept linebacker Manny Lawson out of the defensive game plan, similar to his rookie season when the 49ers played Seattle on the road.
This go-around Lawson determined that he'd get on the field one way or the other, and volunteered himself to play on special teams.
"I didn't get to play on defense and I just wanted to be on the field so they put me on all special teams," said Lawson. "I think special teams stepped u p in the game after having a couple of busted plays and I think that speaks a lot about the guys we have on this team and the kind of team we are."
Lawson blocked a punt in the first quarter, but was miffed when he saw a Seattle player scooping up the loose ball.
"On special teams whenever a blocked punt occurs, it's usually your team that gets it," he said. "So being that it was really out of the norm and their team got it and started to run with it, it was quite baffling. But we bounced back and played good football."
Lawson notched a pair of tackles on team, and just barely missed blocking a field goal.
"It went right under my armpit," said Lawson. "I don't know how I missed it, but he really angled it away from me."
Tackle Jonas Jennings (shoulder) was forced out of the game at the end of the first half. He was replaced by Barry Sims.
Safety Dashon Goldson (knee) was also forced out of the game in the first half.
Cornerback Shawntae Spencer left the game in the final quarter with a knee sprain that occurred on a kick return.
**The 49ers won the toss but elected to defer until the second half. Seattle received the ball first to open the game.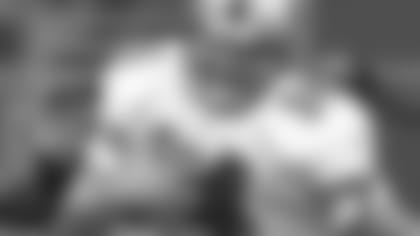 **Quarterback J.T. O'Sullivan was sacked eight times in the game, and hurried another eight times. (according to the gamebook stats). Pressure aside, O'Sullivan came to play, completing 20 of 32 passes for 321 yard and a touchdown. It marked O'Sullivan's first 300-yard NFL passing day.
Cornerback Shawntae Spencer had his hands on an Andy Lee punt inside the 2-yardline early in the game, but he bobbled the ball. As he went to haul it back in for the pin, Brian Jennings accidentally batted it into the end zone for a touchback.
Frank Gore fumbled the ball in the first quarter with a host of Seattle players getting their hands on the ball before Craig Terrill established possession and ran it in from about the 10-yardline for a touchdown.
Cornerback Nate Clements forced a fumble to stop a driving Seattle offense in the second half.
The loose ball was recovered by safety Michael Lewis.
The 49ers evened the game at 20 -20 with linebacker Patrick Willis returning an interception 86 yards for a San Francisco touchdown with just under nine minutes left in the third quarter. Seattle was driving, but cornerback Walt Harris got his hands on a pass, knocking it in the air for Willis.
The defense responded on the next series with another interception. Ray McDonald deflected Hasselbeck's pass at the line of scrimmage, which was then intercepted by a diving Harris.
Gore walked into the right corner of the end zone four plays later for a 2-yard touchdown.
Total points off of turnovers for Seattle, 7. 49ers? 14
BY THE NUMBERS

Returner Allen Rossum recorded a 44-yard kickoff return.
Kicker Joe Nedney's 40 -yard field goal in overtime to give the 49ers a 33-30 victory was his 18th career game-winning field goal and seventh game-winning field goal in overtime.
WR Isaac Bruce had his 41st career 100-yard game and his first as a member of the 49ers after finishing with 153 yards receiving on four catches.