The San Francisco 49ers announced that cornerback Shawntae Spencer has been chosen by his teammates as the 2009 Ed Block Courage Award recipient. The award, which is given annually to the player that exemplifies a commitment to sportsmanship and courage, is the first for Spencer. The starting cornerback also symbolizes professionalism, great strength, dedication and serves as a community role model for others, which are requirements to receive the award.
A six-year veteran, Spencer suffered a torn anterior cruciate ligament in the second game of the 2008 season at Seattle (9/14). He underwent reconstructive knee surgery (9/23) before being placed on the Injured Reserve list on October 16. Spencer worked diligently on his rehabilitation in the months to follow, splitting time between the 49ers practice facility and his hometown of Pittsburgh, PA. Through hard work and determination, he returned to the field for the start of the 49ers 2009 training camp.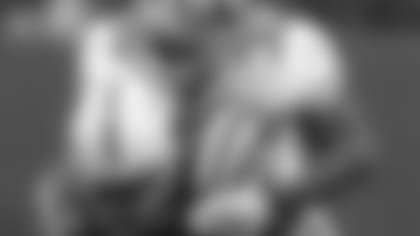 Spencer was a second-round selection in 2004 out of the University of Pittsburgh and served as the 49ers starting cornerback in his first three seasons with the team. After being slowed by a quad injury in 2007 and a knee injury in 2008, Spencer competed at cornerback during training camp and was named a starter by head coach Mike Singletary heading into the 2009 season.
Not only has Spencer been a difference-maker in the secondary, but he's been a staple in the community as well. Giving back to the community, and specifically youth, is something he truly sees as an important part of his life. This year, Spencer joined fellow teammates who worked with Fresh Lifelines for Youth (FLY), an organization devoted to helping disadvantaged teenagers, to help share thoughts on dealing with stressful triggers and situations that come up in everyday life. He has also given back to Bay Area youth, visiting the Charles Drew Elementary School in the Bayview Hunter's Point district in San Francisco, where he served as a judge for a Halloween parade and delivered Halloween safety tips to kids in every classroom. In addition, Spencer is helping to fund and launch a YMCA in Pittsburgh.
The Ed Block Courage Award is named after Ed Block, the former head athletic trainer of the Baltimore Colts of 23 years. Block was a pioneer in his profession and a respected humanitarian whose most passionate cause was helping children of abuse. The Ed Block Courage Award Foundation promotes the prevention of child abuseby raising awareness of the epidemic and assisting agencies who provide for the care and treatment of abused children in communities throughout the National Football League (NFL). The Edgewood Center for Children & Families in San Francisco is the local Courage House supported by the San Francisco 49ers.
All 32 Ed Block Courage Award winners will be honored at an event in Baltimore, MD, on March 9, 2010. For more information, visit www.edblock.org, or call the Ed Block office at (410) 821-6252.