HERTFORDSHIRE, UK – The big international stage of Wembley Stadium won't overwhelm Troy Smith.
He's played in front of over 100,000 screaming fans during his Heisman Trophy days at Ohio State. And more importantly, the 49ers starting quarterback for this Sunday has prepared like a "mad man," a term he used to describe his preparation habits since signing with the 49ers on Sept. 6.
Smith's hard work behind the scenes stood out to coach Mike Singletary, who announced his inclusion in the starting lineup for Sunday's International Series game against the Denver Broncos.
With starter Alex Smith sidelined two to three weeks with a left shoulder sprain, Singletary cited Troy Smith's leadership qualities as what he liked most about the fourth-year player.
"I would say that probably the number one thing I like about him and it's a current theme with anyone that I talk to, whether it's here, whether it's Baltimore, whether it's Ohio State, whether it's former teammates, and that is leadership… his ability to get everybody on the same page," Singletary said.
Smith will be making his third-career start and the first since he led the Baltimore Ravens to a road win over the Pittsburgh Steelers on Dec. 30, 2007. He completed 16-of-27 passes for 171 yards and threw one touchdown on the day, adding five rushes for 23 yards.
Smith's scrambling ability adds another dimension to the 49ers offense, and he expects to be able handle whatever the 49ers coaching staff gives him.
It all goes back to his preparation.
"I think the easiest way to get through to your teammates is to show that you know exactly what your job is, what everyone expects of you and to go out there and execute," Smith said.
"It's more than just lip service, you have to do something and I totally understand what that's about. We have a tremendous group of guys around us and we can do nothing but get better."
Smith is also looking forward to playing with his childhood friend, Ted Ginn Jr. who has been close with Smith since the two were 7 years old.
They played together in high school and college, and are now set to work together again on the international stage. However, Smith won't let their relationship influence his decisions with the football.
"It's not just about my brother Ted Ginn, it's about the other receivers that are going to be out there also," Smith said. "We have tremendous playmakers everywhere and it's my job, my duty, to get everyone the ball."
Ginn said the two were practically inseparable as kids growing up in Cleveland, Ohio.
"My father's his father, his mother's my mother and so on and so forth," Ginn said. "We just did so much together for so many years and had great success. He's always been big brother and I've been little brother. It's not really going to ever change, no matter how old we get."
Smith will have his hands full this week as he takes his only first-team reps with the 49ers this season.
But with the amount of work he's put in learning the playbook and studying film, Smith is confident he'll be fully prepared for Sunday.
"Throughout the course of a week, your preparation makes you comfortable with all the things you got going on. I continue to prepare like a mad man to get ready for this game and this team."
Smith said he's been supported by both sides of the ball after being named the starter.
Fellow Buckeye and starting cornerback Nate Clements is quite familiar with what Smith can do, having followed Smith's career since high school.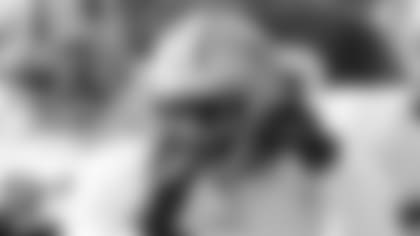 "I know the man can play. Right now, he's getting an opportunity to make things happen for us," Clements said. "He's coming in and doing the things, not just this week, but throughout the season he's been preparing as if he was starting."
Along with understanding the offense's plan of attack, Smith has been familiarizing himself with Denver's 25th-ranked defense, which has allowed 361.9 yards per game. Numbers aside, Smith knows he'll face a determined Broncos team that is coming off its worst defeat of the season.
"We're preparing the same way and not taking anything for granted with that they're doing and looking at the ins and outs of everything they got going on," he said.
"The way you prepare as a professional athlete, you have to be prepared for when your number is called. That's exactly where I'm at."
Notes and QuotesSingletary said cornerback Tarell Brown is doubtful with a back sprain, and that guard Chilo Rachal (stinger), running back Anthony Dixon (hamstring strain), tackle Joe Staley (stinger) and safety Taylor Mays (stinger) are all day-to-day with their respective injuries.
Only Alex Smith and center Eric Heitmann (neck) will not play on Sunday.
Singletary said there would be no other lineup changes beyond Troy Smith starting under center, and that the offensive line would remain intact if healthy for Sunday.
The head coach said he's pleased with how his players are adapting to new surroundings in the UK: "I think the biggest thing is coming out early. I think it was a good decision. I think it's something that will serve them well. The first couple of days I'm sure was a bit of a struggle for them getting acclimated, but I think in the end it will prove wise."
The players are enjoying their time in London too.
"The accommodations have been excellent as far as preparing," Clements said. "Most of the things we have at home, we have even more of here, so it's definitely been an easy transition."
Ginn said he's excited to play at Wembley for a second time. As a member of Miami in 2007, Ginn's Dolphins lost to the New York Giants 13-10, but the wideout enjoyed the experience despite the outcome.
"It was the same as home," Ginn explained. "Same field, same type of atmosphere. It was cold, but enjoyable.
"It's a soccer nation, but once you say, 'Football,' they kind of put it all together. It's a competitive-type sport, so they enjoy it."