The last time the 49ers defense forced seven turnovers in one game was Sept. 14, 1997 against the New Orleans Saints. The 49ers actually forced eight turnovers that game, but seven was good enough on Monday night for a 24-9 win over the Arizona Cardinals.
"It's a domino effect," Brown noted about the turnovers. "Any time you can get 11 guys to fly to the football and strip the ball and try to get the ball out, it's a positive thing. For us, we're just working hard and practicing doing the little things right, stripping the ball, getting our hands on the ball, catching the ball [and making] interceptions."
That dominating play and ability to force five fumbles and intercept Kurt Warner twice left the 49ers normally verbose head coach nearly speechless.
"I would just say, 'Wow,'" head coach Mike Singletary said. "That's all I could say. It's great when you see that because our defense is a defense that's capable of being a great defense. Tonight I think we had a lot of things go our way. We just have to keep working to get better."
The first turnover nearly resulted in a defensive score, as Bly scooped up the ball and high-stepped into the end zone after a hit by Dashon Goldson knocked the ball out of the hands of running back Tim Hightower. Hightower was ruled down by the officials, but was overturned after a review by Singletary.
The 49ers still managed to get into the end zone though two plays later on a 5-yard strike from quarterback Alex Smith to tight end Vernon Davis.
In fact, all 24 of the 49ers points came off of turnovers.
"Hey, that's what those guys do on defense," running back Frank Gore said. "They did it in the first week, the first time we played Arizona. Tonight they came back and did it again."
Every member of the 49ers defense stepped up at times under the bright lights of "Monday Night Football."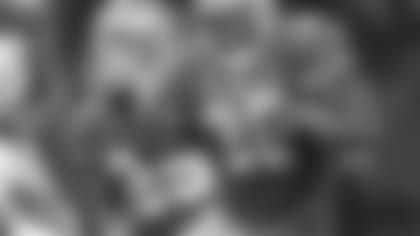 Goldson, Joe Staley and Mark Roman forced fumbles. Also, Goldson and Tarell Brown found themselves on the receiving end of Warner's passes.
The efforts of the secondary were aided by the front seven as well. The group pressured Warner to the tune of four sacks and five quarterback hits.
"I haven't seen Kurt hit like that since the Super Bowl [I played in] against the Patriots," Bly said. "I've seen a lot of football and but I haven't seen Kurt take a punch like that, and force him to throw the football and we were able to make some plays."
Goldson is only in his first year as a starter, but he's already set the bar pretty high for himself after having a hand in three of Arizona's seven turnovers.
"It's something I know I can bring to the table," Goldson said. "At the beginning of the season when I got the job, I knew I could help this team win, create turnovers and make hits."
It was certainly a night this defense will remember. Nights like that don't come around too often.
"I've been on a team that caused five," Goldson recalled. "Seven sounds a lot better."
"You know what, Green Bay," Bly said when asked if he had ever been on a team that forced seven turnovers in one game. "[It was the] playoffs when I was in St. Louis. We picked off Brett Favre like five times. I don't remember if it came like it came today. The defense was sacking the quarterback, we were causing fumbles, hitting like we hit today. It was awesome."
As Bly answered questions from reporters, his raspy voice seemed to get worse and worse as he had been battling the flu throughout the week.
"I lost my voice this morning," Bly said. "Throat was sore. I've been on medicine all week, that's why my voice sounds like it does."
But how does he feel after the win?
"It makes me feel great."