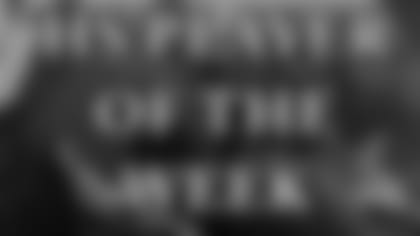 49ers Name Zeke Sanders of Santa Cruz H.S. Player of the Week*
The 49ers High School Player of the Week Award for week three goes to Zeke Sanders from Santa Cruz High School.
This past Saturday, the Cardinals beat Alvarez 30-20.
At 6'2" and 200-pounds, Sanders plays running back, free safety, and kick returner. In Saturday's game, he had 8 carries for 124 yards and 4 touchdowns. His fourth touchdown came on an 80-yard kickoff return. Sanders led the Cardinals defense with 11 tackles.
"Zeke is a vocal leader and positive example," said Jesse "Bubba" Trumbull, Head Football Coach of Santa Cruz High School. "He is an extremely likeable young man and is very caring of others. He works hard for his team and asks them to do the same."
Sanders, a Senior with a 3.4 GPA is also involved in track & field, where he was a state qualifier. In 2007 he was the county's Most Valuable Player and Junior of the Year in football, and he is currently being recruited by various Division I football schools. In the community, he volunteers his time with Save Our Shores.
For being named 49ers High School Player of the Week, Sanders will receive a certificate signed by 49ers Head Coach Mike Nolan, a 49ers hat and t-shirt, two tickets to a 49ers home game and recognition on 49ers.com. At the end of the season Sanders will be invited to the 49ers Training Facility to accept a wooden football trophy from 49ers Head Coach Mike Nolan.
2008 HS PLAYER OF THE WEEK WINNERS:
Week One: Rob Atkinson from Harbor High School in Santa Cruz
Week Two: Emre Titizer from Lynbrook High School
Week Three: Zeke Sanders from Santa Cruz High School