Following an All-American career at Oklahoma State, running back Kendall Hunter joined the 49ers as a fourth-round pick in 2011. Hunter proved to be an explosive backup behind 49ers all-time leading rusher Frank Gore while growing close with his teammates and coaches. A year after receiving one of the most exciting phone calls in his life from the 49ers, Hunter reflects on his rookie season.
DRAFT DAY
I was just chilling and watching with my family. It really wasn't a party because I really didn't know when my name was going to be called or what was really going to happen. You can listen to other people guess, but you just got to sit down and wait. The thing is, people loved to call in and talk to you while the draft was going on. So you're just nervous and then you pick up the phone and say, "Hello" and it's just your cousin or something and you've got to tell them, "Man, don't call me right now." But when I got that call it was like the best feeling ever. You can't describe that feeling.  
NFL AWAKENING
When I first touched the field on Sundays or on a Monday night. All the games are crazy, but my best experience was that Monday night game against the Steelers. That was crazy. Just hearing that "Monday Night Football" song come on, like, "Dun dun dun dun…" like you were at home watching on TV or something. But that Sunday spirit – even preseason games are intense.
TRAINING CAMP
It was tough, man. We came here and were just thrown into the pot. There weren't any OTAs or any workouts like we're doing now, so you just had to catch on quick and go with what you knew.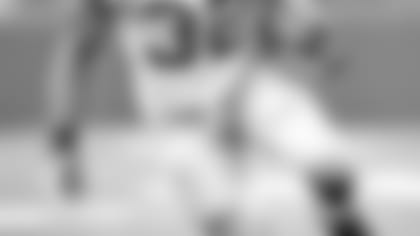 MEMORABLE MOMENT**
Every moment was memorable. Just being on a great team with great guys like Bruce Miller made it a lot of fun.
VETERAN CONNECTION
When I first got here I met Anthony Dixon and Frank Gore. I spent most of my time with them and running backs coach Tom Rathman. All of them showed me how things are done at this level.
COACHING INFLUENCE
I would have to say Rathman had the biggest influence on me. He pushes you and he wants you to be the best at everything you do. He wants you to do everything well.
ADVICE FOR 2012 DRAFT CLASS
Never be satisfied. Just because you get drafted, that doesn't mean anything. Once you get drafted, it's all even after that.
WITH THE NO. 30 OVERALL PICK, THE 49ERS SHOULD TAKE…
I want to see another team-first guy get drafted and push us to another level.