For a defense that hardly amounted much of a pass rush in the preseason, three sacks was a welcomed opening day performance for the 49ers defense.
Defensive ends Justin Smith and Ray McDonald along with outside linebacker Parys Haralson each brought down Cardinals quarterback Kurt Warner in the 49ers 20-16 road victory on Sunday.
"We knew coming into the game we had to get pressure and our db's did a great job on the back end," Haralson said after the game. "We were able to get some pressure and it got us off the field on some key third downs."
The 49ers defense pressured Warner throughout the game and also played an integral part in causing Warner's two interceptions.
"We knew with the guys we have up front that we would be able to get constant pressure," Smith said. "We started to build off of last season into training camp and now we just have to keep building on what we were able to do here."
Smith's sack ended the game for the Cardinals as he knocked Warner down and the ball out loose with seconds remaining.
"They're a tough team with the weapons that they have," linebacker Takeo Spikes said. "We really wanted to make them get the ball out as quick as possible."
Arizona's main targets in the passing game, receivers Larry Fitzgerald and Anquan Boldin were not much of a factor in deciding the game's outcome. The 49ers pass rush and defensive game plan limited the duo's production. Fitzgerald caught a touchdown pass, but Boldin was held to just two catches.
"They have so many options for Warner it's tough just to focus on one thing," cornerback Shawntae Spencer said. "We tried to play sound defense and make them get the ball out quick."
On two occasions Warner got rid of the ball sooner than he wanted to and was intercepted by Joe Staley and Nate Clements both in the first half. The 49ers two-time Prow Bowl linebacker played a solid all-around game leading all players with 13 tackles.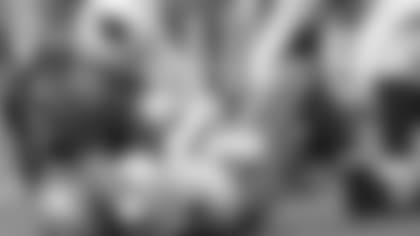 "I think the defensive line, linebackers and the back end all worked together," head coach Mike Singletary said. "When we get a hand on them up front it helped the guys on the back end."
One of the members of the 49ers defense who was able to apply consistent pressure on Warner was Haralson. He beat Cardinals right tackle Levi Brown on numerous occasions and was consistently able to be disruptive in the pocket.
"I'm never satisfied," Haralson said of his performance. "It's a great opener, a great way to start it off, but now it's time to get better."
Smith also felt like there is more the 49ers defense can bring on Sundays.
"I think today we were building on what we can do as a defense," he said.
All things considered, it was quite the performance for the maligned 49ers pass rush that failed to produce a ton of results in the preseason.
Despite playing a "vanilla" defense according to Smith for most of the preseason, the 49ers defense provided a much more flavorful performance against the Cardinals.