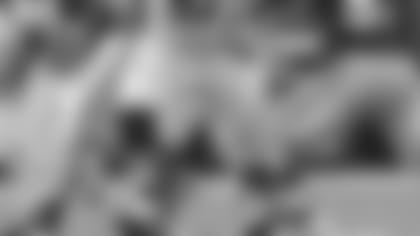 Leading up to the 2009 NFL Draft, 49ers.com will feature some of the top prospects at their respective positions. This week, we look at one of the top interior linemen in the country, California center Alex Mack.**
If Bay Area football fans aren't well aware of the talented anchor of the California Golden Bears, center Alex Mack, the running backs he created running lanes for certainly are.
Those backs would be Marshawn Lynch of the Buffalo Bills, Justin Forsett of the Seattle Seahawks and current Cal back Jahvid Best. Each ran for over 1,300 yards and scored 11 touchdowns running behind Mack and his teammates on the offensive line from 2006-2008.
Pretty soon, one National League Football franchise will be treating their fan base by adding the well-rounded offensive lineman to their ballclub in the upcoming NFL Draft.
At 6-foot-3, 311-pounds, the two-time Morris Trophy winner for being the top lineman in the Pac-10 figures to be one of the first interior linemen selected. Since he took over the starting center duties as redshirt sophomore in 2006, Mack has been one of the best centers in the country and was named first-team all-conference for three consecutive years.
For Mack, the chance to compete against the biggest and best defensive linemen is something he's looking forward to, because of the blocking techniques he learned in Berkeley.
"It's going to be a challenge," Mack said at the NFL Scouting Combine. "Anytime you face a tough opponent, every time there is some tough D-lineman, it's a challenge and technique is something that I used at Cal to help me get there. Using technique can really help you defeat the really heavy guys, the powerful guys. It's about being a technically sound player that really makes you a good lineman."
Prior to the biggest job interview of his life at the Combine, Mack suffered a minor setback when he sprained his ankle while preparing for the various field tests. The injury caused him to miss working out for the scouts in Indianapolis, but he was able to interview with several teams and he will go through the various drills at his Pro Day in Berkeley.
"I got really unlucky," Mack said. "It happened during my last workout at Cal with Will Ta'ufo'ou, our fullback. It was just kind of a freak accident – I stepped on it funny and twisted it. It'll be all right, but no one is more disappointed about it than I was."
During the medical evaluation process of the Combine, Mack had an MRI on the ankle and was "poked and prodded by at least 20 doctors."
Mack used to do some prodding in his own right as a wrestler in high school. The experience he had on the mat definitely paid dividends in his football career.
"Wrestling has been really helpful, it's really helped me be a successful football player," he said. "Wrestling really teaches you how to control somebody else. It also taught me how to work hard. Wrestling is a tough sport and it's one-on-one, you versus another guy. So it teaches you whatever you put into it is going to come out on the wrestling mat. If you lose, you can only blame yourself. It taught me how to be mean."
Mack learned more than his share of lessons as a Golden Bear. He graduated with a bachelor's degree in legal studies in 2008 with a 3.61 GPA. Mack's performance in the classroom earned him the Vincent DePaul Draddy Trophy given to the college football player with the best combination of success in academics, community service and on-field performance. Many refer to the award as the "Academic Heisman."
Winning both the Draddy and Morris trophies in the same year was truly a remarkable experience for Mack.
"They're both just excellent awards. The Draddy (Award) is just special to me because it recognizes the sacrifices I've made for the classroom and things like that," he said. "The Morris (Award) is a huge honor because it recognizes that the fellow players who play against me think I'm a great player. So one is a great football honor and one is a great football-scholastic honor. Those are two very special awards and I can't really rank them one or another. They're top-notch things."
Not only is Mack well-rounded off the field, on the field he's able to play multiple positions. At the Senior Bowl, Mack showed the assembled coaches and scouts that he was willing and able to play both center and guard positions on the offensive line.
"I want to show that I'm versatile and that I can handle a new position and also, I want to play football," he said. "I want to play football wherever they take me. If they want to plug me at fullback, I'll play fullback – I'm easy. At the guard position, I think I can really do well and giving me that chance at the Senior Bowl was a great opportunity so I took that with open arms."
Whichever team that welcomes Mack into their organization will be brining in a tough football player, who is ready to handle whatever challenges that are thrown his way.
"I'm a hard-working guy who will work hard and become a good player," he said. "I'll be in the NFL and not "kind" of be there, but I'll be there to succeed, work hard and be one of the best players around. I think I'm known for being an aggressive offensive lineman. I think I bring a lot to the table as far as finishing plays, playing to the whistle. In my play, I have a lot to offer as far as attitude on the offensive line."