Linebacker Tully Banta -Cain entered Sunday's game against his former team intent on proving to his current team that he belongs out on the field.
Following four weeks on the inactive list, Banta-Cain suited up for the first time as starting linebacker Manny Lawson sat out with a hamstring injury.
"It was great to be out there," said Banta-Cain. "I'm here to play football, I mean that the reason why they signed me. It's been four weeks since I got a chance to play, so getting a chance to play against my ex-teammates, I couldn't write it up any better. Just the fact that we lost kind of puts a damper on it. But for me, it was a good day to get back on and knock some of that rust off. It just sucks we lost."
Banta-Cain figured to play on special teams, but he also saw limited snaps on defense, starting on the second defensive series of the game on a 3rd and 6 play at the New England 8-yardline.
"I have got to go back and watch the film," said Banta-Cain when asked to assess his performance. "Primarily I played special teams and I got to get some rushes on the quarterback. I have no idea how many snaps I got. I thought whatever I did wasn't enough. I felt like I could've done more. I really wanted to make a play and do something for the team. Just too little, too late. We didn't win so it wasn't good enough."
Banta-Cain filled in mostly in pass rush situations, a role usually designated to Roderick Green, who was inactive for the first time this season.
"I thought that I'd just let Tully have the opportunity," said head coach Mike Nolan of the move. "I thought that it was important to get Marcus Hudson up for the special teams as well. So, Hudson did the special teams, and he's a good special teams player. I felt we'd need him for the game, and Tully had a good week. I thought we'd inspire him and see if he would do something."
The 49ers defense totaled five sacks against New England, with Banta-Cain accounting for half a sack, three tackles, and a quarterback hurry.
Nolan said he would need to review the film before making a statement one way or the other about any individual performances, but as a whole, the defense did not get the job done.
The unit allowed New England to total 377 yards of offense, score 30 points, and control theclock for nearly 40 minutes.
"Inconsistency," said Banta-Cain of the defense. "We shut them down one play and then on the next, we gave up something. In order for us to be a great defense, we have got to be consistently getting off the ball, getting pressure on the quarterback, stopping the run, giving the ball back to our offense, whether it be turnovers or –three-and-outs. We showed flashed of great defense, but we're not consistent enough right now. As the season goes on and that doesn't improve, it's going to catch up to us. That's something we have to learn from. You only get one chance to do it right on Sunday. We missed our chance."
Banta-Cain only hopes he performed well enough to warrant further chances as the season continues.
Running back Michael Robinson also saw his most extensively playing time on offense, primarily as a fullback for Frank Gore.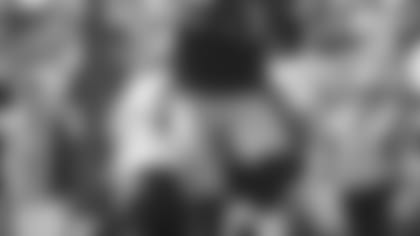 BY THE NUMBERS**

Frank Gore continues to enjoy a high average yards per carry, finishing Sunday's game with a 4.5 yard average. But 12 carries for Gore yielded only 54 rushing yards for the 49ers run game (aside from 23 scrambling yards by JT O'Sullivan).
Gore also caught a team-high 4 receptions for 24 yards and a 16-yard touchdown.
A lack of run game hurt the 49ers in time of possession. New England held onto the ball nearly twice as long as the 49ers offense.
TACKLES

Pro Bowl linebacker Joe Staley led the defense with 14 tackles. He also had a sack, a tackle for a loss and a quarterback hurry.
**Linebacker Take Spikes notched his second interception in two weeks on New England's first drive of the game.
The 49ers offense unfortunately turned the ball right back over when JT O'Sullivan launched up a deep ball to tight end Delanie Walker. Walker deflected the ball, which fell right into the arms of safety Brandon Meriweather as he fell to the ground.
Early in the second quarter Nate Clements picked off a deep ball to Randy Moss at the 6-yardline. It was his first interception of the season.
The 49ers offense was held to a three and out after the turnover.
Patriots safety Rodney Harrison picked off a JT O'Sullivan pass to Arnaz Battle off a deflection, giving New England the ball at the 24.
The Patriots scored a few plays later on a 2-yard touchdown run by Kevin Faulk.
O'Sullivan was intercepted again in the final quarter, this time by Deltha O'Neal. The defense held following the turnover.
49ers Turnovers: 3 - Patriots Points off Turnovers: 7
Patriots Turnovers: 2 - 49ers Points off Turnovers: 0
**The 49ers defense sacked QB Matt Cassel five times, and were also credited for an additional 7 quarterback hurries.
The 49ers offense allowed only one sack on QB JT O'Sullivan, with New England also receiving credit for one quarterback hurry.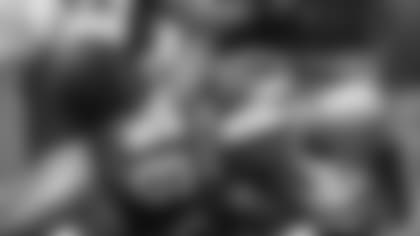 Early in the first quarter, New England was forced to punt from their own end zone. Nate Clements fielded the ball along the 49ers sidelines, reversed field, got a few blocks and turned it up the Patriots sidelines for a 13-yard return, setting the offense up at the Patriots 30-yardline.
Isaac Bruce caught an explosive 38-yard pass in the first quarter, and then caught a 6-yard touchdown pass a few plays later. Bruce added another 5-yard touchdown in the fourth quarter to pull the 49ers to within six.
Following the first touchdown reception by Bruce to put the 49ers up 14-7, tight end Delanie Walker shed a block on the ensuing kickoff to stop the NFL's leading kickoff returner in Ellis Hobbs at the 24-yardline.
Following a penalty, Andy Lee had a do-over punt near the end of the second quarter. His first try had a nice hang time and was fair caught at the Patriots 31-yardline, but after a penalty, Lee re-kicked and hit an 82-yard punt that sailed into the end zone for a touchback with 3:04 left in the half. The punt set a career-high for Lee, and tied for second in 49ers history.
**A pivotal penalty occurred in the second quarter following the interception by Rodney Harrison. Justin Smith was credited for a sack that should have forced New England to settle for a field goal. Instead, the officials flagged Smith for a personal foul, and gave the Patriots a fresh set of downs at the 6-yardline.
There was nothing on the re-play that indicated a clear cause for the infraction.
"They said that he put his hand on the back of his helmet as he was pulling him backwards and said that you can't do that," said Coach Nolan. "They said that's a personal foul. I've never heard that before. It's not as if it assisted in tackling nor did it hinder the player's safety. But he called it a foul."
The 49ers entire second quarter was a big ouch for the O. The unit had three straight three and outs, even unable to convert on their most manageable third down. The 49ers faced a 3rd and 1 from their own 24, but after gaining nine yards on two carries, Gore was stopped for a loss as he tried to run over right tackle. The 49ers had even brought in offensive lineman David Baas as a tight end on the play.
INJURIES

Safety Michael Lewis was the only post-game reported injury with a right elbow strain.