In this edition of the NFC West Report, 49ers.com recaps Week 5's action within the division.*
 *
Decision:34-20 win over the Jacksonville Jaguars.
Offense:Wideout Austin Pettis caught two of quarterback Sam Bradford's three touchdown passes.
Defense: Safety Matt Giordano returned an interception of Jaguars quarterback Blaine Gabbert 82 yards for a touchdown.
Stock up:Rookie running back Zac Stacy, who had just one carry Weeks 1 through 4, rushed 15 times for 82 yards, or 5.5 yards per carry.
Stat:The Rams recorded season-highs in points and rushing yardage (143).
Quote:"I would like to take the credit for it, but I can't, because there's 10 other guys doing their job," Giordano **told Rams.com**. "It all starts with Robert Quinn hitting the quarterback, and it doesn't really come any easier than that into your lap."
Ahead: St. Louis visits Houston in Week 6. Arizona Cardinals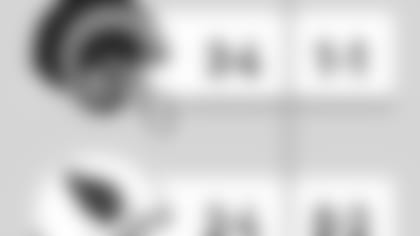 Decision:22-6 victory over the Carolina Panthers.
Offense:Arizona outscored Carolina 19-0 after halftime, including a Calais Campbell safety late in the third quarter.
Defense: The Cards shut down Panthers quarterback Cam Newton, sacking him seven times and inducing three interceptions.
Stock up:Inside linebacker Darryl Washington recorded two of those sacks and one of those picks in his first game back after a four-game suspension.
Stat:Two of Arizona quarterback Carson Palmer's three interceptions came trying to throw the ball to wide receiver Larry Fitzgerald.
Quote:"The win keeps you sane a little bit," Fitzgerald **told AZCardinals.com**. "We've just got to do better (offensively). It's great to be 3-2, but obviously, going to San Francisco, having Seattle come here and then Atlanta the next three games, we have to put some points up."
Ahead: Arizona visits San Francisco in Week 6.
Decision:34-28 loss to the Indianapolis Colts.
Offense: Quarterback Russell Wilson ran for a season-high 102 yards on just 13 carries.
Defense:Considering Seattle boasts more than a couple of big-bodied defensive backs, it was strange to see they couldn't corral 5-foot-9 Colts wideout T.Y. Hilton, who caught five passes, including two touchdowns, for 140 yards.
Stock up:Defensive end Bruce Irvin, in his first game back from a four-game suspension, collected a sack and impressed with his edge rush.
Stat: The Seahawks had not lost a regular-season game since Nov. 25.
Quote: "You've got to treat succes – and when you lose like this – the same," safety Earl Thomas **told Seahawks.com**. "You can't get too high and you can't get too low. We still have our confidence, our swagger, all of that. We're just going to get back to work and get ready for Tennessee."
Ahead: Seattle hosts Tennessee in Week 6.