During the late 1970s, John Melton logged plenty of miles traveling between Lincoln, Neb., and Davenport, Iowa. He was the linebackers coach at the University of Nebraska and he was also responsible for scouting the Hawkeye State for promising prep prospects.
Melton spent many Midwestern afternoons at Davenport Central High School, where the talents of a couple of brothers, Curtis and Roger Craig, piqued his interest. There was also another big youngster by the name of Jamie Williams who he thought was deserving of a scholarship.
So Melton relayed his observations to his boss, head coach Tom Osborne, who had established Nebraska as a national powerhouse in his first few years on the job. After making a few trips to Davenport and getting to know the young stars, Osborne offered scholarships to all three. They all eventually signed with the University of Nebraska.
More than three decades later, and Osborne was trying to recruit Williams again. While visiting Sacramento for an event in February, Osborne and Williams met for lunch. As they broke bread, Osborne floated an idea to Williams: come back to Lincoln and join the athletic department staff.
Looks like coach still has his recruiting touch.
Osborne, who is now Nebraska's Athletic Director, was successful in his second pursuit of Williams, as the former 49ers tight end began his job as Nebraska's Associate Athletic Director of Diversity and Leadership Initiatives last week.
"It's absolutely amazing," Williams said. "I'm a truly blessed individual right now. (Osborne) coached me for five years and I still revere him. The opportunity to learn from him while he's still at Nebraska is a gift. I plan on making the most of it."
Williams and Osborne shared a unique relationship during their first time together. Williams would often challenge his coach to competitive tennis matches, but the elder Osborne showed there's more to the sport than being a Division I athlete.
"He wasn't a great a tennis player," Osborne said. "As I recall, I would win. I beat him."
But they're on the same team again and Williams couldn't be happier.
After graduating from Nebraska, Williams played in the NFL for 11 seasons, including five with the 49ers. His style of play was a punishing one, as he became renowned around the league for his blocking ability and helped the 49ers win Super Bowl XXIV after the 1989 season.
The news of Williams' new job was well-received by the 49ers family. Keena Turner, the team's Vice President of Football Affairs, played with Williams in San Francisco and said he's happy Williams has the opportunity to return to his Alma mater.
"I'm just thoroughly excited for Jamie," Turner said. "He's such a first-class guy and a heck of a football player. He was one of the best blocking tight ends in football at the time so he made me better every day going up against him in practice.
"Now, he'll tell you he was also one of the best pass-catching catching tight ends – he had a little more competition there – but as a blocker, he had none. It's just been wonderful to watch what he's done with his career."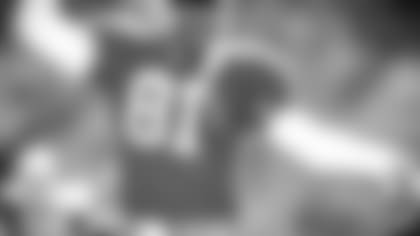 Williams' post-playing career legacy has been just as impressive. He earned a master's degree from San Jose State and a Doctorate from the University San Francisco, before starting an athletic department from scratch at the Academy of Art University in San Francisco.
Despite all of his accomplishments in the Bay Area, the temptation of returning to the heartland of America was too much for Williams to resist.
"I think he's always had a warm spot in his heart for the University of Nebraska," Osborne said. "This is where he went from being a young person to a man."
Throughout the years, some of Nebraska's finest football players and gentlemen have gone on to play with the 49ers. Players like Williams, Roger Craig, Tom Rathman and Willie Harper are just a few of the notable players who contributed to the storied history of both organizations.
In fact, Osborne enjoyed a brief stint with the 49ers during his playing days and also successfully recruited Rathman out of high school.
"How many guys from Nebraska do you know that don't love it?" Turner said. "We've had some real blue-chippers here. … It's just a rich history of not just great football players, but just really good men. Great men, great examples. I'm excited for Jamie and I'm looking to hear big things from him."
But as he returns to the Cornhuskers family, Williams doesn't do it looking for a way to ease into retirement. He does it as a man focused and motivated to help give back to the program that gave him so much.
"I understand what 'Go Big Red' means," Williams said. "But I'm also very versed in all the contemporary aspects of athletics today. … I'm not coming to Nebraska to lay down. I'm coming there to enhance and elevate."
In his new role, Williams will aid the program in its strategic planning and promote diversity and inclusion within the department. He's also looking forward to having a supervisory role on several Olympic sports and with the football team, where he will help mentor athletes through their respective NCAA careers and beyond.
It's certainly a change of pace from Williams' old post at AAU, where he served as the school's inaugural Athletic Director for six years. Under Williams' watch, the Urban Knights became one of the top programs in the West region of Division II, growing to a full-fledged athletics program with 12 sports and more.
Despite the drastic change of landscape – from Division II startup to Division I mainstay – Williams believes the lessons he learned and taught at AAU will be able to translate to his new job.
"True leadership is not taught and developed in organizations enough," Williams said. "What I've done over the last six years required a variety of leadership styles. As a leader sometimes you have to adaptable and transformational and I've been able to do that. Those are the things that I bring to Nebraska."