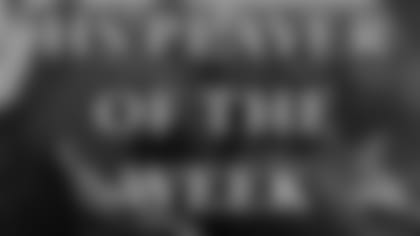 49ers Name Cody Jackson of Serra H.S. Player of the Week *
The 49ers High School Player of the Week Award for week ten goes to Cody Jackson from Serra High School in San Mateo.
This past Friday, the Padres beat Gilroy High School 45-14, in the first round of the Central Coast Section Open Division Playoffs. The Padres were losing 14-3 at halftime and Jackson led his team to 42 unanswered points in 17 minutes.
At 5'11" and 205-pounds, he plays Quarterback. In Friday's game, he completed 12 of 18 passes for 169 yards and 2 touchdowns and he rushed 16 times for 125 yards and 2 touchdowns.
Jackson has 2600 career passing yards, 2600 rushing yards, 20 career passing touchdowns, 30 career rushing touchdowns and is a top 5 career passer and rusher in school history. Jackson has been offered and is planning to play college football at ARMY.
"Cody is the best kid the school has ever had," said Patrick Walsh, Head Football Coach of Serra High School. "He is respectful and teachers love him. He is competitive, trustworthy and great on campus."
Jackson is a Senior with a 3.1 GPA. In 2006 he was the WCAL Sophomore of the year & first team all league QB and in 2007 he was the WCAL Junior of the year & first team all league.
For being named 49ers High School Player of the Week, Jackson will receive a 49ers hat and t-shirt, a certificate signed by 49ers Head Coach – Mike Singletary, two tickets to a 49ers home game and recognition on 49ers.com. At the end of the season Jackson will be invited to the 49ers Training Facility to accept a wooden football trophy.
2008 HS PLAYER OF THE WEEK WINNERS:
Week One: Rob Atkinson from Harbor High School in Santa Cruz
Week Two: Emre Titizer from Lynbrook High School
Week Three: Zeke Sanders from Santa Cruz High School
Week Four: Cameron Marshall of Valley Christian High School
Week Five: Steven Fanua, Milpitas High School
Week Six: Dante Fullard, Gilroy High School
Week Seven: Omar Al-Helew, Santa Teresa High School
Week Eight: Travis Johnson, The King's Academy
Week Nine: Dasarte Yarnway, Sacred Heart Cathedral Prep
Week Ten: Cody Jackson, Serra High School