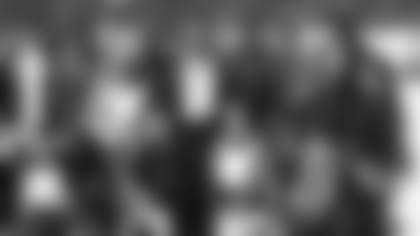 The San Francisco 49ers Foundation will hold the 10th Annual Celebrity Winter Fest, Presented by Thomson Reuters at The Resort at Squaw Creek, Olympic Valley, CA - March 18 – 21**
The San Francisco 49ers are heading to the snowy slopes of Olympic Valley, CA, from March 18-21 where they will join former Olympians and other celebrities to raise funds for the San Francisco 49ers Foundation at the 10th Annual Celebrity Winter Fest. The exclusive weekend-long event, presented by Thomson Reuters, celebrates football, food and entertainment, while supporting the Bay Area community.
San Francisco 49ers Head Coach Mike Singletary and General Manager Scot McCloughan will join 49ers team Owners Denise and John York, Team President Jed York, and 49ers players Alex Smith, Takeo Spikes, Delanie Walker, Josh Morgan, Adam Snyder, Tony Wragge, and Dashon Goldson at the three-day event. Former 49ers Super Bowl champions Dwight Clark, Guy McIntyre, Gary Plummer, Keena Turner, Dwaine Board and Eric Wright will also be in attendance. They will be joined by Olympians Dan Jansen, Tamara McKinney, Kristin Krone, Glenn Jobe, Kirsten Clark, and Ida Kadstaetter.
The exclusive weekend features a Chalk Talk presented by the 49ers coaching staff and players, a food and wine pairing seminar with celebrated chef Loretta Keller and owner of COCO500 and the Moss Room. In addition, those in attendance can participate in a skate-along with Olympian Dan Jansen on Friday and enjoy evening dinners, auctions and live entertainment from LUCE Band and John Rzeznik of the Goo Goo Dolls throughout the weekend. The Chalk Talk will feature Singletary, McCloughan and the above players who will be leading the discussion to breakdown film, discuss offensive and defensive formations, and give the audience a chance to see the game of football through the coaches and players eyes.
The event also showcases a Who's Who of the finest wineries from Napa and Sonoma Counties. Bennett Lane Winery, Brochelle Vineyards, Blackbird Vineyards, Elizabeth Spencer Wines, Ferrari-Carano Vineyards & Winery, Flowers Vineyard & Winery, Frazier Winery, Kosta Browne Winery, Melka Wines, Mi Sueño Winery, Pride Mountain Vineyards, Reynolds Family Winery, Robert Foley Vineyards, Saintsbury, Schramsberg Vineyards, Spring Mountain Vineyard, Switchback Ridge and William Cole Vineyards will pour at the wine tastings and receptions, which take place on Friday and Saturday evenings.
The San Francisco 49ers Foundation is the non-profit community funding arm of the San Francisco 49ers. Now in its 18th year, the San Francisco 49ers Foundation supports development programs for underserved youth that keep them safe, on track and in school. A significant portion of its funding goes towards family violence prevention programs and activities that teach youth leadership and respect.
Under the direction of Team Owners Denise and John York, the 49ers Foundation has raised and distributed over $10 million to non-profit organizations in the Bay Area over the last eight years. Last year alone, the Foundation distributed over $1.5 million to organizations including Fresh Lifelines for Youth (FLY), 49ers Academy and the Bay View Hunter's Point YMCA, among others.