The San Francisco 49ers announced on Wednesday that RB Frank Gore has been named to the 2010 NFC Pro Bowl squad. Gore, who had been selected as the first alternate at running back, replaces St. Louis RB Steven Jackson who will not play in the game due to injury. It is Gore's 2nd Pro Bowl appearance after having been selected to the game in 2006. The 49ers will now have four representatives playing in the game – Gore, TE Vernon Davis, LB Joe Staley and P Andy Lee – marking the highest San Francisco delegation since the team sent six players following the 2002 season.
With this year's game taking place in Miami, FL, the Coral Gables High School graduate and University of Miami star will play in his hometown for the first time as a professional.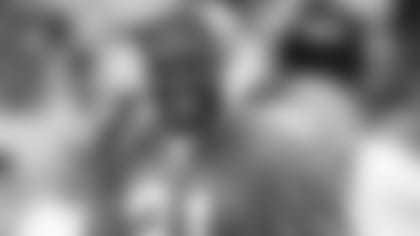 "It's amazing. It's the first time that I will get to play in Miami since I left," said Gore. "Last year, I couldn't play because I was injured and now God blessed me to play this year. To be in the Pro Bowl, it means a lot. I felt that missing some games this season, and to still be able to make a special game like this is a great opportunity. All I can say is that it's a blessing."
Gore rushed for 1,120 yards on 229 carries and tied the franchise record with a career-high 10 rushing touchdowns in 2009. He was also a threat out of the backfield in the passing game, registering 52 receptions for 406 yards and a career-high three receiving touchdowns. Gore has now logged four consecutive 1,000-yard rushing seasons (2006-09), becoming the only player in 49ers history to record four such seasons. With five 100-yard rushing games in 2009, he tied RB Joe Perry for the most 100-yard rushing games in franchise history (20). Gore, along with Pro Bowl TE Vernon Davis, became just the second set of 49er teammates to each have at least 13 touchdowns in season. In 1995, WR Jerry Rice had 17 and RB Derrick Loville notched 13.
Gore finished the 2009 campaign ranked tied for second in the NFC (tied for eighth in the NFL) in scoring (78 points). Additionally, his 1,120 rushing yards ranked fifth in the NFC and tied for 11th in the NFL. He was named NFC Offensive Player of the Week in Weeks two and 14.