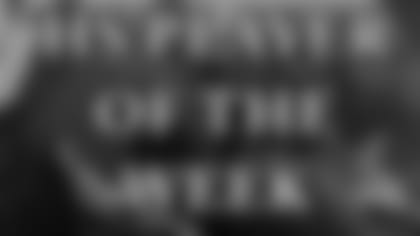 49ers Name Dante Fullard of Gilroy H.S. Player of the Week
---
The 49ers High School Player of the Week Award for week six goes to Dante Fullard from Gilroy High School.
This past Friday, Gilroy beat Pacific Grove High School 55-7.
At 5'9" and 185-pounds, Fullard plays wide receiver. In Friday's game, he had 4 catches for 140 yards and scored 3 touchdowns. He also rushed 3 times for 8 yards and scored 1 touchdown. He is planning to play college football at San Jose State University.
"Dante is an extremely hard working and intelligent individual," said Rich Hammond, Head Football Coach of Gilroy High School. "His best gift is his ability to push himself to be his best each and every practice and game."
Fullard is a senior with a 3.3 GPA. In 2007 he was honorable mention all-section and 1st team all league. Currently he has 12 touchdowns and is ranked second in the CCS in receiving yards.
For being named 49ers High School Player of the Week, Fullard will receive a 49ers hat and t-shirt, two tickets to a 49ers home game and recognition on 49ers.com. At the end of the season Fullard will be invited to the 49ers Training Facility to accept a wooden football trophy.
2008 HS PLAYER OF THE WEEK WINNERS:
Week One: Rob Atkinson from Harbor High School in Santa Cruz
Week Two: Emre Titizer from Lynbrook High School
Week Three: Zeke Sanders from Santa Cruz High School
Week Four: Cameron Marshall of Valley Christian High School
Week Five: Steven Fanua, Milpitas High School
Week Six: Dante Fullard, Gilroy High School