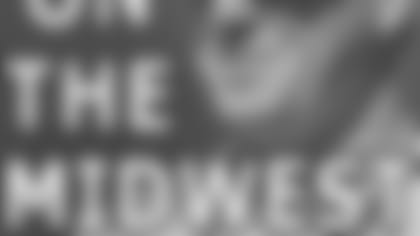 49ers college scout Ethan Waugh has been busy the last few weeks. Catch up with him in this latest Eye on the Midwest blog. *
I last left off with plans to hit some of the Division II schools, which I did by stopping off at Grand Valley State in Allendale, MI. They are a perennial powerhouse and it is easy to see why. They have a great stadium and a full sized indoor practice facility that most Division I schools would kill to have. It's a growing school with a great football tradition. The Lakers get great support from the area and their facilities really separate them from the competition.
One of GVSU's best players is Dan Skuta, an extremely productive hybrid defensive lineman/linebacker. His resume is second to none – four year starter, an incredible number of sacks and TFLs and a national championship ring.
From Grand Valley, I drove to Ypsilanti to visit Eastern Michigan. Because it was a Friday, the Eagles' practice, a brief walk through, was closed to scouts. Therefore, I focused exclusively on tape and talking with staff members. I was able to see essentially every snap of the season, including EMU's matchup with Army, where two of my brothers coach. The Eagles played well, but in the end, the Black Knights and Colin Mooney, their star running back, came out on top.
That evening, I drove back down to Ohio to catch a MAC matchup between Miami of Ohio and Bowling Green the next morning. It was a beautiful day for football, cool and clear. The game came down to the wire, but Miami's running game took over in the fourth quarter and sealed the victory.
The Redhawks have a small but solid senior class. On the defensive side of the ball, they have two solid linebackers in Clayton Mullins and Joey Hudson. Mullins is a quick, active outside player, while Hudson is a physical force inside. Additionally, they have one of the better punters in my area in Jake Richardson. Not only does he have a strong leg, but he was a position player in high school and is very athletic.
Typically, Sundays are for travel, catching up on reports, or watching the 49ers game because most colleges are closed to scout visits. However, on this Sunday when the 49ers were in New York playing the Giants, I was able to visit Ohio University because they were practicing in preparation for their Tuesday night game against Temple. It may seem like Tuesday is an odd time for a game, but late in the fall, the MAC teams will play almost every day of the week because they can get more television exposure. Ohio will actually play twice on Tuesday this season.
The Bobcats went through a spirited practice in the morning and I was able to watch tape all afternoon. I was the only scout in town, so I was able to work at my own pace and covered a lot of ground. One of Ohio's best players is Mark Parson, a cornerback. He has very good quickness and body control and is really coming into his own this fall.
After leaving Athens Sunday night, I drove north to a hotel just outside of Youngstown – this would be my home base for the next few days. On Monday morning I went to Youngstown State University for the first time since very early in the fall. Although one of their senior prospects is injured and out for the season, their tight end, Derek Bush, is having a strong year. He is really a throwback to another era – a tough, hardnosed, blocking tight end that is best in the run game.
On Tuesday I visited Kent State. In one of my earlier blogs I mentioned their quarterback, Julian Edelman. Julian is from the Bay Area and is a big 49ers fan. He is also one of the most exciting players to watch in the Midwest. He is not a prototypical pro-style quarterback, but an electric running threat – he really makes defenders miss tackles in the open field. After watching film all day, I went to the stadium to watch practice and was quickly reminded of how cold it can get in Northeast Ohio. Even with a jacket, gloves and a stocking cap on, I was freezing – the wind cut right through me.
The next morning, I made the short trip to Akron. They have two consecutive weekends off, so most of their coaches were out recruiting, but they still held practice. The head coach, J.D. Brookhart, the coordinators, and the graduate assistants ran the show shorthanded. Actually, it was a great practice for evaluation purposes because they did a lot more individual work than usual for this time of year.
One of the Zips' most consistent players is left tackle Chris Kemme. Whether they are playing a MAC opponent or a BCS school, he is a steady competitor.
I left Akron's campus and was planning on working my way south, but immediately ran into a traffic jam. Apparently, a rally for John McCain was letting out at the same time. Eventually, the congestion dissipated and I was able to make my way to Lexington, Kentucky.
On Thursday morning, I watched Kentucky's practice and spent a good portion of the day watching tape. In the afternoon, I visited with members of the Wildcats' academic support staff. They have an amazing system set up that really contributes to the off field success of their players. Additionally, they have great insight into the manner in which each player learns, their personalities and their interests and habits outside of football.
The next morning, I drove through a downpour to watch tape at Louisville. The Cardinals have improved a great deal since I first saw them play back in August. Their offense is really starting to click and their prospects on defense are really playing well.
On Saturday morning, I drove to Richmond, KY, to see the Eastern Illinois/Eastern Kentucky game. I have not been to either school since early in the fall, so it was good to get caught up on all of the prospects.
That evening, I typed a few evaluations, filled out some expense reports and planned my next few days of travel. On Sunday, I drove to Cincinnati where I met up with David McCloughan, our Director of College Scouting. We watched the 49ers game together and talked a lot about the players we have seen this fall and how they stack up against the players currently on our roster.
The next morning, we got up early, bought two dozen bagels for the University of Cincinnati coaching staff and made our way to campus. The Bearcats play Thursday night, and the coaches were working extra long hours to compensate for the short week. They truly appreciated breakfast and went out of their way to help us with information about their players.
I have just a few more stops this week before heading home. It has been a long time since I have been back, and I am really looking forward to seeing my family – I can't wait to take the kids trick-or-treating on Friday!